Il Royal Institute of British Architects (RIBA) ha scelto il Friendship Hospital di Kashef Chowdhury/URBANA come vincitore del RIBA International Prize 2021, mentre lo studio Hooba Design Group si è aggiudicato il premio RIBA International Emerging Architect 2021.
I vincitori internazionali dei RIBA Awards 2021
Impegno sociale e innovazione, sostenibilità e collaborazione sono protagonisti dell'edizione 2021 dei Royal Institute of British Architects (RIBA) Awards, un prestigioso premio con cadenza biennale che da oltre 50 anni celebra progetti di qualità a firma di studi provenienti da tutto il mondo e premia eccellenza nel design e impatto sociale.
Ad aggiudicarsi i premi internazionali di quest'anno sono stati un ospedale dal design sostenibile ed economico nel Bangladesh (vincitore del RIBA International Prize 2021) e uno studio multidisciplinare collaborativo con sede in Iran (vincitore del premio RIBA International Emerging Architect 2021).
Il primo è stato valutato da un'autorevole Grand Jury guidata dall'architetto e urbanista francese Odile Decq, con Es Devlin, Jeanne Gang, Rossana Hu e Gustavo Utrabo come membri di giuria ed è stato scelto come vincitore da una selezione di tre importanti progetti, tra cui Lille Langebro a Copenhagen di WilkinsonEyre con Urban Agency e James-Simon-Galerie a Berlino di David Chipperfield Architects Berlin.
Qui puoi approfondire i tre progetti Shortlisted del RIBA International Prize
RIBA International Prize 2021
Il vincitore dell'International Prize prende il nome dall'organizzazione non governativa che ha voluto il progetto, Friendship, ed è una struttura sanitaria comunitaria costruita con mattoni di provenienza locale, situata in una remota località nel Bengala, regione del Bangladesh. Il progetto dell'ospedale, firmato dallo studio bengalese Kashef Chowdhury/URBANA, è stato premiato per via della sua sensibilità ed empatia nei confronti, e a successivo servizio, di una comunità colpita da un devastante ciclone nel 2007. Gli elementi costruttivi dell'edificio stesso sono stati progettati per far fronte alle condizioni ambientali avverse di questa regione. Il complesso presenta inoltre un sistema di raccolta di acque piovane per il quale è stata costruita una nuova tanica – uno strumento fondamentale per prevenire il ristagno – e una serie di cortili "intimi" per far entrare luce e ventilazione naturale nei vari reparti.
Nella motivazione della scelta, la presidentessa di giuria Odile Decq ha affermato: "Questo progetto affronta tematiche globali come le disuguaglianze nell'accesso ai servizi sanitari e il pesante impatto della crisi climatica su comunità più vulnerabili".
L'architetto Kashef Chowdhury è certo che la scelta del suo progetto potrà "ispirare molti di noi a impegnarsi non nonostante la, ma proprio a favore della scarsità di risorse e mezzi, verso un'architettura della cura per l'umanità e per la natura, per rispondere collettivamente alle urgenze con cui dobbiamo confrontarci oggi su scala globale".
RIBA International Emerging Architect 2021
Il premio International Emerging Architect, che celebra i futuri progettisti innovatori, quest'anno è andato a Hooba Design Group con l'edificio per gli uffici di Kohan Ceram a Teheran, in Iran. La struttura interna ed esterna di questo edificio è stata costruita con mattoni perforati sulla faccia esterna prodotti e forniti da Kohan Ceram in tre diverse versioni: con riempimento in vetro, in laterizio o vuoti. Questo permette all'edificio di controllare la temperatura e l'apporto di luce e al contempo di diventare un faro nella notte. Inoltre la vegetazione che cresce nei vuoti dell'edificio funge da filtro per l'aria inquinata proveniente dall'arteria accanto. Secondo Denise Bennetts, presidentessa del RIBA Awards Group, il "design piacevole e stimolante" dell'edificio e "l'approccio collaborativo all'innovazione" dello studio rappresentano la ragione per cui questo premio è stato affidato a Hooba Design Group.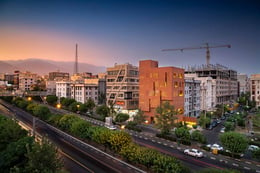 Credits
Friendship Hospital
Location: Shyamnagar, Bangladesh
Completion: April 2018
Client: Friendship NGO
Internal area: 4,777 m²
Architect: Kashef Chowdhury/URBANA
Consultants
Structural Engineer: Descon Engineers
Electrical Engineer: Independent
Plumbing Design: M/S High Speed Engineers
Sewage Treatment: Sigma Engineers
Photography by Asif Salman, courtesy of URBANA

Kohan Ceram Central Office Building
Location: Teheran, Iran
Completion: July 2019
Client: Kohan Ceram
Internal area: 1,019 m²
Architect: Hooba Design Group
Consultants
Lighting Design FADco
Photography by Deed Studio / Parham Taghioff, courtesy of Hooba Design