Il Children's Surgical Hospital realizzato in Uganda dall'NGO Italiana EMERGENCY è il Centro di chirurgia pediatrica che contribuirà a garantire un ampio accesso a cure chirurgiche pediatriche per i bambini ugandesi e di tutto il continente. La progettazione dell'edificio è stata affidata a Renzo Piano Building Workshop, TAMassociati ed EMERGENCY Field Operation Department, che hanno collaborato con molti altri professionisti come Milan Ingegneria per le strutture e Prisma Engineering per la parte impiantistica. Un progetto ambizioso e necessario che risponde alle complessità del contesto socio ambientale in cui si colloca grazie alle eccellenze dei progettisti e alla supervisione creativa di Emergency. Un sogno che fine a pochi anni fa sarebbe stato impossibile.
La nascita di un'idea
Un'idea nata da un incontro, quello tra Gino Strada chirurgo e fondatore di EMERGENCY, e Renzo Piano, uno dei più affermati progettisti al mondo.
"Mi piace pensare all'Africa come un laboratorio per il futuro e non solo come uno scenario di sofferenza e di guerre dimenticate. Gino mi ha sempre chiesto di disegnare un ospedale "scandalosamente bello" - spiega Renzo Piano. Parla dello scandalo della bellezza perché per certe persone è uno scandalo offrire bellezza ed eccellenza a tutti, in particolare ai più svantaggiati ed emarginati. D'altronde è risaputo che in tutte le lingue africane, lo swahili per primo, l'idea di bello è sempre accompagnata all'idea di buono: non c'è bellezza senza bontà."
E così grazie al sostegno del ministero della Salute ugandese, sulle rive del Lago Vittoria, a 1.200 metri in una zona verde e salubre, il Centro di chirurgia pediatrica di EMERGENCY è stato da poco inaugurato ufficialmente. Il team di Renzo Piano Building Workshop e lo Studio TAMassociati hanno collaborato per dar vita un ospedale che offre cure chirurgiche specialistiche e non a bambini e ragazzi di età inferiore ai 18 anni, un Centro fondamentale per lo sviluppo del Paese e di tutto l'Africa.
La necessità di un centro specializzato in chirurgia pediatrica in Uganda e nei paesi vicini è stata evidenziata dai ministri della Salute africani che fanno parte dell'ANME (African Network of Medical Excellence), la "Rete sanitaria d'eccellenza in Africa" creata su iniziativa di EMERGENCY nel 2009, con lo scopo di sviluppare i sistemi sanitari dei paesi aderenti e portare sanità di eccellenza e gratuita in Africa.
"Il modo migliore per aiutare l'Africa è fare lì quelle stesse cose che vorremmo avere anche qui da noi, in Italia - dichiara Gino Strada, chirurgo e fondatore di EMERGENCY - . Siamo andati in Uganda con tutte le competenze, gli equipaggiamenti, le tecnologie necessarie a fare una chirurgia di alto livello e con una struttura straordinaria. Facciamo tutti parte della comunità umana: siamo "uguali in dignità e diritti", come è scritto nella Dichiarazione universale dei diritti umani. Abbiamo la responsabilità di curare un bambino africano esattamente come faremmo con un bambino italiano."
Il progetto avrà una rilevanza strategica per tutto lo stato in quanto la sua struttura triplica di la disponibilità di posti letto chirurgici per i bambini in Uganda, diventando così un punto di riferimento per le necessità chirurgiche di tutto il continente africano. Inoltre contribuirà alla formazione di nuovi professionisti specializzati, cioè di una generazione di medici e infermieri che possa alzare il livello dell'assistenza pediatrica in tutto l'Uganda e possibilmente anche fuori dal Paese.
Progetto
L'Uganda è stato tra i primi aderenti all'ANME, la Rete sanitaria d'eccellenza in Africa. Inoltre, statistiche alla mano, L'Uganda ha una popolazione di circa 45 milioni di persone, di cui circa la metà ha meno di 15 anni e i Centri Chirurgici pediatrici sono solo quattro in tutto il Paese, per questo è stato scelto come luogo ideale per la costruzione del progetto.
Il governo ugandese ha messo a disposizione gratuitamente il terreno su cui sorge l'ospedale e ha contribuito al 20% delle spese di costruzione della struttura, assumendo l'impegno di coprire ogni anno il 20% delle spese di gestione dell'ospedale.
Il progetto si estende su una superficie di 9.700 metri quadri, prevedendo una capienza di 72 posti letto totali. La struttura sarà anche dotata di 3 sale operatorie, di cui sei di terapia intensiva e sedici di terapia sub-intensiva, più una serie di laboratori e ambulatori al servizio dell'attività ospedaliera.
Struttura
Il Children's Surgical Hospital è realizzato principalmente con muri costruiti con la tecnica del Pisé, una pratica antica che si basa sull'utilizzo della terra cruda. Il tetto è interamente realizzato da Zintek in un laminato di pregio composto da una lega di zinco, titanio e rame ed è sospeso e staccato dalla struttura a terra attraverso una semplice impalcatura in acciaio che sostiene i pannelli fotovoltaici. Anche VELUX ha contribuito al progetto inserendo, nel tratto centrale della copertura, circa 40 finestre (120x120 cm) per tetti piani e una cupola in policarbonato. L'installazione degli infissi è stata preceduta da un'analisi illuminotecnica per definire la distribuzione della luce naturale al fine di garantire il giusto apporto di luce zenitale agli spazi distributivi, anche nelle porzioni più interne della struttura.
Il complesso ospedaliero è composto in totale da tre edifici paralleli e un quarto che chiude il lato est del cortile interno con un grande giardino, punto focale del progetto. L'edificio minore, composto da un solo piano, ospita l'ingresso e una sala di accoglienza. Gli altri edifici hanno due piani: un piano terra e un seminterrato. Nell'ala sud del complesso sono situati gli ambulatori, la diagnostica e i servizi per gli outpatients; il piano terra dell'area nord include le corsie di degenza, le sale ricreative e gli spazi dedicati al gioco e allo svago dei bambini, oltre alle aule per la formazione del personale sanitario, agli uffici e a una mensa, collocata nel seminterrato. Infine, il quarto edificio ospita il reparto di terapia intensiva tre sale operatorie e, nel piano sottostante, la farmacia e i servizi per il personale medico, paramedico e di supporto.
Thema si è occupata dell'analisi tecnica e della progettazione di soluzioni personalizzate per la facciata principale, oltre alla realizzazione di tutti i serramenti e le facciate secondarie. La composizione della facciata è ibrida in quanto modellata per sopperire alle esigenze statiche, prestazionali ed estetiche richieste. La configurazione interna del profilo in alluminio è stata rivista per consentire allo stesso di dialogare con una struttura di carpenteria in acciaio, ottenendo così un corpo unico dal punto di vista strutturale, che non altera in alcun modo il principio di tenuta della facciata. I sistemi Schüco sono stati inoltre utilizzati per i serramenti e le facciate dell'intero ospedale.
Ogni camera è dotata di un'ampia finestra a tutt'altezza per godere del parco, ispirato al vicino orto botanico di Entebbe, contribuendo al benessere dei pazienti e alla loro guarigione. I vetri delle facciate e dei serramenti dell'ospedale sono di AGC, scelti per ottenere la massima trasparenza possibile e per avere dall'interno una visuale aperta sul lago Victoria; mentre il sistema di Pellinindustrie per ombreggiare le vetrate, composto da veneziane integrate nei serramenti dell'ospedale, è stato scelto sia per motivi igienici che per ridurre al minimo la manutenzione. Infine per completare l'ombreggiamento dell'edificio sono state agganciate alla struttura in Pisé, con un sistema di fissaggio studiato ad hoc, le tende esterne a rullo di Resstende, che rendono ancora più evoluto il sistema di oscuramento proposto.
Il giardino è il cuore del Centro di chirurgia pediatrica ed è costituito da piante coltivate già durante le fasi di costruzione, grazie alla tecnica dell'air-pruning: le piante vengono coltivate soprasuolo, in grandi vasi, fatti di rete metallica e iuta. Nel giro di due anni le dimensioni delle piante sono raddoppiate, grazie anche al clima favorevole.
Una grande attenzione è stata dedicata alle aree di svago e di gioco sia all'esterno che all'interno dell'ospedale. Il gioco è inteso come fattore curativo, elemento strutturale del percorso di guarigione, un modo per rendere leggera e possibilmente gioiosa la permanenza nella struttura sanitaria.
La realizzazione di tutta la struttura è stata possibile anche grazie alla collaborazione di aziende specifiche, integrate tra loro e coordinate da Theatro, portando a termine un progetto definito da progettisti e committente come un "lavoro polifonico", in cui etica ed estetica si sono fuse per l'obiettivo comune di "semplificazione senza compromessi sulla qualità del risultato".
Pisé
La tecnica costruttiva del Pisé è sempre stata utilizzata in tutto il mondo, ma recentemente, grazie alla sua economicità e sostenibilità è stata molto rivalutata. È una tecnica semplice e molto antica che permette di costruire edifici richiedendo l'utilizzo quasi esclusivo di terra cruda e paglia. Per il Children's Surgical Hospital la sfida è stata quella di modernizzare la tradizione attraverso un notevole progresso tecnologico rispetto alle pratiche ordinarie. Ad occuparsi di tutto questo sono stati i progettisti di Milan Ingegneria che attraverso un'approfondita ricerca tecnico-scientifica e prove di laboratorio, sono riusciti a rendere la "terra cruda" un sistema costruttivo moderno e sicuro.
Video courtesy of Emergency - 2018 edition
La materia
Se in Italia il Pisé è una tecnica storicamente poco utilizzata, in Africa invece è usata comunemente fin dalle origini della storia umana. I professionisti di Milan ingegneria supportati dagli studiosi dell'Istituto Craterre di Lione, che da anni si occupano delle costruzioni in terra cruda, hanno analizzato numerose abitazioni storiche, ancora in ottime condizioni, presenti nei villaggi locali. Questo ha permesso agli ingegneri di apprendere importanti informazioni legate alla tradizione costruttiva originaria e ricevere preziosi spunti per la fase di sviluppo successiva.
Dopo l'indagine storica, è stato necessario domandarsi quali fossero gli attuali riferimenti normativi e di metodo per l'applicazione della terra cruda come materiale strutturale. Sorprendentemente, solo la Nuova Zelanda è sembrata avere alcuni codici relativi alle costruzioni in terra naturale.
Partendo da queste premesse di metodo, i progettisti si sono concentrati sul miglioramento delle prestazioni tecniche della terra.
Utilizzando il terreno naturale, derivato dagli scavi di progetto (argilla limosa), additivato con sola sabbia e ghiaia, non era possibile raggiungere i valori di sicurezza e resistenza necessari. Così, rifacendosi alle esperienze dell'antico Egitto in cui la terra veniva mischiata con la paglia, gli ingegneri di Milan Ingegneria hanno pensato di introdurre nell'impasto fibre di polipropilene ricavandone un immediato beneficio prestazionale. Inoltre, grazie al supporto di Mapei, la miscela è stata migliorata con leganti chimici come l'additivo Mapesoil 100, un agente stabilizzante in polvere formulato per incrementare le prestazioni meccaniche negli interventi di consolidamento dei terreni e ridurre la sensibilità all'acqua, rafforzando la struttura e ottimizzando la resistenza all'umidità.
La ricetta definitiva della miscela che compone i muri del Children's Surgical Hospital ha previsto l'utilizzo di: argilla limosa prelevata dagli scavi, asciugata e pulita da impurità organiche; ghiaia, per migliorare la resistenza a compressione; Mapesoil, per il consolidamento di terreni; una ridotta quantità di cemento, per consentire l'innesco di presa e indurimento; fibre in polipropilene lunghe 2.4 cm, con lo scopo di prevenire le microfessure per ritiro; una piccola quantità di fluidificante, per migliorare la lavorabilità dell'impasto. Il muro è infine protetto da un impregnante trasparente a base di xilano che viene assorbito dagli strati più superficiali creando uno strato idrofobico che impedisce l'assorbimento e il trattenimento dell'acqua.
Il risultato finale raggiunto dal team di Milan Ingegneria è andato ben oltre le aspettative, ideando un materiale molto più performante delle esigenze progettuali e capace di adattarsi a nuovi tipi di impieghi e costruzioni.
La costruzione
I progettisti hanno realizzato numerosi esami in laboratorio e in cantiere per testare il materiale con prove di abrasione, rottura a compressione, ultrasoniche, di invecchiamento e di ritiro. Il superamento delle prove è stato il lasciapassare per la sua messa in opera che ha richiesto altre attenzioni e sperimentazioni. I muri, di spessore mai inferiore ai 60 cm, sono stati realizzati con strati di miscela da 15 cm compattati con pestello fino a raggiungere gli 8 cm. Dopo alcuni giorni è stato applicato alla muratura il prodotto protettivo per difendere la superficie esposta agli agenti esterni. Successivamente sono stati inseriti i cordoli in calcestruzzo ai quali poter agganciare i solai, gli architravi e gli stipiti di porte e finestre.
Grazie a questa tecnica, le pareti del del Children's Surgical Hospital oltre ad essere composte da materiali riciclabili, godono anche di una considerevole inerzia termica che permetterà all'intera struttura di consumare meno energia per conservare il benessere termoigrometrico degli ambienti interni.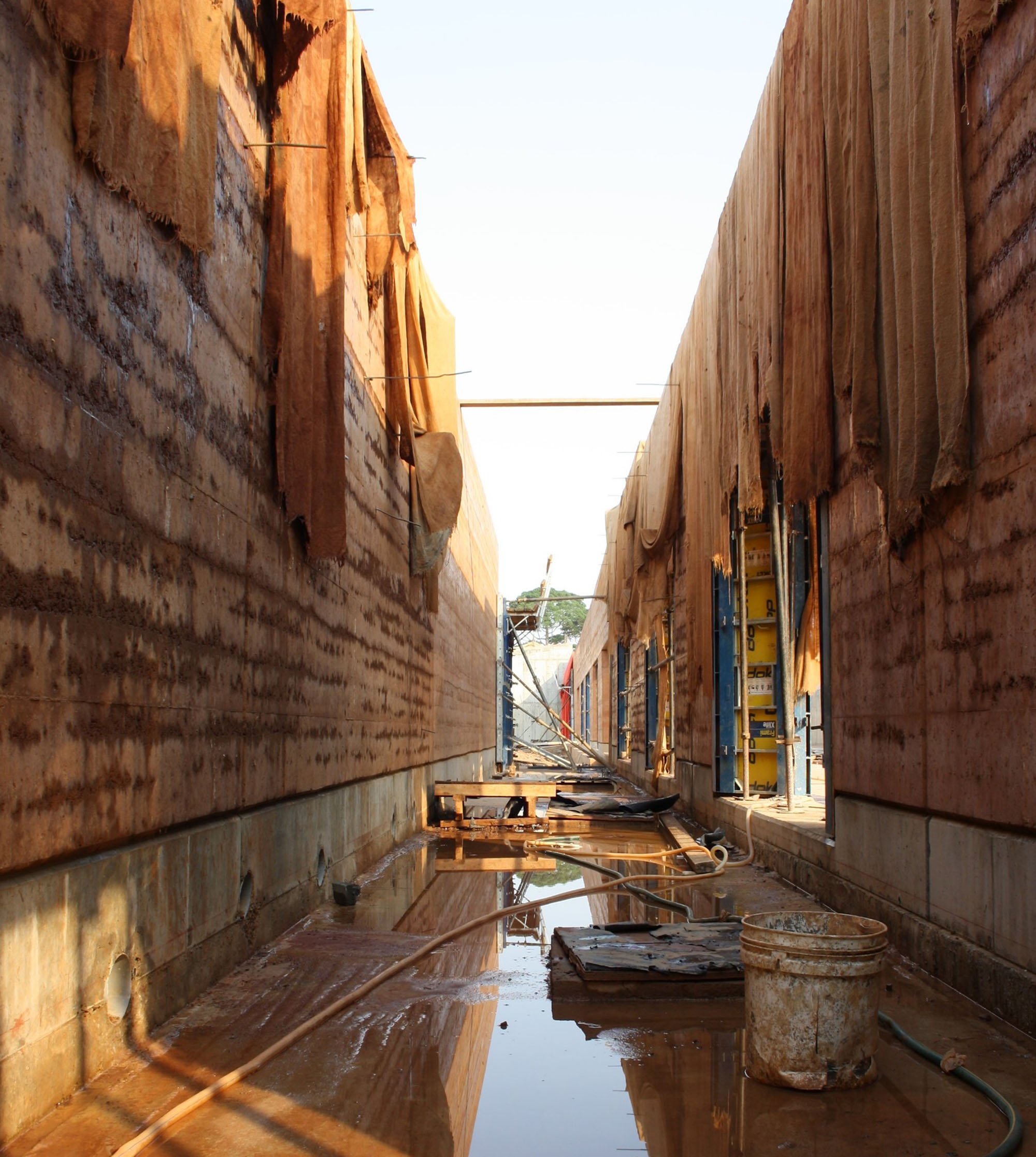 L'esperienza di Milan Ingegneria nello sviluppo tecnologico della tecnica del Pisé rappresenta un rilevante "Case history" che sottolinea come l'innovazione tecnologica delle tradizioni costruttive sia oggi non solo fattibile, ma fortemente auspicabile per un futuro migliore e più sostenibile.

Sostenibilità
Oltre alla tecnica del Pisé, sempre all'insegna della sostenibilità, il team dei progettisti ha deciso di sfruttare la vicinanza all'Equatore e la forza dell'energia solare a quella latitudine. Il tetto sopraelevato infatti ospita 2500 pannelli fotovoltaici per un totale di circa 3600 mq che, oltre a favorire un notevole ombreggiamento dei percorsi sottostanti, contribuiranno a ridurre il consumo di combustibili fossili. Inoltre, per migliorare il risparmio energetico i corpi illuminanti sono dotati di tecnologia LED comandati da sensori di presenza. L'ottimizzazione di tutto il sistema elettrico è stato curato da Schneider Electric grazie all'installazione di quadri elettrici che garantiscono la continuità di erogazione dell'energia in qualsiasi momento e in qualsiasi condizione.
L'acqua calda viene prodotta con collettori solari termici. La produzione del freddo e il controllo dell'umidità sono stati affinati con unità di trattamento aria al cui interno viene sfruttata la stessa condizione termoigrometrica dell'aria esterna per garantire il comfort ambientale senza la necessità delle tradizionali batterie degli impianti a tutta aria. Il mantenimento delle aree verdi e degli esterni viene garantito dal recupero dell'acqua piovana in serbatoi dedicati.
Location: Entebbe, Uganda
Completion Date: 2021
Project Owner: EMERGENCY NGO Onlus
Architects: Renzo Piano Building Workshop & Studio TAMassociati
Design team: RPBW - G.Grandi (partner in charge), P.Carrera, A.Peschiera, D.Piano, Z.Sawaya and D. Ardant; F.Cappellini, I.Corsaro, D.Lange, F.Terranova (models) - TAMassociati - R.Pantaleo, M.Lepore, S.Sfriso, V.Milan, L.Candelpergher, E. Vianello, M.Gerardi - EMERGENCY Field Operations Department, Building Division - Roberto Crestan, Carlo Maisano.
Consultants: Milan Ingegneria (structure); Prisma Engineering (MEP); Franco and Simona Giorgetta (landscape); GAE Engineering (fire consultant); J&A Consultants
Photography by Marcello Bonfanti, Courtnay Robbins, Archivio Emergency, Emmanuel Museruka – Malaika Media
All images courtesy of Renzo Piano Building Workshop & Studio TAMassociati, Milan Ingegneria