How do you design a museum for children? Simple, give children the job. This is what happened in London, where, after months of workshops, a group of 22 thousand children designed the new Young V&A. Previously known as the V&A Museum of Childhood, the museum reopened on July 1 after a three-year renovation project commissioned by the Victoria and Albert Museum.
Overseen by the De Matos Ryan studio, winner of the competition with a £13.5m budget, with AOC Architecture handling the fixturing, Young V&A is a true example of co-design. Located in Bethnal Green in London's East End, the museum started life in 1872 as the East London Museum of Science and Art to serve the needs and desires of young British people aged between 0 and 14 – that is, the same age group that the workshops and exhibitions at the Young V&A are intended for.
The museum is a place to play, imagine, have new experiences, and make new friends, where creativity and the senses play the leading role. The Play, Imagine, and Design galleries will feature stories created by the ingenuity and imagination of children, alongside two thousand works from the V&A's vast collection. Ranging from Hokusai to Keith Haring, Micro Scooters to Minecraft, and surrealists to superheroes, the exhibits are intended to help kids develop the skills and confidence they'll need in the society that awaits them as adults.

>>> Discover the York Theater Royal refurbishment project, also the work of De Matos Ryan
Three themed galleries with tactile, sensorial landscapes
Built around a space dubbed Town Square, which includes a park, café, shop, and meeting place, the Young V&A has three galleries: Play, Imagine, and Design. Each one has been designed for all age groups, from infants to teenagers, with exhibitions for families, interactive content, and hands-on activities. Starting in fall with the exhibition Japan: Myths to Magna, presented in collaboration with Studio Ghibli, they'll also host free events.
Highlights of the museum include colorful and tactile sensory landscapes, performance spaces dedicated to storytelling for young readers and future writers, an open design studio where children can learn and work with real designers, and a game design space.
Created by Blockworks with the support of Mojang and Microsoft, the interactive Minecraft installation in the Arcade game design space, part of the Play Gallery, is a highlight, taking visitors into the real and imaginary worlds created by Minecraft players around the world. Also in the Play Gallery is the Mini Museum, a space where babies and toddlers can experience the world through a sensory landscape at ground level.
"Children and young people have been disproportionally affected by the pandemic and its aftermath. Young V&A is our response: a flagship project investing in creativity with, and for, young people and their futures. We're using our stunning collection of art, design, and performance to open the nation's favorite design club for all children and young people. In new galleries and exhibitions, from early-years spaces to teenage game design rooms, our plan is to foster Britain's next generation of artists, thinkers, makers, innovators, and entrepreneurs." Tristram Hunt, director Young V&A
Murals, inventions, and special events
Several of the museum walls feature new murals by street artist Mark Malarko, known for his cartoon-inspired works in London, Athens, Barcelona, and Berlin, as well as portraits by photographer Rehan Jamil for the exhibition This Is Me, where some young artists express their ideas of creativity alongside self-portraits by people such as Chila Kumari, Singh Burman, Quentin Blake, Kenneth Branagh, Dapo Adeola, and Linda McCartney.
To showcase how design can change the world by giving a voice to people on current issues, the Design Gallery includes 1913 prints designed by women's rights group the Suffrage Atelier; artwork from the XR Families Group, which encourages children to express their concerns about the environment through art; and works by climate activist Greta Thunberg.
The innovative creations of under-14s for the Raspberry Pi competition are on show in the spaces dedicated to experimentation in the Imagine Gallery. Some of the coolest ones are a gas leak detector designed by 11-year-old Sashrika Das, and EleVoc 2022, a human-elephant conflict device designed by 14-year-old Chinmayi Ramasubramanian.
>>> The V&A Photography Centre, the UK's largest dedicated photography space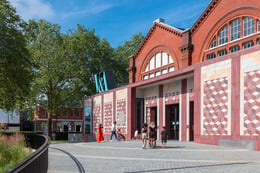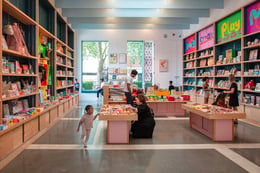 Credits
Location: London, UK
Completion: 2023
Architect: De Matos Ryan
Interior Design: AOC Architecture
Photography by Luke Hayes and David Perry, courtesy of V&A Museum, London