City or country? This is a question that a lot of us ask ourselves when we want to reconnect with nature and consider escaping the unrelenting rhythms of urban chaos. Paradoxically, though, while we might want to leave that frenzied pace behind, we often also yearn for it, attracted and energized by the sights, sounds, and events of the city.
City or country? The question has grown more insistent with the arrival of spring, as its colors draw our eyes away from our tiny iPhone screens to the seemingly limitless horizons and skies of the countryside. City or country? But what if the answer lies somewhere in between? Not in rustic peace or urban chaos, but in a place between the two?
Maybe we need to change our perspective. Maybe we should try investigating our local urban waterways, take walks along their banks and seek out different horizons within our own city. With so many of us still required to keep local, why not find out what swimmable urban rivers are available near our homes? After all, nature also exists in the city. It's simply a matter of seeing it and enjoying it, so there's no need to escape to the country.
The shape of water: living and swimming in the city
All over the world, people are rediscovering the rivers, ports, and canals of their cities as places for leisure and socializing. In cities like London, New York, Melbourne, and Paris, young designers as well as activists are throwing their weight behind bold plans to reclaim urban waterways as spaces for people.
River swimming is being rediscovered because rivers are a form of nature that, far from being separate from cities, can actually enrich our dialogue with them. Take, for example, this multilevel riverside garden project entered in THE PLAN AWARD 2020, where green hills block out the city traffic and plunge into the water of the Yangtze River.
Find out how to participate in the Landscape category of The Plan Award 2021.
Covid has amplified our desire for nature and water. With swimming pools frequently closed during lockdown, thousands of people have gotten back to swimming in the cold waters of lakes, rivers, and streams.
One of the best examples can be found in Switzerland, a country with a long tradition of urban swimming. Basel, Bern, Zurich, and Geneva are all swim cities, with swimmable rivers restored to their citizens as natural public resources. For quite some time, waterways previously reserved for industry have been used as recreation areas, with many located within walking distance of residents' homes and part of their daily routine. People often take a quick dip in the river during their lunch break or even take advantage of fast currents to swim to the office. In practical terms, the banks of these waterways are as central to the image of the modern Swiss city as its famous buildings.
Another fascinating example comes from London. Aiming to establish natural swimming baths along the Thames, the Thames Baths project has a groundswell of community support. A driving force behind the scheme is Studio Octopi, which is promoting better access and use of urban waterways right across the UK, while developing ideas for both baths and beaches along the Thames. The studio is also working with artists and community groups to reopen closed and demolished "lidos" (public outdoor swimming pools built in the 1920s and 1930s).
Something similar is happening in Berlin. Non-profit association Flussbad Berlin is working on an urban development project centering on the Spree River, which flows through central Berlin, to transform it into a clean waterway for use in a totally new way.
The project features a landscaped park, abundant plant life to act as a filter, and a 2,700 foot (840 m) long natural bathing area. From the Humboldt Forum to the Bode Museum along Museum Island, a public space will be created to tempt Berliners and visitors to take a dip in the pristine water. The project also envisages filtering the water in a completely natural way, thereby transforming the Spree, near the Fischerinsel, into a clean and green landscape.
See how an entire waterfront is being redesigned in China | The Plan Award 2020, Landscape category.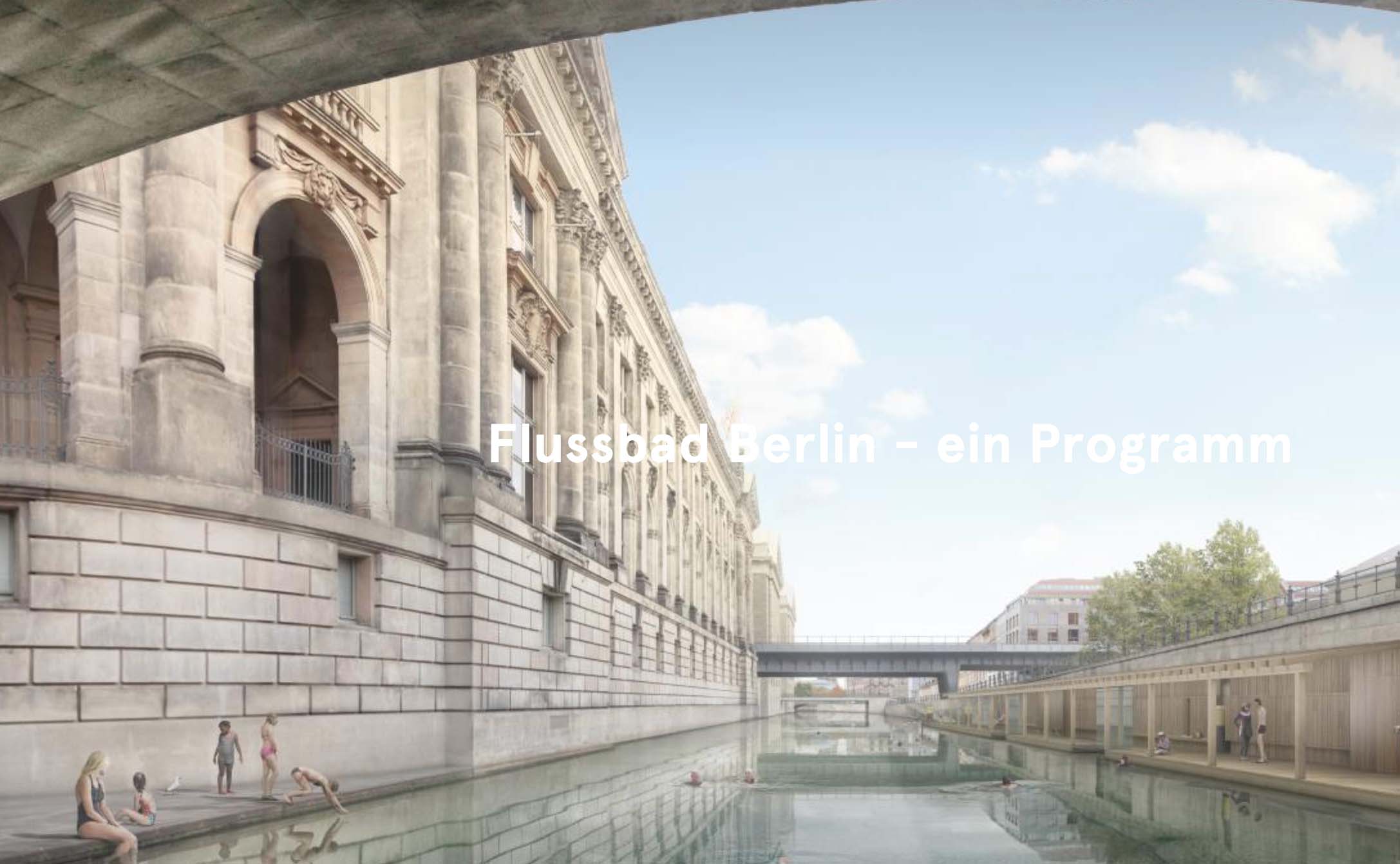 Living both on and near water is very much a part of Parisian culture, where, since the 2000s, the Paris Plage has been operating – several miles of beach along the Seine, set up to host recreational and sporting activities on sand and grass.