The recent past has changed our habits, has disrupted daily life with inevitable new economic arrangements, favoring some sectors. Among these, the prospects for top home luxury categories, especially premium home appliances, high-end furniture and designer interiors, are looking exceptionally positive in 2021.
In a recent Luxury Institute survey of Global Luxury Expert Network (GLEN) members and a select group of premium and prestige brand leaders, there was a consensus that the luxury homeware and products market is set for a very good year. 56 percent of participants agreed that the home appliance sector will make gains on the back of innovation/technology driven upgrades, while 68 percent concurred that home furnishings will flourish as more people seek to customize their spaces in the stay-at-home era. And almost all survey respondents (96 percent) expressed confidence in the continued ascendance of the health and wellness sector thanks, again, to new technologies/innovation.1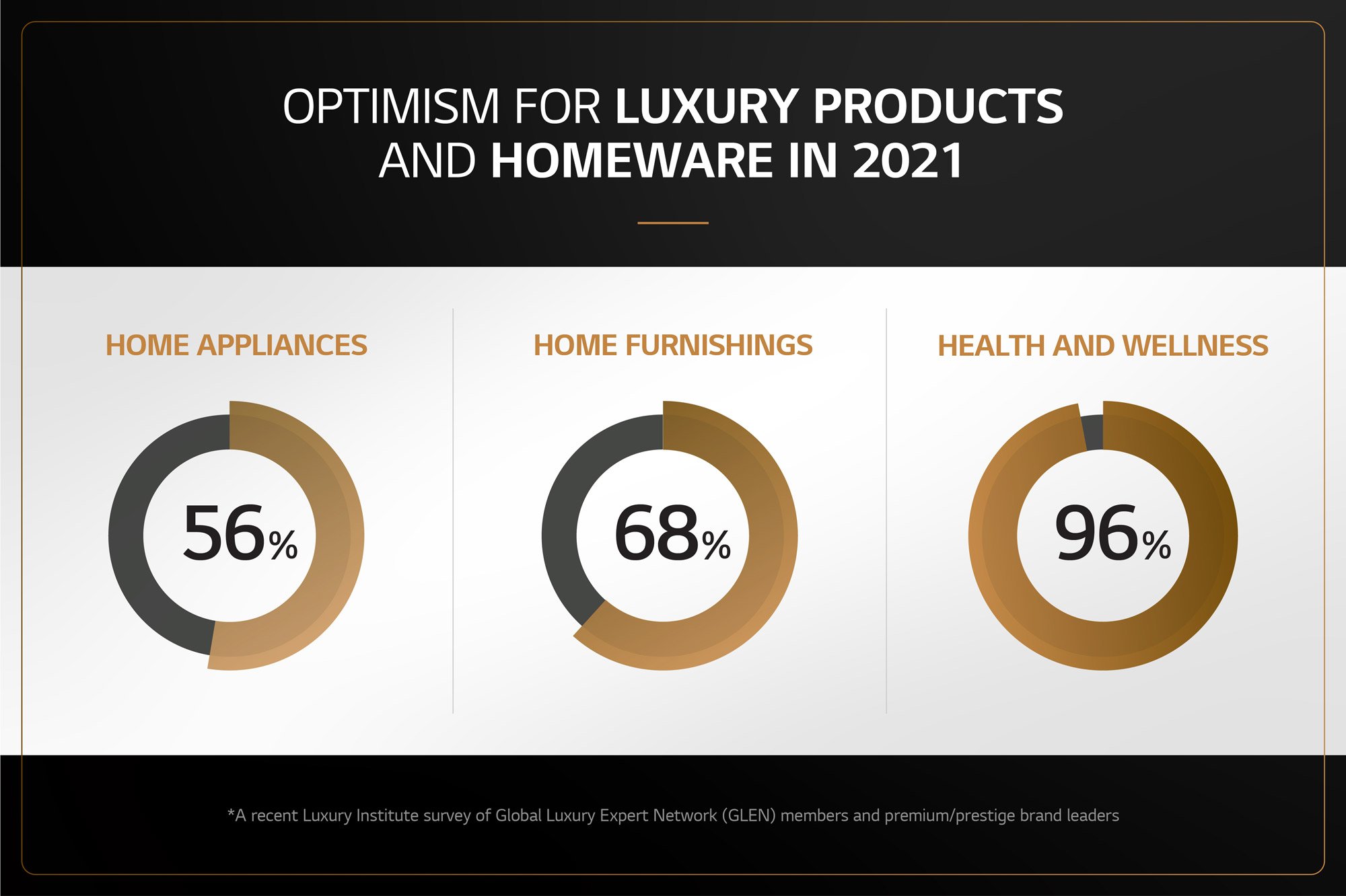 Technological and Material Innovation
A great example of the innovation that is pushing growth in the home appliance sector is LG SIGNATURE, an ultra-premium brand known for its pioneering technologies and design. A brand, which has developed a strong reputation among the world's most discerning consumers for products that maximize quality-of-life through the harmonious blend of art and technology.
Innovative technologies and designs are applied throughout the brand's premium lineup to enhance performance, ease-of-use and visual appeal. For instance, the LG SIGNATURE Wine Cellar leverages InstaViewTM technology to keep internal temperatures stable and lock in freshness, creating a strong thermal barrier to maintain the perfectly chilled environment for wines and specialty foods. While, with a brushed stainless steel finish that looks and feels hand-crafted, the LG SIGNATURE Refrigerator is a stylish addition to any modern kitchen.
"Custom-Made" Innovation
Innovation in home furnishings and indoors redefined also the concept of custom-made with multiple 'individualization' options and the creation of more controlled environments with innovations for hygiene and safety. With people arguably more focused on curating their living spaces than at any point in recent history, homes are now being designed to fit people's lifestyles, and not the other way round. Accordingly, many home-furnishing brands, including top luxury names, are using innovation to create solutions tailored to the needs of the individual.
An example of this is Molteni&C, which is redefining the concept of custom-made, providing multiple 'individualization' options that allow customers to tailor configuration and aesthetics to their own unique needs and tastes.
Innovation to Keep Your Home Sanitized and Safe
Keeping the home sanitized and safe has become another top priority for many people. For this reason, it has led a growing number of interior brands to focus on developing hygiene-enhancing home solutions.
As Kohler, which has released a collection of touchless kitchen faucets that allow users to start and stop the flow of water, and dispense measured amounts, via voice command or motion-based interaction.
Or Marazzi, which has launched its Carácter antibacterial tiles, which eliminate bacteria and other harmful microorganisms without the need for external activation agents, such as UV radiation.
Finally, the home has become the center of the universe for many people over the past twelve months. Given the abundance of time now being spent there, it makes sense that more and more consumers are willing to invest in premium home appliances and furnishings. Luxury products with innovative features and exceptional styling add to the enjoyment of daily life, lifting one's spirits while offering real, practical benefits that, once experienced, are almost impossible to live without.
1. Luxury Institute, "Top-Tier Luxury Experts' Forecast for the Luxury Industry in 2021", PR Newswire, 1 ottobre 2020.