Porta Nuova is the world's first neighborhood to be awarded dual LEED® and WELL® sustainability certification. This distinction could go only to Milan, with its track record as a global icon in fashion and design, and a melting pot for new trends and innovative work dynamics. In fact, today it has become one of the most sustainable international cities, attracting not just as a tourism destination but primarily as a place to live. The announcement that dual certification had been achieved was made at the recent annual meeting of COIMA Real Estate Forum for comparing ideas on land development. Here the importance of the regeneration and upgrade project encompassing an ecosystem previously fractured by the presence of the Garibaldi-Repubblica disused railway area was underlined.
It is interesting in this sense to take a look at a few statistics: according to the October 2022 data published by the newspaper Il Sole 24 Ore, the Italian real estate investment market is set to close its books for this year on an increase, with an overall volume of investments totalling more than €11 billion (70% of which is foreign capital) compared to the €10 billion of 2021.
Standing at the heart of these investments is Milan: Porta Nuova is therefore one of the best examples of urban upgrading, and the first neighborhood worldwide that the US Green Building Council and the International Well Building Institute (IWBI) have awarded dual LEED and WELL certification to, this being synonymous with the social, environmental and economic sustainability of a real estate project or ‒ as in this case ‒ an entire urban district.
Porta Nuova ‒ a workshop for urban regeneration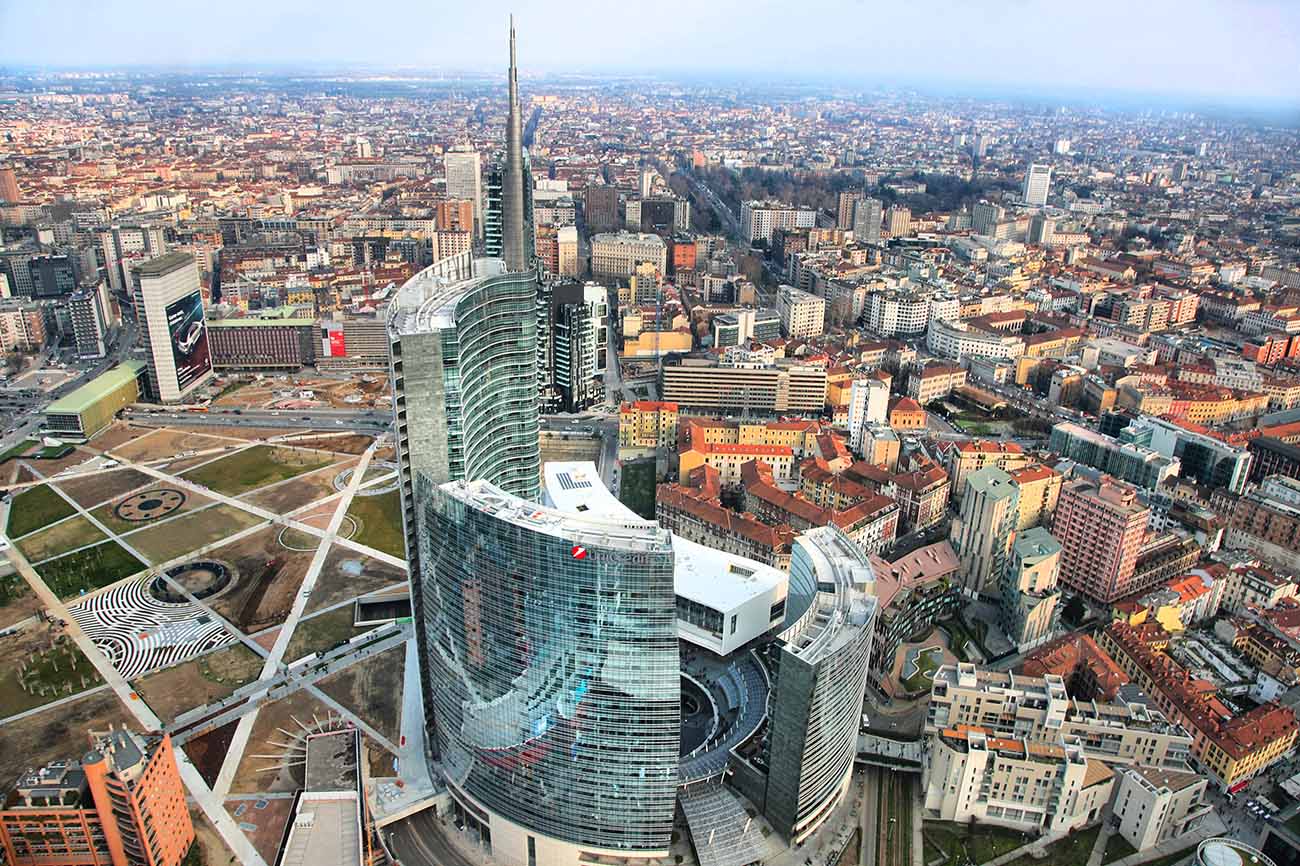 As emerged during the COIMA Real Estate Forum, attended by Italian and international institutions and investors, Porta Nuova will contribute to positioning the Lombard capital and Italy among the most advanced locations for making sustainable real estate investments with a transparent and measurable impact. Work on its design began in 2003 and sees COIMA itself as the main representative and investment leader.
Today the neighborhood could be defined as a workshop for exploring sustainable urban regeneration, but its redevelopment has not been easy, given the presence of the railway and the disjointed nature of the urban areas, separated from one another for over a century. It was decided to shape public spaces and create a neighborhood community also through an innovative public-private partnership between Milan city council, COIMA and the Riccardo Catella foundation to manage security, maintenance and the cultural programme at the BAM - Biblioteca degli Alberi Milano park (Milan's 'tree library'). This green area hosts more than 200 cultural events and activities on a variety of themes every year, with the goal of building and fostering citizens' involvement, underpinned by a sustainable business model that can be duplicated in other parks and cities around the globe. It should be mentioned that, since 2012, development of the district has also been backed by Qatar Investment Authority (QIA), the State of Qatar's sovereign wealth fund.
What makes Porta Nova the world's most sustainable neighborhood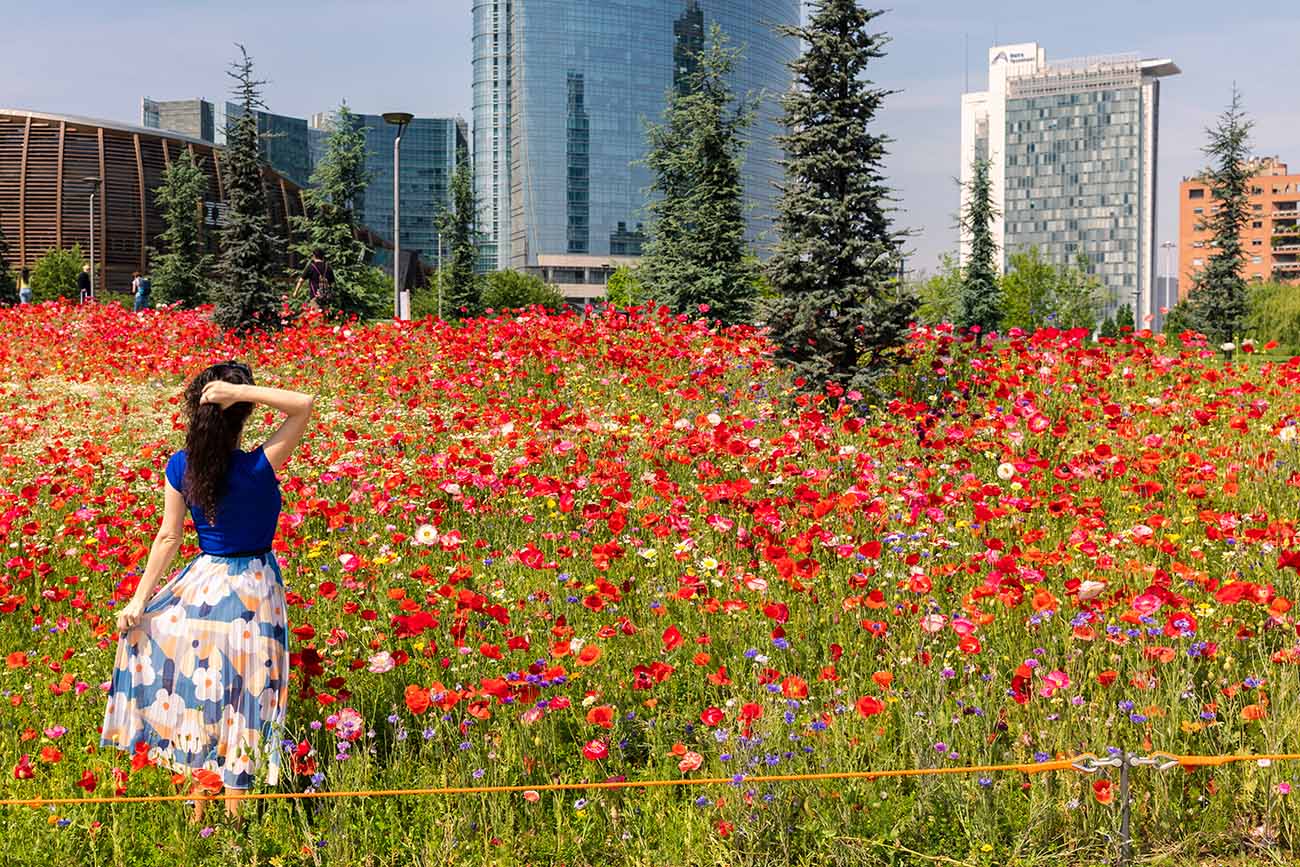 Porta Nuova has received both certifications, LEED® and WELL®, with GOLD rating, thus demonstrating the eco-sustainability of the district, ensured by 36 LEED Gold- and Platinum-certified buildings, Italy's first WELL-certified skyscraper (Corso Como Place, chosen by Accenture for its Milan office), the largest nZEB tower (Gioia 22, soon to become the Gruppo Intesa Sanpaolo headquarters) plus five other edifices currently under design. Also taken into consideration are energy originating 0% from fossil fuels, use of a geothermal system drawing on groundwater, and 17.2 m2 per person of green space (much higher than the desired amounts set out by the World Health Organization).
Transport too has played a key role in gaining the two certifications for Porta Nuova. More specifically: its proximity to the main urban travel networks, with two railway stations and three metro lines; more than 3.6 km of cycle paths and fully pedestrianised outdoor areas, with complete separation between motorised traffic and 'slow' cycle/pedestrian mobility; the first ultra-fast Volvo recharging station and electric charging points present in the parking areas of all the buildings.
>>> Discover ENI's new headquarters in San Donato Milanese, the latest addition to Metanopoli, designed by Morphosis in partnership with Nemesi
Another significant factor for meeting certification requirements was the active involvement of the community through numerous cultural events sponsored by the Riccardo Catella foundation, the Feltrinelli foundation and Casa della Memoria, besides the many leisure and wellness activities made possible by input from the neighborhood residents, as well as the BAM cultural programme, with an inclusive approach offering initiatives free of charge.
What changes between LEED and WELL for Communities
LEED® for Cities and Communities certification pivots on the planning, growth and development works regarding cities, assessing the sustainability of construction techniques and the materials deployed, the environmental impact of the edifices and the use of renewable energy sources.
Assessment and the consequent score centre on eight main parameters:
1. natural systems and ecology,
2. transport and land use,
3. water efficiency,
4. energy and emissions,
5. materials and resources,
6. quality of life,
7. innovation,
8. regional priorities.
Introduced in more recent years, WELL® Community Standard certification instead focuses on citizens' well-being, considering integration of people through public spaces: priority is placed on safeguarding health and physical and mental well-being in all aspects of community life.
Certification takes ten aspects into account:
1. air,
2. water,
3. nourishment,
4. light,
5. movement,
6. thermal comfort,
7. sound,
8. materials,
9. mind,
10. community.
>>> Discover also DIG421: an all italian example of leed and well certified buildings
||| SUBSCRIBE TO THE PLAN ||| Get the greatest stories worldwide in architecture and design, the latest projects, builds, rankings and reviews, advice on videos, gallery images and interviews
Credits
Location: Porta Nuova, Milano
Developer: COIMA
Partnership: Comune di Milano, COIMA, Fondazione Riccardo Catella, Qatar Investment Authority (QIA)
Individual photo credits are included in each gallery image
All images courtesy of COIMA