Everybody seems to want to live in Milan. There's a great number of flats and homes on offer but most are outdated in terms of quality and price per square metre. The positive note is that the core of the city is becoming ever better connected to the outlying areas that were once considered remote and accessible only with private means: the city's public transport network is now one of the best in Europe, thanks to its new metro lines and urban railway services, and has sparked a far-reaching regeneration processes.
An example in this context is an interesting upgrade of an area of roughly 5,500 m2 where derelict factory premises previously stood: the residential complex at number 18 on Via Cefalonia. The new real-estate development by the company Borio Mangiarotti, making an investment of €16 million, is currently under construction between Via Cefalonia and Via Sapri, very near the Garegnano Charterhouse. This site is located not far from the Cascina Merlata public park and the dynamic MIND district, which is well connected to Milan city centre and is experiencing great input.
One of the hallmarks of this project ‒ besides it being a class-A NZEB (nearly zero-energy building) complex ‒ is that it will provide an excellent combination of private and public spaces, where inhabitants will be able to share green areas and services, without overlooking that all the first-necessity amenities, such as schools, supermarkets, gyms, restaurants and cinemas, are available in the immediate proximity.
Bearing the signature of Studio Calzoni Architetti, the project creates a residential complex with 56 apartments of varying sizes in two buildings of four and seven storeys, both looking out over a courtyard featuring a large green area with trees, shrubs and ornamental plants. The courtyard will be the focal point for interaction between the complex's new inhabitants and, to give substance to this sense of identity and community, will accommodate a site-specific installation by the artist Chiara Zucchi.
Works completion and property consignment to the new owners are scheduled for June 2024.
>>> Milano Tre: Studio Atelier Femia will design the new Next Generation Living
Via Cefalonia 18, Milan ‒ an NZEB complex for building a sense of community
As already mentioned, the entire complex will be class-A NZEB (nearly zero-energy building), with a solar panel system connected to the condominium power network. Besides being fitted out for installation of a heat recovery ventilation system allowing optimal air circulation, each apartment will already be equipped with an energy-saving concealed fan-coil system for summer cooling and radiant floor heating panels for winter use.
Attention for sustainability is among the founding principles of the Fondazione Claudio De Albertis fund, set up by Borio Mangiarotti within the Fondazione di Comunità Milano with the aim of supporting socially useful projects and initiatives, including those focused on improving the local urban area.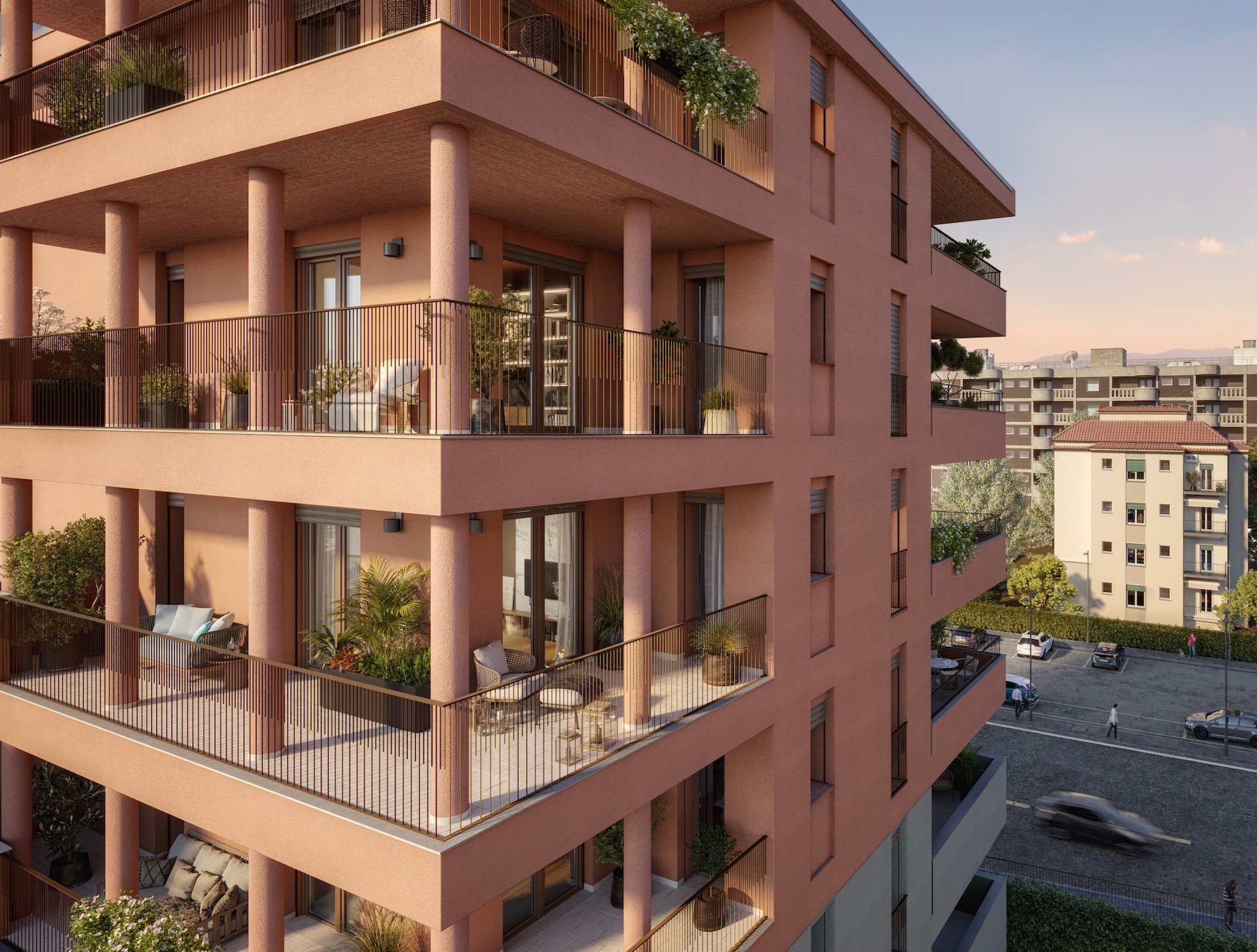 The ground floor of the Via Cefalonia 18 residential complex will be given over to communal facilities (a caretaker's office, bicycle parking, condominium spaces, residents' storage units and areas for waste collection), while the basement will house 57 private garages and the systems rooms.
The linear identity of the façades is animated by the use of different colours (light green for the bottom floors and pale brick for the upper parts) and by the inclusion of balconies and loggias edged by solid walls on the lower storeys and external elevations, and by open metal railings on the internal elevations and for the top floors.
Implementing innovative solutions to shape cutting-edge residential projects that are also respectful of the urban fabric they go to join ‒ this is part of our design philosophy. Besides social and environmental sustainability, careful attention is also focused on the community dimension, which is an important detail in this city's geography, commented Edoardo De Albertis, CEO of Borio Mangiarotti.
>>> Another in Milan: San Raffaele ‒ the first Italian hospital to earn LEED Gold certification
Cefalonia 18 is the first of the Borio Mangiarotti new residential projects to begin construction this year. Getting underway in 2021, again in Milan, were the works for Certosa 135, a complex of 27 flats ‒ all already sold ‒ between Via Gallarate and Viale Certosa, and for Arrivabene 14, in the heart of Bovisa. These are found alongside SeiMilano: an urban generation project by the studio Mario Cucinella Architects (MCA) covering an area of more than 300,000 m2 between Via Calchi Taeggi and Via Bisceglie. The development, to be completed by the end of 2024, will provide about 1000 private and public subsidised accommodation units, 30,000 m2 of office space and about 10,000 m2 of retail facilities, integrated with a new 16-hectare public park set out by the landscape architect Michel Desvigne.
Also starting in June are the works for the residential project Via Teocrito, between the Gorla and Precotto stops on the metro red line. Other building sites, opening by the end of the year, are to create 280 flats in Via Bistolfi, near the Scalo Lambrate railway station, and 40 homes in Piazza Tirana, very near the future San Cristoforo stop on the M4 metro line.
||| SUBSCRIBE TO THE PLAN ||| Get the greatest stories worldwide in architecture and design, the latest projects, builds, rankings and reviews, advice on videos, gallery images and interviews
Credits
Location: Milano
Real Estate operator: Borio Mangiarotti spa
Project by Studio Calzoni Architetti
Images courtesy of Studio Calzoni Architetti