Two women have won Golden Lions for Lifetime Achievement at the 2022 Venice Art Biennale: German sculptor Katharina Fritsch, and Chilean poet and artist Cecilia Vicuña. The prizes will be awarded during the inauguration ceremony on Saturday, April 23, at Ca' Giustinian, the headquarters of the Venice Biennale.
Venice Biennale Arte 2022
Women have taken centerstage at Biennale Arte 2022, with Golden Lions for Lifetime Achievement awarded to artists Katharina Fritsch and Cecilia Vicuña. The decision was approved by the Board of Directors, chaired by Roberto Cicutto, upon recommendation of Cecilia Alemani, curator of the 59th International Art Exhibition of Biennale di Venezia. The awards ceremony will take place at Ca' Giustinian on April 23 as part of the inauguration of the event, which will remain open at the Central Pavilion and the Arsenale until November 27, 2022. This year's exhibition is titled "The Milk of Dreams," the name taken from a book by surrealist author Leonora Carrington that, as the curator recalls, "describes a magical world where life is constantly re-envisioned through the prism of the imagination. It is a world where everyone can change, be transformed, become something or someone else. The exhibition takes you on an imaginary journey through the metamorphosis of bodies and definitions of humans."
>>> Discover the Biennale Arte 2022 program of events
Who are the two lionesses?
Born in 1956, sculptor Katharina Fritsch lives and works in Wuppertal and Düsseldorf, Germany. Part of the new pop movement, Fritsch examines numerous themes and is inspired by different sources, including Christianity, art history, and folklore. Her work combines traditional sculpture techniques with industrial production methods. On different scales, her art is characterized by bold shades. She conceives her pieces as 3D photographs, to which light adds a disorienting and immaterial aspect. Many of her works are produced as multiples, although some are one-off large-scale sculptures, such as Elephant (1987) and Rattenkönig (1993), which was exhibited at the 1999 Venice Biennale. She has participated in many international art exhibitions, while numerous galleries and museums in Europe and the United States have dedicated one-person exhibitions to her work.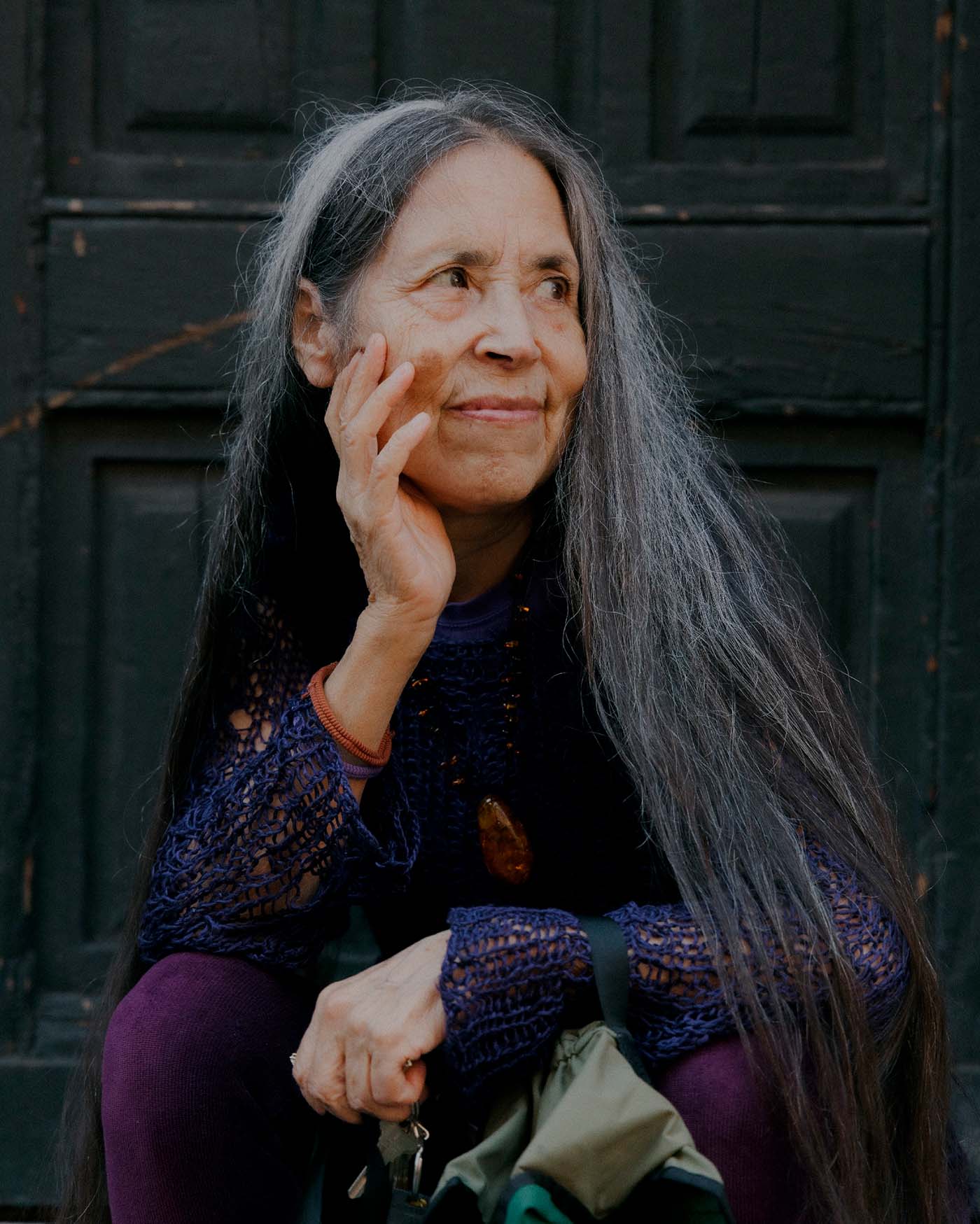 Cecilia Vicuña (1948) is a poet, artist, filmmaker, and activist. She lives and works between New York and Santiago de Chile, where she was born and raised, before being forced into exile after the coup against Chilean President Salvador Allende in the early 1970s. Her impermanent, multidimensional works address the urgent concerns of today, such as environmental destruction, human rights, and cultural homogenization. All her work has a link to the history and culture of Chile's Indigenous people. She is a cofounder of Oysi, a nonprofit based in New York that promotes exchange between artists, scientists, and oral cultures around the world. Her works are displayed at numerous exhibition centers, including the Tate Modern in London, the MoMA and Guggenheim Museum in New York, and the Museo Nacional de Bellas Artes de Santiago de Chile. She has written 27 art and poetry books, published in the United States, Europe, and Latin America, and has made documentaries, animated films, and visual poems.
Motivation for the award
Curator Cecilia Alemani outlines the careers of the two artists who have won this year's Golden Lions for Lifetime Achievement and the reasons behind the choice.
"The first time I saw one of Katharina Fritsch's works in person was actually in Venice, at the first Biennale I ever attended, the 1999 edition curated by Harald Szeemann. The massive piece filling the main room at the Central Pavilion was titled Rattenkönig, the Rat King, a disquieting sculpture in which a group of giant rodents is crouched in a circle with their tails knotted together, like some strange magic ritual. Every time I've encountered one of Fritsch's sculptures in the years since, I've felt the same sense of awe and dizzying attraction. Fritsch's contribution to the field of contemporary art, especially sculpture, has been incomparable. She creates figurative works that are both hyperrealistic and fanciful: copies of objects, animals, and people, faithfully rendered in every detail, but transformed into uncanny apparitions. Fritsch often alters the scale of her subjects, shrinking them down or vastly enlarging them, and coating them in disorienting solid colours: it feels like one is looking at monuments from an alien civilisation, or artefacts on display in a strange posthuman museum."
"Cecilia Vicuña is an artist and a poet, and has devoted years of invaluable effort to preserving the work of many Latin American writers, translating and editing anthologies of poetry that might otherwise have been lost. Vicuña is also an activist who has long fought for the rights of Indigenous peoples in Chile and the rest of Latin America. In the visual arts, her work has ranged from painting, to performance, all the way to complex assemblages. Her artistic language is built around a deep fascination with Indigenous traditions and non-Western epistemologies. For decades, Vicuña has travelled her own path, doggedly, humbly, and meticulously, anticipating many recent ecological and feminist debates and envisioning new personal and collective mythologies. Many of her installations are made with found objects or scrap materials, woven into delicate compositions where microscopic and monumental seem to find a fragile equilibrium: a precarious art that is both intimate and powerful."
||| SUBSCRIBE TO THE PLAN ||| Get the greatest stories worldwide in architecture and design, the latest projects, builds, rankings and reviews, advice on videos, gallery images and interviews
Location: Venezia, Italy
Date: 23 aprile 2022 - 27 novembre 2022
Photography courtesy of La Biennale Venezia
Please refer to the individual images in the gallery to look through the photo credits