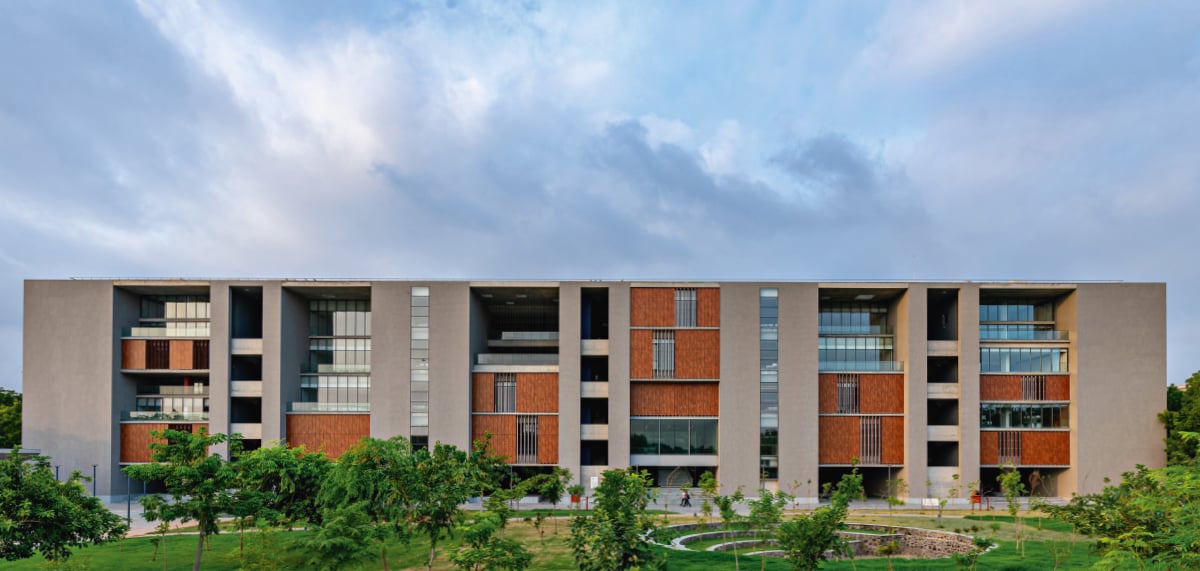 Recently inaugurated, the building housing the School of Arts and Sciences of Ahmedabad University in the Indian State of Gujarat is the result of in-depth reflection on what constitutes the essence of architecture. The edifice had to come to terms with its proximity to pre-existing volumes built over the years as Ahmedabad University developed - its nearest neighbor belongs to the initial 1935 campus - and to an adjacent green area. It therefore had to integrate into a sedimented context but at the same time symbolize renewal, a trait made even more important by the new building's location at the University entrance. The School of Arts and Sciences also represents a new thrust in education, placing under one roof different branches of knowledge and juxtaposing disciplines like biology, linguistics and the humanities; math and physics; and social sciences. At the forefront of new thinking in the approach to learning, this interdisciplinary approach now informs the school's teaching and training techniques where the accent is on laboratory activities and interactive cognitive learning.
This innovative educational approach informs the architecture of the School of Arts and Sciences. Its plan facilitates flexible circulation, synonymous with people coming together and exchanging ideas, enriching interpersonal relations but also broadening the reach of the different academic disciplines as they cross paths. Accordingly, the architectural plan allows for future extensions and variations to the interior layout of the building.
Importantly too, the internal flexibility built into the plan combines with external permeability, the large triple-height atrium serving not only as the entrance to the building but also as a through-path connecting the forest-like areas adjacent to the School. The atrium serves as the pivotal center of the new
facility - a long linear structure on an east-west axis - and it is a symbolic meeting place....
Proceed with your preferred purchase option to continue reading
Subscription
From 35.00 €