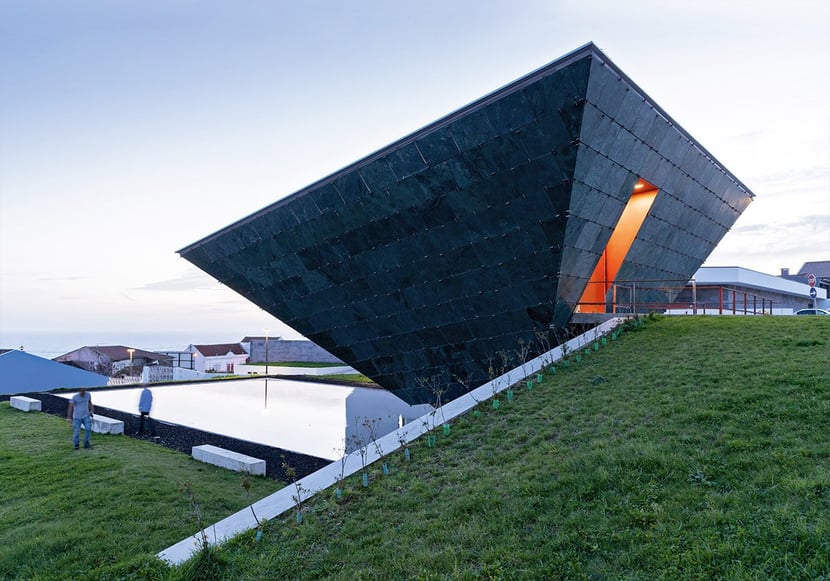 We traveled to the Azores Islands on a late January day. This is the time of the year when the islands, four hours flight from Boston and two hours from Porto, are well lit by the southern sun and frequently washed by showers of rain that bring the contrast between the rich lush green botany and the shimmering light coming off the dark lava rocks and earth into a dramatic contrast.
Ponta Garça, on São Miguel Island, is a modest village on the higher ground, away from the sea, which can be seen below but not heard. The Capela de Luz Eterna (Chapel of Eternal Light) is situated in the midst of a newly developed part of the village, which includes a school, on the slope facing the sea. The entry to the Capela de Luz Eterna is on the north side of the upside down pyramid. As soon as one enters, one is struck by the quality of light in the interior. By framing the openings so precisely, something like the quality of a camera obscura is invoked. It is not an invitation for a contemporary confused observer. It is an invitation for the purist's eye who will not confuse his own sensations with what is unfolded in front of his eyes. The interior follows clearly the contours of the external envelope.
The horizon is the sea in the distance. The ground below us, the vertical, is in our erect body and mind.
It is as rare as it is difficult to be offered the gift of presence, and the possibility of light, a beam of light that is free from any other duty, from any other meaning or any other subordinated role. Light is framed as it enters, when it penetrates a prismatic dark Capela, the interior of a modest upside down pyramid, clad outside in dark green Guatemalan marble slabs. In this place of departure and arrival on earth, the significance of this color cannot be lost. Indeed, in ancient Egypt the color green was already associated with the green vegetation from which papyrus was made, signifying the round of death and...
Proceed with your preferred purchase option to continue reading
Subscription
From 35.00 €