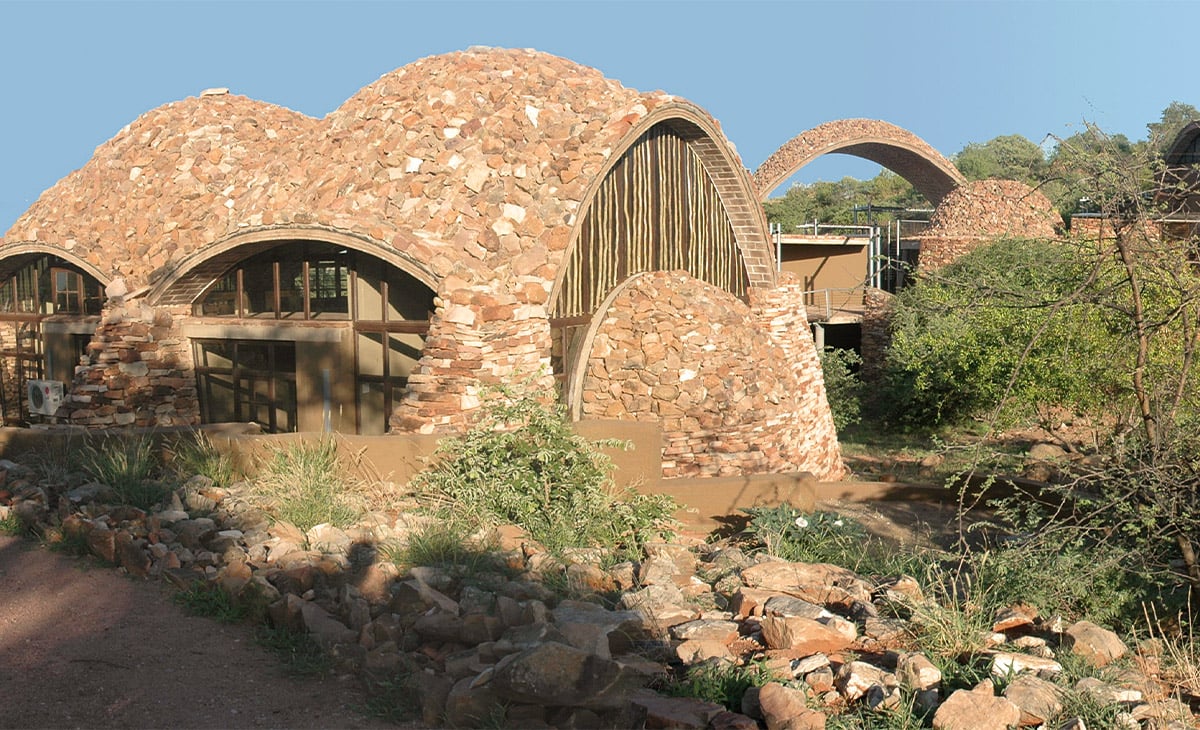 Designed by Peter Rich Architects, the Mapungubwe Interpretation Centre is the physical and symbolic entrance to the Mapungubwe National Park located in north-east South Africa near the borders with Zimbabwe and Botswana at the confluence of the Shashi and Limpopo rivers.
In past centuries a major trading hub and cultural melting pot on the vast, undulating savannah, the site is a unique archaeological, cultural and natural location. The modulated architecture of the Mapungubwe Interpretation Centre reflects this long history while asserting its contemporary relevance.
Traditional building techniques have made use of locally produced brick, stone from local quarries and wooden secondary sun-shading structures. More contemporary features include the overall project design, the way the timbrel-vault forces have been distributed, the particular concrete mix, and the use of metal uprights and glazed lights with a web of organic decorative motifs.
The result is a strong architectural experience yet one that fits seamlessly into its earthy landscape. The timbrel vaults (made of layers of slender bricks on a bed of rapid-set concrete) of the various pavilions rise from the land like natural elements. The slightly sloping ground makes them look even more like natural outcrops. The sloping terrain is an integral part of the architectural design providing a serious of viewpoints along the paved route set between dry-stone walls and from the terraced seating carved out of the hillside.
The stone cladding of the roofs and most of the walls echoes the colours of the surrounding savannah. It provides a materiality that somehow reinforces the conceptual programme of the whole complex.
Light plays a key role: filtering through the glazing on the sidewalls of the domed volumes, streaming dramatically down from the centre oculus into the spacious interior of the main timbrel-vaulted pavilion, and creating dappled patterns as it filters through the natural...
Proceed with your preferred purchase option to continue reading
Subscription
From 35.00 €