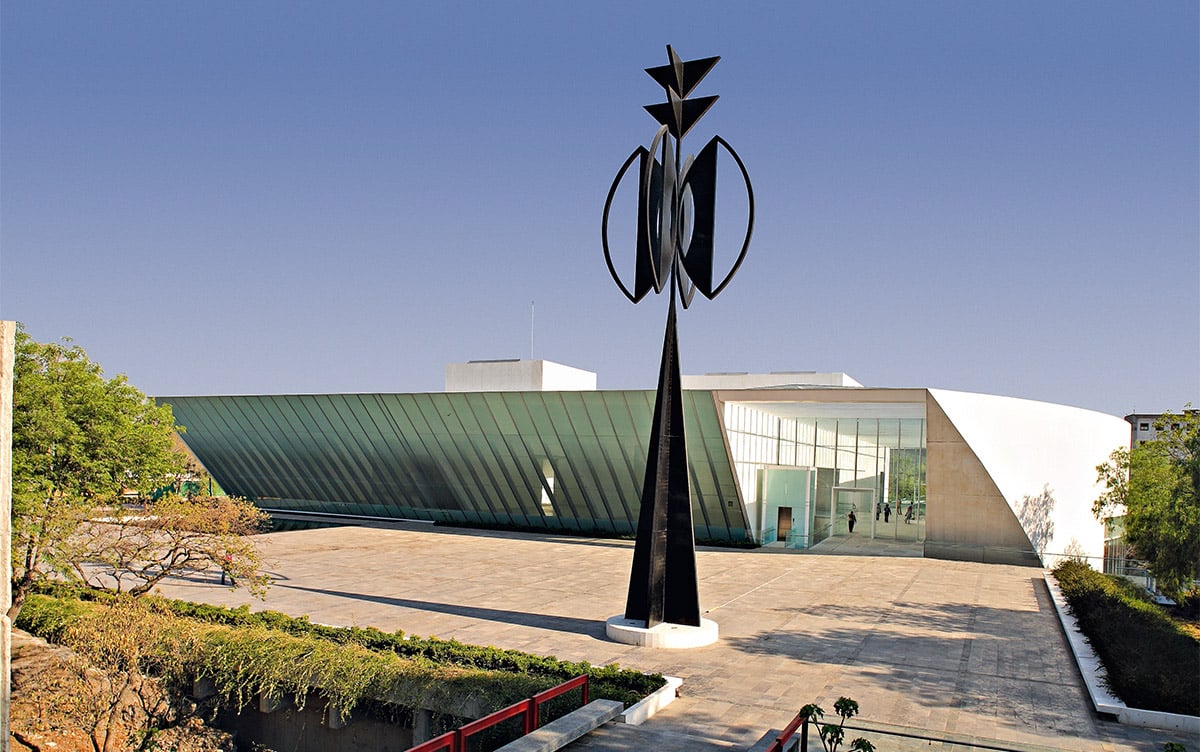 MuAC is the acronym for the Museo universitario Arte Contemporaneo (university Museum of Contemporary Art) at UNAM, the National Autonomous University of Mexico in the southern zone of Mexico City. The university played a seminal role in the history of modern Mexican architecture, with buildings by such important figures as Mario Pani, Juan O'Gorman and Félix Candela distributed about a broad plateau. South of the main campus, a clutch of buildings for the visual and performing arts rise from a field of solidified lava; they have now been joined by MuAC, the latest work by one of Mexico's master architects, Teodoro González de Léon.
From the air, MuAC is most likely seen as a great circular disk, a geometric symbol missing a thin slice toward the south, where an open plaza is graced with a totemic sculpture by Rufino Tamayo and a linear, recessed pool. From the ground, whether viewed by car or on foot, that diagram is a little less clear. The curving concrete palisade is broken through by several projecting boxes; it is the south-facing façade that demands attention, if not respect and curiosity. Unlike the principal concrete wrapper, this wall is made from flush sheets of glass canted at a shocking 45° angle and reflecting, in principle, the plaza pool. This is the civic face of the institution.
The canting of this giant vitrine mitigates the impact of the hot Mexican sun. Its expanse and iconicity is characteristic of González de Léon's architecture, as with the monumental facades of the renovated National Auditorium (1992) in Mexico City and of the Mexican Embassies in Brasilia (1972) and Berlin (2001). However, unlike the architect's earlier Brutalist works, many of them in collaboration with the late Abraham Zabludovsky, MuAC is marked by the sleekness of its surfaces – not only the sloping and curved exterior but the airy interior labyrinth of exposed concrete, glass, and flat ceilings striped with flush channels that admit copious natural light.
Proceed with your preferred purchase option to continue reading
Subscription
From 35.00 €