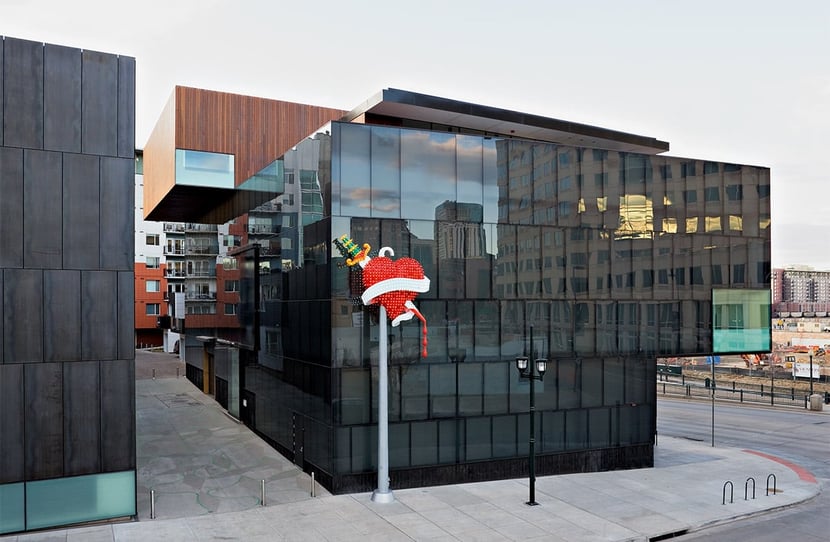 The Museum of Contemporary Art (MCA) is a sleek, suave and subtle addition to Denver, a slightly mysterious glass box that mixes and refracts the famous Rocky Mountain sunlight as well as shadows emanating somehow from within the rectilinear volume. It's a freestanding cubic block, two stories plus penthouse above a semi-basement, yet never appears massive or stolid.
A few large vitrines in the grey facades permit views into the white innards of the building; at dusk, these zones become illuminated loggias looking back at the city. However most of the external membrane consists of glass placed in front of tall, translucent panels that emit light both outwards, to the city, and inwards, to infuse the interior with a transient glow.
The MCA occupies a rather tight site, with a major traffic artery to the north (where it dips down beneath a footbridge), a quiet cul-de-sac with parking lots to the east (towards Downtown), and new residential buildings to the south and west. To the south, a steel-panelled structure also designed by Adjaye will, when completed, be the enigmatic townhouse of one of the MCA trustees. It is separated from the museum by a pedestrian lane, the surface of which is an ornamental texture devised by Denver artist Clark Richert. This lane also operates as the museum's loading dock. Look up and see, cantilevering out from the pristine glass parapet, a taut box of grey-stained redwood with one, periscope-like window aimed at Downtown.
As Adjaye's career evolves from his signature bespoke houses - inserted almost as camouflage into the urban fabric of London, his newer and larger projects are characterized by a glamorous presence in cities worldwide. And, in detail, by a virtual absence of any doors or thresholds to hamper ease of access. Everyone should feel invited to enter. In Denver, that means starting at the northeast corner, which is eroded to create a public porch; pausing beneath the mirrored soffit...
Proceed with your preferred purchase option to continue reading
Subscription
From 35.00 €