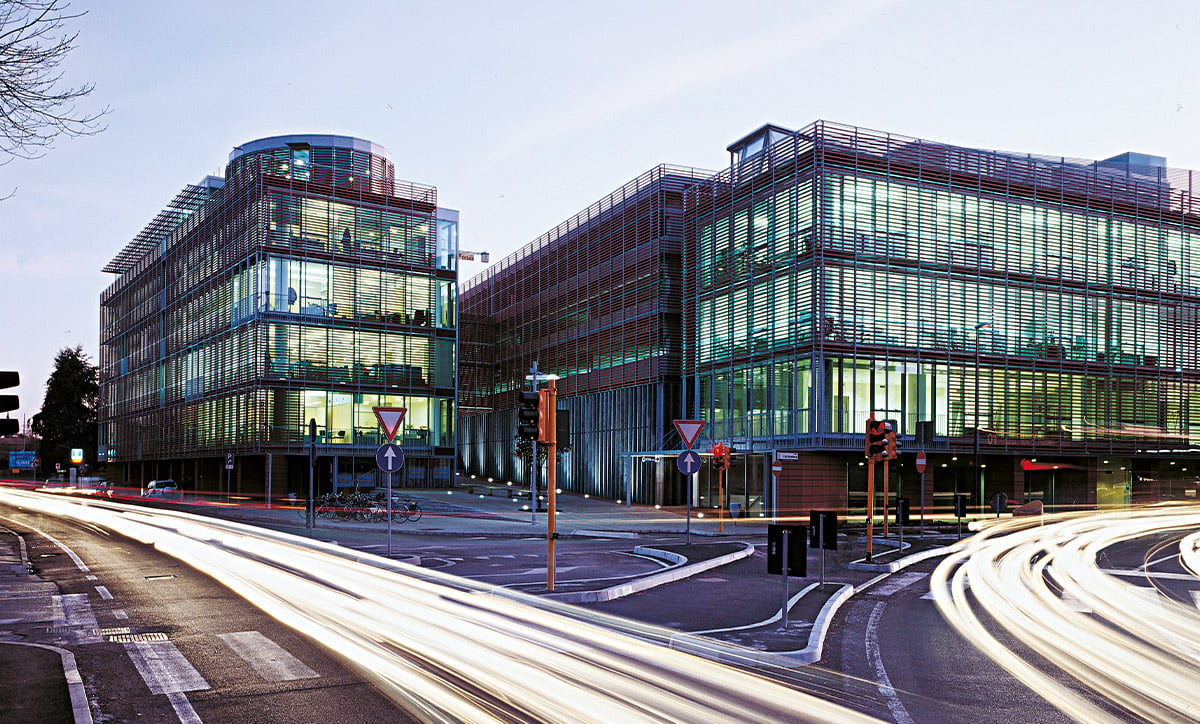 The new multi-purpose centre commissioned by playing-card manufacturer Dal Negro, is located near the 16th century walls of the town of Treviso, Italy. Bordered by the ring road and railway line, the area is comfortably near the town centre although not fully part of the urban network. This brown-field site, where the former company factory once stood, is now occupied by two buildings: the first, a management and offices building, with retail premises on the ground floor; the second, comprising two distinct but unified blocks - an internal parking silo and, backed up against this, facing the road, another office building with a porticoed ground floor given over to commercial functions.
These two blocks enclose an irregular-shaped inner court. The walkways across the stone-paved court are marked out by insets of cotto and wood. The slope of the court has been used for lower-level placement of plant, equipment and the regulation water tank in the event of fire in the parking silos.
The office buildings' double envelope gives the perception of a single volume while at the same time reducing the visual impact of the six and four storey blocks. The internal skin encloses a full-height glazed facade, and incorporates the natural ventilation apertures and maintenance and cleaning accesses. The external skin acts as a shield for the interior. Standing 70 cm from its glazed facade, the outer skin's steel frame - clamped to the top floor slab by aluminium brackets - supports a regular grid of extruded cotto sun-shading slats whose naturally varying colours change intensity depending on the incidence of the light. This sun-shading grid is broken only on the streetside elevation by an irregular series of openings.
The internal facade of the management building giving onto the court presents two distinct characteristics: one section, a series of glazed or blank panels with projecting sun-shading, the other, a mainly window-less north-facing facade, housing...
Proceed with your preferred purchase option to continue reading
Subscription
From 35.00 €