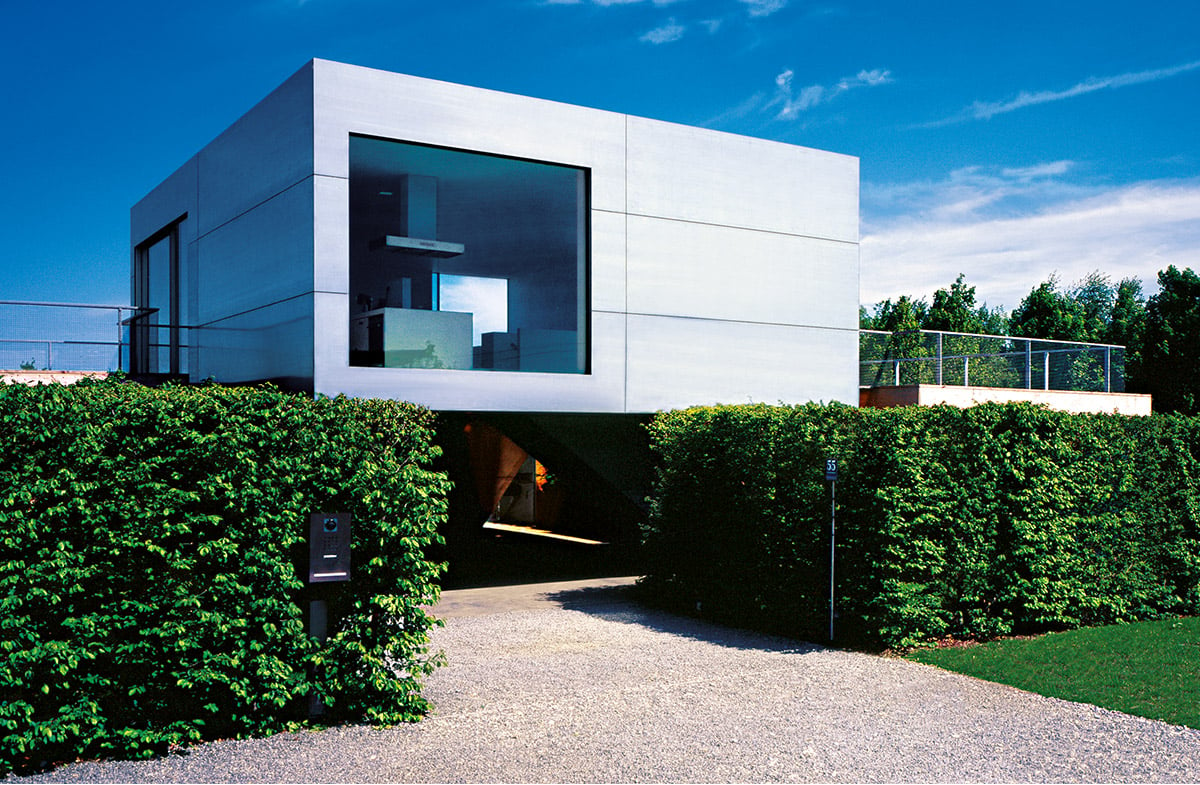 The "contemporary home" designed by Allmann Sattler Wappner for the competition sponsored by publisher Süddeutsche Zeitung in 2003, is an experiment in contemporary living, designed for no particular location with no particular inhabitant in mind.
The ground floor of the 200 m2 home for four people extends seamlessly into the 500 m2 grounds. The project overturns conventional distributions: bedrooms and bathrooms are on the ground floor, each unit with its own piece of garden, while the communal living and dining rooms, and communication circuits are all upstairs. An internal staircase leads to the private ground floor apartments.
The building is a prototype. The interior and exterior spatial compositions shown can be changed to meet client requirements and resources. The project is also designed to accommodate individual choices of finishings: plaster or wood, carpeting or plastered stone floors, tiled bathrooms or filled-in surfaces, aluminium or wooden window frames. A tall, impenetrable hornbeam hedge runs some 130 metres, around the external perimeter and closing off the private gardens. A large, covered, ground floor courtyard in the centre of the building serves as both entrance and garage. The three independent sections, each surrounded by an enclosed garden, have functional areas (bathrooms, laundry, boiler room etc) and private zones. Sliding glass doors separate the private interiors from their enclosed garden, reinforcing the impression of continuous space despite level differences between inside and out. Internally, partition walls divide space into modules as required.
The 100 m2 upper-level communal area is the focal point of the house. Stairs leading from the private quarters divide it into cooking area, dining room and living room. Wide sliding glass doors on north, east and south sides give onto enclosed terraces directly above the ground floor areas, and let in different quality light. The full-height west-facing glazed façade in...
Proceed with your preferred purchase option to continue reading
Subscription
From 35.00 €