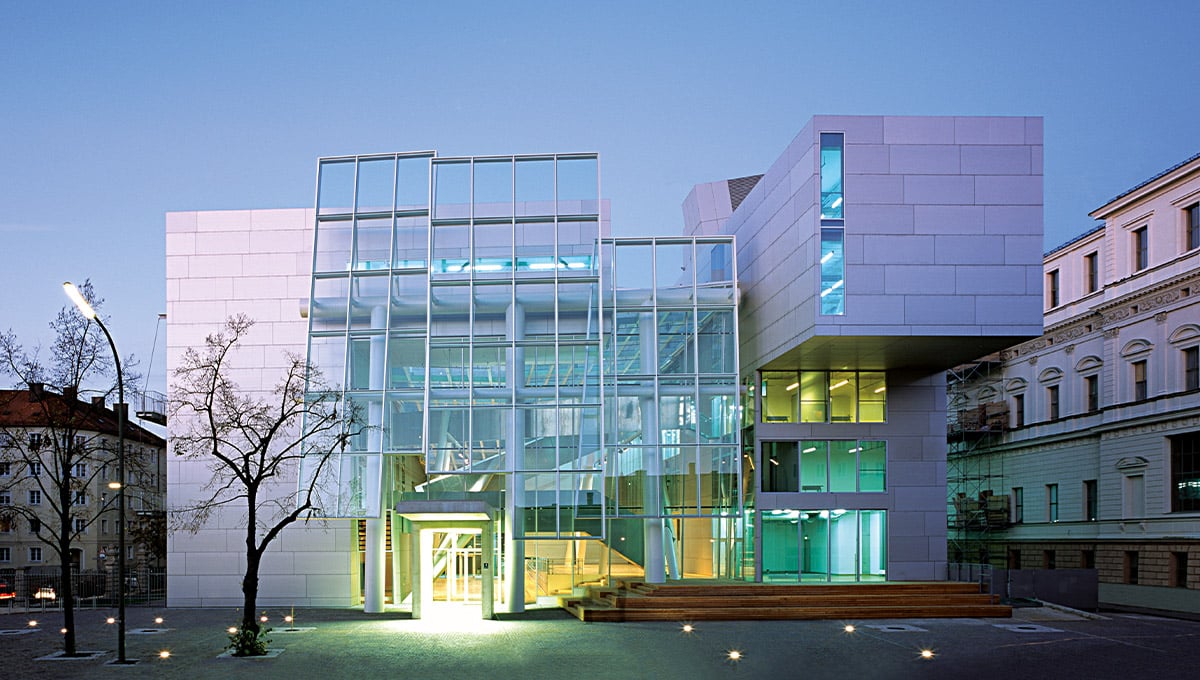 The extension to the Academy of Fine Arts in Munich, Germany, provides the original 1876 building with much needed additional space. At the same time, Coop Himmelb(l)au's new architecture has revolutionised the whole context of which the Institute is part, integrating the city's three distinct urban spatial systems that converge on the "Steinbaracke" plot where the new extension rises. The three areas comprise the axis formed by Leopoldstrasse/Akademiestrasse with its monumental buildings; the Schwabing, a neighbourhood of diverse small buildings; and the parks and gardens of Leopoldpark and Akademiegarten whose ancient trees are today protected by landmark conservation status.
The new project comprises two and four- storey buildings with solid, weight-bearing walls and steel truss cantilevered structures. The irregular configuration produces a succession of openings and passages linking park and urban areas. The glass façade acts as both membrane and means of communication while the entrance to the Academy, the inner court, and the studio terraces constitute transitory spaces and gateways to the park. Viewed as a whole, this stretch of articulated shapes presents a series of different relations with external space.
The Institute's wide range of artistic activities are catered for in distinct functional sections. The sections are linked by diagonal ramps and walkways. The result is an energised complex in which painting studios, plastic arts and sculpture workshops connect with communication and information labs, and photography and printing studios. The sculpture studio occupies two ground floor sections, including the terraces extending towards the park. The painting and guest artist studios are on the upper floors and connect with the roof terraces. Workshops are located in key positions throughout the complex. The meeting room and Rector's offices communicate with the administrative section via an open passage way.
The covered central inner court...
Proceed with your preferred purchase option to continue reading
Subscription
From 35.00 €