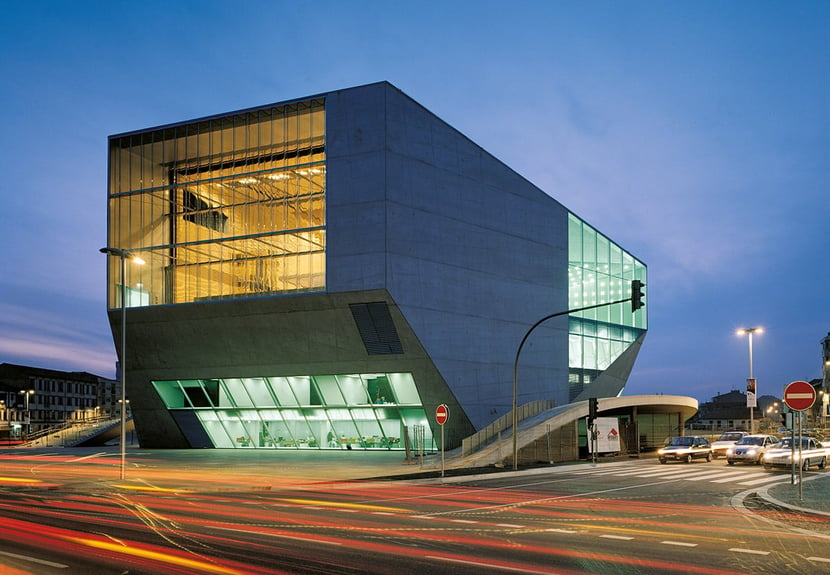 The Casa da Música, OMA's new concert hall in Porto - a facetted concrete structure who's construction costs amounted to 75 million euro - opened on 14 April 2005 on the Rotunda da Boavista, a round square to the west, not far from the centre. On that day, no less than twenty six performances by singers and musicians across the entire musical spectrum could be witnessed, using all the spaces in the 22.000 m2 building – its 1.200 and 350 seater auditoria, teaching spaces, cyber music and multimedia production area, rehearsal and workshop spaces, restaurant, bars and shops.
Epic, adventurous and sensuously at ease with itself at the same time, the design actually evolved from a concept for a house. Won in competition in July 1999 after which followed lengthy negotiations with the City Council, the chief shareholder of the Casa along with Porto 2001, an organisation creating new cultural initiatives, and the Ministry of Culture, It is OMA's first major building since the Seattle Central Library (2004), Netherlands Embassy in Berlin (2003) and Illinois Institute of Technology Campus Centre (2003).
Rather than appealing solely to a specific concert-going public, the building aims to address the city as a whole. The solitary form punctuated by big windows sits on a new plaza adjoining the historic park of the Rotunda da Boavista, fronted by a steep flight of steps in concrete with a ribbed aluminium finish rising to a huge sliding recessed door. Below the plaza are three levels of 600 parking places.
Its presence mediates a fresh relationship between new and old models of the city by means of windows exposing functions across boundaries: the auditorium box opened up via entirely glazed corrugated glass front and back walls, a plural trajectory of stairs, platforms and escalators connecting circulation space with the secondary spaces of foyers, a restaurant, bars and a terrace, and the city beyond.
Accommodating extensive rehearsal and soloist...
Proceed with your preferred purchase option to continue reading
Subscription
From 35.00 €