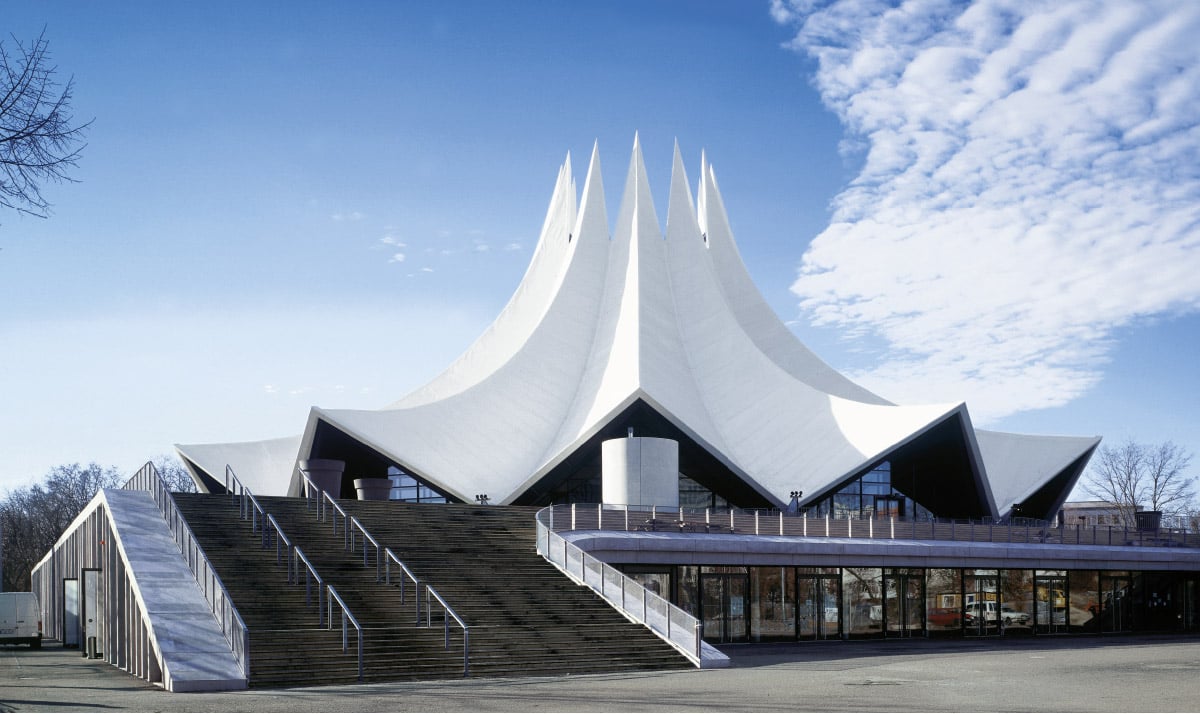 After changing location twice in the last twenty years, Berlin's new Tempodrom finally opened at the end of 2001, as a permanent structure on the site of the former railway station, Anhalter Bahnhof. The new building returns to the old definition of an accessible public area around a central pavilion. The urban planning concepts of openness and public utility are expressed in the spacious architectural design of the new Tempodrom. A sweeping flight of stairs on the north side widens out into the large glazed ground floor foyer. The staircase proceeds to a wood clad roof terrace and then descends to the former platforms.
The most striking feature from the outside is the 37 m roofing of the Large Arena which allows daylight into the interior through its glazed opening at the top. This soaring tent structure is an unmistakable landmark in the heterogeneous urban landscape, both beacon and compass. Furthermore the huge roof continues a tradition dear to generations of Tempodrom visitors.
The Liquidrom is located inside the Tempodrom. This ultimate wellness center has a round 13 m diameter pool under a domed concrete shell, again with a central glazed roof light. More than 50 visitors at a time can lie in the warm, salt water listening to soothing music, piped also underwater, in a relaxing atmosphere with specially studied lighting.
As well as the circular bath of salted water, the Liquidrom also has numerous saunas, steam baths, heated Japanese-style, outdoor pools, bar and restaurant.
Natural materials characterise much of the Liquidrom. Floors and ceilings in the bathing areas are clad in natural grey-green rock. The walls of the other rooms are in fair-faced concrete. The walls of the patio are clad in untreated red cedar wood.
Eco-sustainability was a prime requirement from the start. Floors, walls, ceilings and the pavilion roof provide improved thermal insulation. In addition, all service equipment complies with strict...
Proceed with your preferred purchase option to continue reading
Subscription
From 35.00 €