A sculpture-like chair manufactured using a 3D printer and a recyclable biocomposite, the Reform Chair is the first piece of furniture designed and manufactured by Reform Design Lab. Art, technology, and sustainability are all key to the vision of this Swedish company recently established by Jurij Rahimkulov, Måns Broman, and Rutger Andersson. And this design philosophy is embodied in this iconic chair, as a meeting point between design and production.
An example of circularity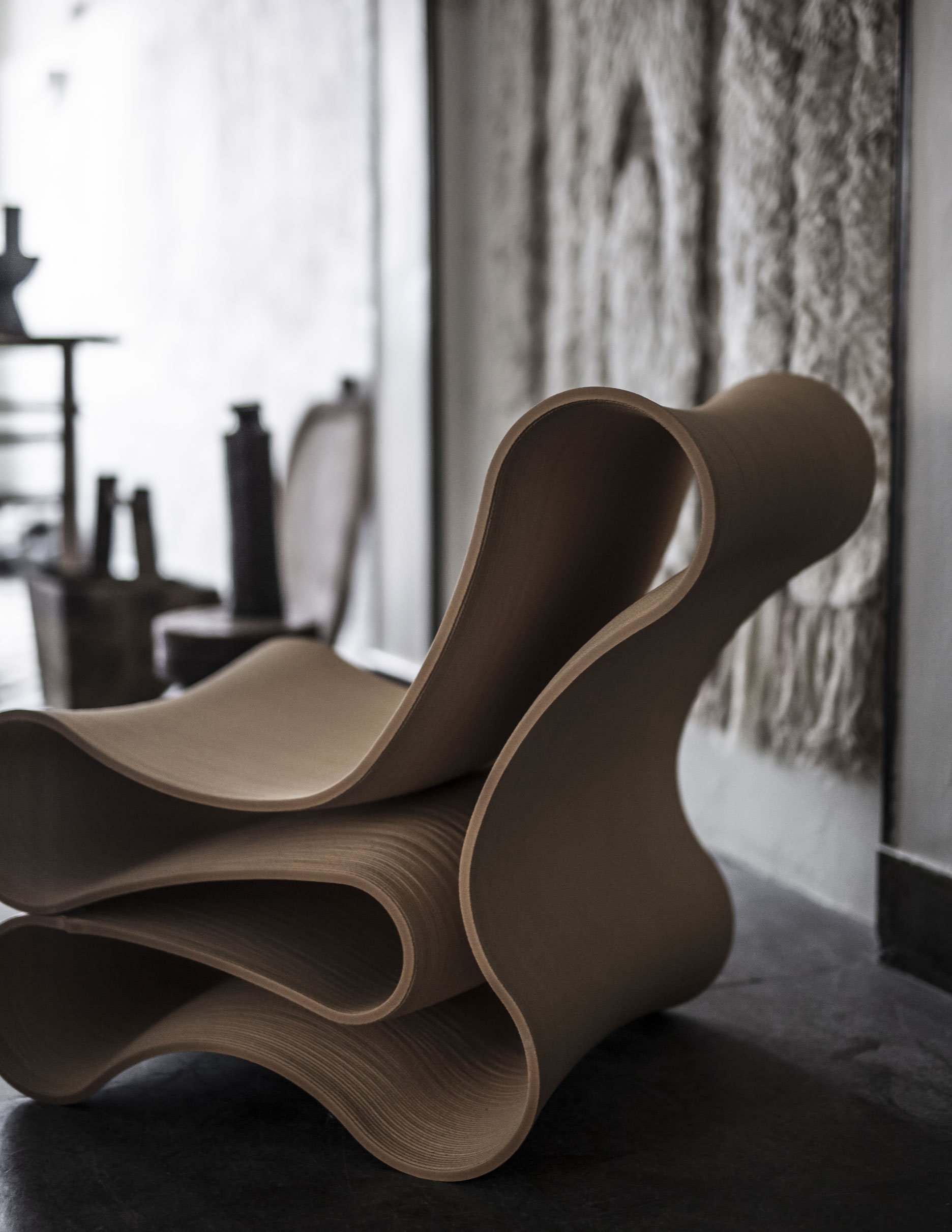 Suitable for both indoors and outdoors, and available in black and wood finishes, the Reform Chair is distinguished by its gentle wave design. The biocomposite it's made from combines the moldability of plastic with the sustainability of wood. The chair was developed from a sketch that creative director Rahimkulov did back in 2017. The following year, with the advent of 3D printing, it was engineered and produced for the first time in recycled ABS. The Reform Chair therefore marks the debut product of the first furniture maker in the world to harness 3D-printing technology. And this technology has numerous advantages, speeding up times between design and prototype, avoiding material wastage, and, since it produces a finished product that doesn't need further processing, lowering manufacturing costs. All of these factors make the chair a true example of circularity, created to have a minimal carbon footprint throughout its lifecycle.
"Our vision and goal is to merge art and technology into sustainable design pieces. Our Reform chair has placed us among world pioneers when it comes to circular high end furniture. We demonstrate how cutting edge technology can make it possible to open a third and disruptive way toward circularity between traditional handwork and mass production and solve some of the problems the world is facing. We are revolutionising the interior design industry." – Måns Broman, CEO
Credits
Project by Reform Design Lab
Photography by Mike Karlsson Lundgren, Bodil Bergqvist, Hidvi Group, courtesy Reform Design Lab