"Humans cannot be well if the planet is not well", thus human-centered design cannot disregard care and respect for the surrounding environment. With these words, designer Giuliana Salmaso synthesized one of the main themes of the first edition of Cortina Design Weekend, a three-day event dedicated to architecture and design that took place from July 7 to July 9 in the heart of the "Queen of the Dolomites", focusing on sustainability, accessibility and well-being.
Conceived and organized by the association Cortina for Us alongside THE PLAN, this event saw over 20,000 participants, including professionals and industry enthusiasts. The weekend was an important opportunity to highlight the cultural heritage and territory of Cortina d'Ampezzo and the adjacent valleys through numerous activities tied to design, architecture and landscape, as well as initiatives involving the many local artisans who continue to preserve and pass on the knowledge and historical traditions rooted in the Dolomites.
At the center of the agenda of Cortina Design Weekend were meetings between architects and designers from both the national and international scene, and developers and protagonists from the real estate world, who met for two round tables held in the traditional Conchiglia of Piazza Angelo Dibona. The inaugural conference on Friday discussed themes of accessibility, inclusivity and hospitality, while the panel discussion on Saturday focused on well-being and sustainability in architecture.
The first event, titled Hospitality, Accessibility and Cultural Inclusivity was moderated by Alessandro Russello, Editor of Corriere del Veneto, and featured Piero Lissoni, Founder of Lissoni & Partners, Roberto Vitali, CEO of Village for all®, Alessandro Longo, Senior Architect of L22, Alessandro Belli, Head of Hospitality at Cushman & Wakefield, and Fabrizio Gaggio, Managing Director of Gruppo UNA.
Belli, professor of real estate finance at LUISS Business School, noted that these themes also involve many others, including infrastructure, de-seasonalization, training and generational transitions: accessibility and sustainability must become "a way of thinking", a forma mentis for "inclusive reasoning". This concept was further explored by Vitali, who underlined that "accessible hospitality" is a more appropriate term than "accessible tourism". This is how we can "go beyond considering accessibility as simple compliance with rules for removing architectural barriers", he explained. "What institutions, architects, designers and administrators should focus on is the accessibility needs that everyone might have over the course of their lives", including those of families with small children, elderly people with reduced mobility, and people dealing with injuries for certain periods. Gaggio reiterated that accessibility cannot be viewed as an "unoriginal adherence to a norm," because it is first and foremost a need of society and the market.
"Thinking inclusively would also be the way to create stronger communities", added Longo, not forgetting the importance of creating community networks starting with younger generations. Inclusivity should become an acquired way of thinking right from the classroom. L22 is working on various hotel facilities in Cortina, and these projects are allowing the architects to integrate the so-called "Ampezzo rules" – created to regulate a collective use of the territory – with contemporary needs and sensibilities.
Lissoni spoke of the need to make various historical eras coexist with the present, underlining the presence of rules and regulations tied to the past that are sometimes too stringent for contemporary projects in Italy. This consideration also comes from his international experiences: Lissoni & Partners, with offices in Milan and New York, has been working for years on major projects all over the world, from the United States to Japan to northern Europe. By comparing these countries' approaches to accessibility and available resources to those of Italy, one can clearly see a different understanding, more fruitful collaborations and a greater willingness on the part of institutions to listen to society and market needs, compared to Italy.
The roundtable of the second day was dedicated to Architecture of Well-being and Sustainability, the key concept of which was well-being as a foundational theme of architecture and design. The panelists were Angelo Micheli, Managing Director of AMDL Circle, Nicola Zucca, Founder of Hara Life, Francesca Heathcote Sapey, Partner of Teresa Sapey + Partners, Giuliana Salmaso, Founder of Studio Giuliana Salmaso, and the designer Serena Papait, who brought her Moon chair, an innovative ergonomic product inspired by Scandinavian design.
Francesco Chiamulera, creator and director of Una Montagna di Libri, moderated.
The name of the firm founded by Michele De Lucchi reflects its approach to sustainability and well-being: "We are a circle. Circle gives the idea of integration of skills that we want and aim for in a good project", explained Micheli. "We architects do not just work alone, but collaborate with philosophers, psychologists, sociologists, historians, music experts. The firm embraces a plurality of skills for holistic projects in which the union of singular elements generates a context with harmony and beauty. This vision is shared by Zucca, who placed the goal of "creating value" at the basis of his design for a scattered hotel in Sclemo, in the province of Trento. Among the many peculiarities of the project, there is one in particular that combines wellness and functionality: none of the rooms have a television. "So many studies tell us that the lights of televisions, computers and telephones do not facilitate sleep, so their presence would hinder the room's primary function of rest", he stated.
Beauty and functionality also go hand in hand according to Heathcote Sapey, who discussed the sense of "respect" associated by her firm, which was founded by her mother, with the concept of sustainability. This "respect for people and places" leads to "every project being adapted to the place and the people that it will serve".
Committing to the protection of the planet is the first step to ensure the well-being of those who inhabit it: "Through direct experience, I was able to understand how much the environment around us can make us feel good, but also bad", recounted Salmaso. In her career, she has delved into and embraced biophilic architecture. In her daily work, this means "designing empathetically towards the planet:" this is the only way to strive for true human well-being as well.
Location: Cortina D'Ampezzo, Belluno, Italy
When: 7/9 July 2023
Organizers: Cortina for Us and THE PLAN - Gruppo Maggioli Patronage: Comune di Cortina d'Ampezzo
Main Partner: Audi
Premium Partners: UnipolSai Assicurazioni, Zandonella Assicurazioni Cultural Partners: Maggioli Editore, Dolomiti Contemporanee, Una montagna di libri
Institutional Partners: Se.Am. Cortina, Cortina Marketing
Sponsors: l'ambiente - the design project hub, Santa Margherita, GiocHotel, Nardi, Cortinabanca, La Cooperativa di Cortina, Appennino Food Group
All photos courtesy of Cortina for Us
You might also like: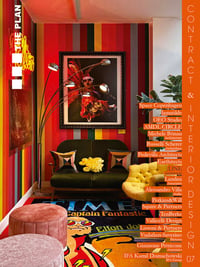 CONTRACT & INTERIOR DESIGN 07
THE PLAN Contract & Interior Design 7 is the seventh supplement that THE PLAN has dedicated to these areas of architecture. The publication, to be released in September 2023 as a supplement to THE PLAN 148, looks at around twenty of the most importan... Read More
Paper Version
12.00 €
Digital version
5.49 €