Ragno's new flagship showroom in Milan is framed by broad, arched windows overlooking Via Marco Polo in the up-and-coming Porta Nuova district. Marazzi Group brand Ragno showcases not just its collections but the brand's origins, values, history, technical and craftsmanship expertise and new technologies in this 400-sq. m space. The design of Benedetta Tagliabue, of EMBT Architects, specifically references the brand's original logo – a stylized spider in the center of a web, symbolizing the company's industriousness and technical skills – to create a kaleidoscopic space in which colors, textures and materials intertwine and juxtapose in a dense, heterogeneous weave.
The architecture of the space is characterized by a long succession of arches, outlining rooms flooded with natural light via large windows that overlook the inner courtyard, allowing the brand's narrative to unfold in an unprecedented and immersive manner.
Benedetta Tagliabue has interpreted the showroom concept as a materials library in which large wooden structures distributed throughout the space function as display devices while at the same time referencing the idea of a spider's web. These high esthetic and evocative impact wooden structures are totally integrated with the ceramics to create a kaleidoscope of colors. A great many small fragments applied to the structures in different finishes, formats and colors exhibit the collections and illustrate the options the company offers.
The showroom floor – a single large polychrome mosaic that juxtaposes different types of stoneware in glossy and matte finishes to reference a variety of materials – is another interior design element that offers scope to the brand narrative. Wood, marble, concrete and stone evoke unusual combinations as they follow one another harmoniously. The ceramics are not just on display: they form an integral part of the architecture, accompanying visitors on an evocative path of discovery, a dialogue between the collections on show and the interior design in a cascade of juxtapositions.
A large wall tribute to Giorgio De Chirico which reinterprets his "Piazzas of Italy" series of paintings is the ultimate expression of the mosaic theme, in which small ceramics from the Storie collection faithfully render the painter's trademark metaphysical scenes.
The Ragno showroom is a novel display approach that adopts a unique and coherent narrative, helping visitors discover the collections immersively, along a continuous path of insight and discovery, enveloped by a spider's web thread connecting the brand's past, present and future.
Location: Milan, Italy
Client: Marazzi Group
Completion: 2022
Gross Floor Area: 400 m2
Interior Designer: Benedetta Tagliabue – EMBT Architects
Main Contractor: Nimar Industry
Lighting Design Consultant: Artec Studio
Photography: Tiziano Sartorio, courtesy of Ragno (Marazzi Group)
You might also like: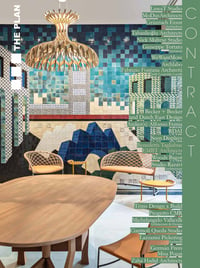 Contract 005
THE PLAN Contract 5 is the fifth special issue that THE PLAN is dedicating to contract furniture, a fascinating and complex sector that brings together mass production and customized spaces. Out in September with THE PLAN 140, the issue features over... Read More
Paper Version
15.00 €
Digital version
5.49 €