Silver and fluorescent hues, vintage and industrial atmospheres: contrasting concepts for one brand, Golden Goose, which has more than 160 stores around the world. This year, as the Italian fashion brand celebrates its 20th anniversary, its multi-faceted universe is launching Golden TV, a futuristic retail concept for its latest flagship store in Via Verri, Milan. This ground-breaking approach blends craftsmanship and technology, analog and digital, and physical and virtual reality in a space dedicated to revealing the brand, its identity and values, as well as creating and sharing videos, images and much other content besides.
The Via Verri store is far more than a mere point of sale: it is a creative hub in the heart of the Montenapoleone district, where Golden Goose lovers are invited to be part of an immersive, personalized shopping experience, and embark on a veritable Journey of Love. The two-level, 450 sq. m store sits behind a façade that reveals what is happening inside through a sequence of luminous signs running along top of the windows, plus an LED wall broadcasting a video of the brand's history.
The ground floor is dedicated to the LAB, a space clad in glossy white resin surfaces with golden graphics, where visitors can create unique pieces with the support of skilled craftsmen, and admire other pieces created exclusively for the store. Dozens of sneakers decorated with the famous star hang from the ceiling. One wall is entirely covered in Distress Machines, which are used on the shoes during the final stages of production.
Lined with textured metal sheeting in a gold galvanic finish, the Golden Room is home to the Dream Wall, an interactive area equipped with a large screen which customers use to digitally design customized products, and, assisted by the brand's Sneakers Makers artisans, transform them into exclusive creations. Rough concrete walls juxtaposed with mirrored metal displays in the Concrete Room pay homage to Marghera, the commercial port and industrial area near Venice where Golden Goose first embarked on its adventure.
Entirely faced in mirrors, the basement hosts the Star Collection, a wide range of sneakers and accessories, and the Sneakers Master Workshop, a dedicated space with the spirit of an authentic crafts workshop.
The store's ground floor and basement connect via a staircase originally designed for the Alexander McQueen boutique, which occupied this space for nearly two decades: a commemorative plaque near the staircase pays homage to the British designer.
Golden Goose's heritage lives on at many of its stores, expressing a concept inspired by the brand's Italian heritage and Venetian base. Golden Goose's identity narrative focuses on craftsmanship, revealing its stories corner by corner, detail by detail.
The brand has recently opened more stores, include one at Emaar Square Mall in Istanbul, wallpapered in a unique pattern originally used on silk that recalls the tradition of Venetian tapestries. Antique-look parquet flooring, a founding element of the brand's esthetic, is laid in a herringbone pattern throughout, alternating with portions of two-tone marble flooring in a diamond pattern. These contrasting finishes celebrate craftsmanship; the ceiling has an industrial feel, including exposed installations.
Golden Goose's stores are destinations where the brand's history merges with the history of its community, the Golden Family, which more than ever is taking the lead in the creative process.
INTERVIEW
From Venice to New York, an authentic experience to be shared
Silvio Campara, CEO Golden Goose
The Golden Goose brand was established in Venice in 2000. Over its 20+ year history, what store planning features have you kept on, and what has changed? When you apply your design approach, how do you strike a balance between interpreting the local situation and representing the brand's identity?
Our brand has always been inspired by the theme of travel: colors, art, architecture and local culture, but above all the emotions of lands far from our hometown, Venice. It is clear from the brand's collections that we bring a Venetian spirit and artisanal traditions to our flagship stores around the world, cross-pollinating them with characteristic elements from host cities, always maintaining a strong territorial identity alongside the brand heritage. Expressing this, originally each store was different from all of the others, unique. For example, the Madison Avenue store in New York, one of the first we opened in the Big Apple, right next to the Met Breuer, has wall displays inspired by the iconic Brutalist building's splayed windows.
Golden Goose offers a lifestyle based on uniqueness, and on the "perfect imperfection" of its artisanal output. Golden TV, the new flagship store in Via Verri in Milan, blends this love of craftsmanship with a technological and digital approach. How do these two aspects come together?
Over the years, the company has focused on a customer-centric strategy, building a true community of collectors by offering them a chance to explore the brand firsthand and express their own authenticity and uniqueness. In fact, our Lovers define what Golden Goose is and what it represents to them. We will continue inspiring people to express their Inner Star, free their creativity and challenge them to go beyond their limits… to dream on. Our Stars have stories to tell that are relevant and valuable to their community and to others. The new Golden TV store in Milan marks the debut of an innovative retail concept for the brand and the fashion industry. Now, it is possible to co-create not just products – thanks to our Sneakers Makers artisans who co-create unique products in the LAB – but digital content to apply to products purchased using revolutionary technologies, for sharing on our customers' and the brand's social channels.
The new Milan space features the LAB for making personalized creations, a Dream Wall for turning dreams into reality, and the "Your Story, Our Story" video recording station to feature on Golden TV. How important is community member involvement in the Golden Goose universe?
Our Lovers are looking for more than just handcrafted products: they want to live an experience related to their purchase, to feel connected to the brand's values, principles, tradition and history. To cater to their needs, we now offer a futuristic experience in selected stores around the world. Golden TV, as we call it, offers Golden Lovers special tools for creating videos, images and all kinds of content, all of which is shareable: moments and memories our customers want to experience and share with us.
Location: Milan, Italy
Completion: 2021
Gross Floor Area: 450 m2
Interior Design: Golden Goose
Architecture Project Consultant: ML Architettura
Main Contractor: Ghibli
Interior Contractors: Rossato Arredamenti, Falegnameria Vendramin, Stone Export
Photography courtesy of Golden Goose
You might also like: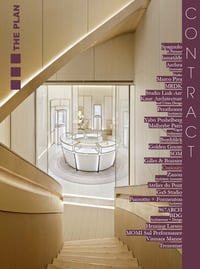 Contract 004
THE PLAN Contract 4 will be released in April 2022 as a supplement in THE PLAN 137. This fourth special issue of THE PLAN devoted to commercial interior design and architecture takes readers on a journey through the latest and most important Italian ... Read More
Paper Version
15.00 €
Digital version
5.49 €