The sound of nature is the sound of future retail. Created with a visionary outlook that combines avant-garde design with a predominant role for nature, The Hyundai Seoul department store in the South Korean capital is a welcoming and relaxing place, its lush vegetation making it a prime meeting point ahead of its function as a commercial space. As well as offering dedicated zones for stores and major brands, The Hyundai Seoul combines business, work and leisure in the multifunctional Yeongdeungpo-gu district, on the Hangang River, which is home to office and residential buildings.
Founded in 1993 by Diego Burdi and Paul Filek, Canadian firm Burdifilek imbued its interior design for the atrium and three-floor, multi-level complex with a Zen-like atmosphere. Inaugurated just over a year ago, The Hyundai Seoul has become a symbol of resilience, its 89,100 sq. m enhanced by numerous atria that, above and beyond the typical commercial experience, make it an ideal place for socialization.
As co-founder and creative director Diego Burdi explains, "surrounding nature" was Burdifilek's overarching concept for the large central atrium and the second, third and fourth floors: "By playing with the concept of scale, the decision to bring the outside in creates something unexpected. As the greenery extends, the building becomes softer, more conducive to diverse, memorable experiences".
Every unique floor is connected to the others by clearly recognizable sculptural elements, creating a melody of nature and the future out of unique yet repeated parts and refrains. The heart of The Hyundai Seoul is its experiential ground floor atrium, an alternation of solids and voids overlooked by the upper floors. The visitor's eye is drawn upwards to the large skylight that serves as a source of natural light. The auditory sensation of a waterfall hints at the design's centerpiece, a 12 m-high sculptural Waterfall Garden surrounded by organically-shaped floating islands topped by dozens of plants. Reflective edges and shrubs at the base of the waterfall stand out against white surroundings, triggering watery visual effects and providing seating in round-shaped areas.
The upper floors were conceived in experiential palettes, their lines and colors inspired by their respective products and brands. For the space dedicated to women's fashion, Burdifilek created a timeless luxury hub, exploiting delicate texture and fluid lines for the walls and ceiling. The minimalist hanging structures used to present dresses help create a sophisticated atmosphere. Suspended sculptural elements recur on the floor dedicated to men's and women's fashion in a provocative and innovative space: contrasting deep blue, bright yellow and various shades of gray are mirrored in the seating, beneath a bold ceiling with exposed installations.
"Our approach was to create environments for each floor that spoke to a specific audience", Burdi concludes, "evoking nature in an infinite number of ways".
Location: Seoul, South Korea
Client: The Hyundai Department Store Group
Completion: 2021
Gross Floor Area: 9,550 m2
Interior Design (atrium, selected areas of 2nd, 3rd, 4th floors): Burdifilek
Interior Contractors: Dongeuy, Daewon SD
Consultants
Electrical: Keunwood
Mechanical: MKG
Lighting: Marcel Dion, be:Che
Atrium: TBC
Photography by Yongjoon Choi Photography, courtesy of Burdifilek
You might also like: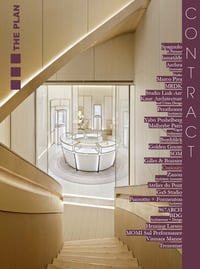 Contract 004
THE PLAN Contract 4 will be released in April 2022 as a supplement in THE PLAN 137. This fourth special issue of THE PLAN devoted to commercial interior design and architecture takes readers on a journey through the latest and most important Italian ... Read More
Paper Version
15.00 €
Digital version
5.49 €