The new headquarters for KAB, a housing association that manages nonprofit rental housing, rises on a plot of land at the intersection of the city's two main roads, at what is effectively a geographical and metaphorical meeting point. Designed by Henning Larsen, as well as standing at the border between one of Copenhagen's oldest and newest neighborhoods, the building cross-pollinates work and home, combining Danish working culture with a welcoming domestic atmosphere.
The underlying architectural concept may be interpreted in multiple ways: while bringing home comfort and intimacy into the office, it also reflects the association's vocation, over more than a century now, catering to the city's never-ending need for housing. Further expanding this vision, the design set out to create a place representative of Denmark's hallmark collectivism and welfare.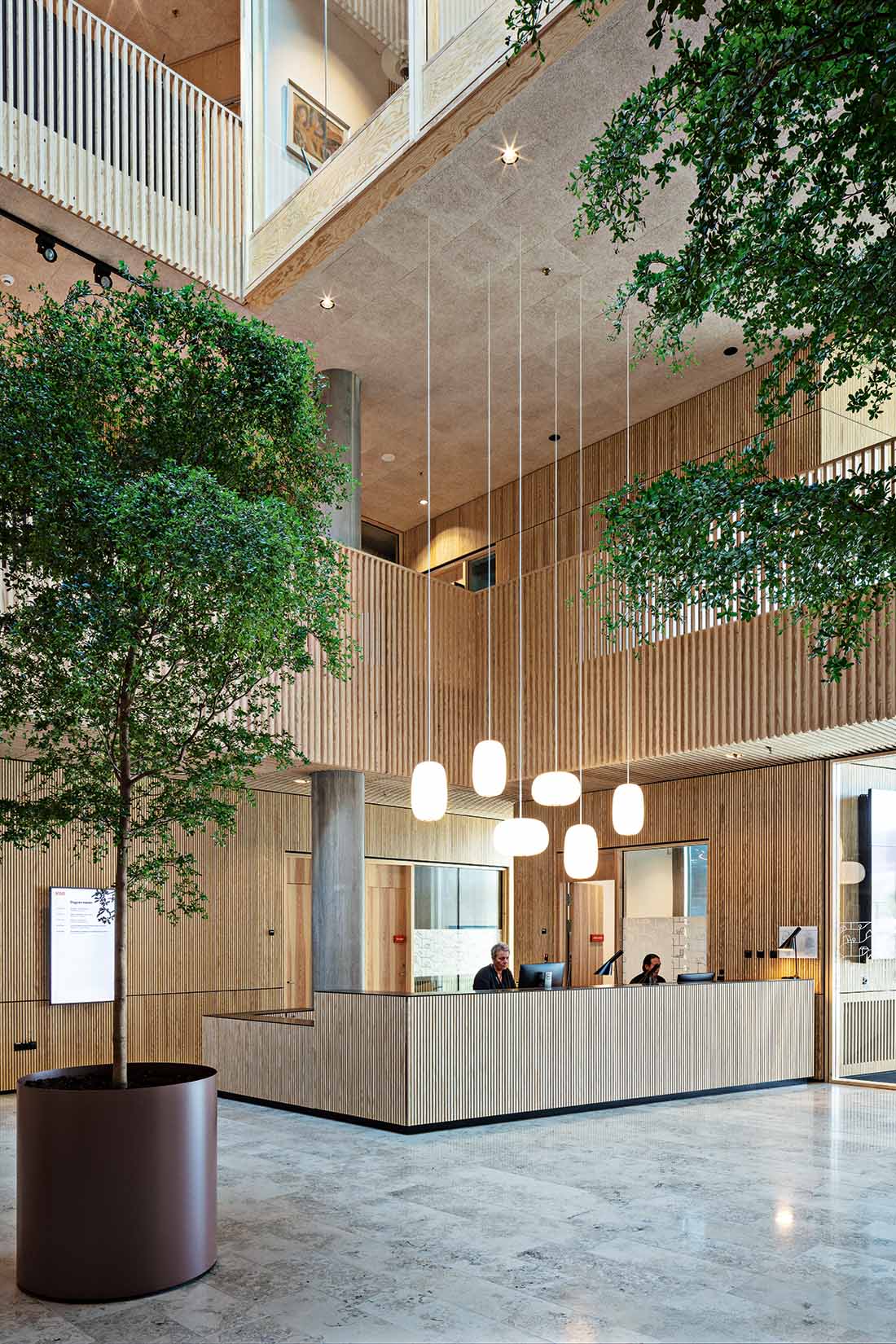 Sitting on a pentagonal plan, the KAB headquarters' elevations are characterized by large, different-sized windows laid out in sequences. With 7,400 sq. m of floorspace spanning multiple floors, rather than having a main façade, the volume's traditional yet contemporary red brick cladding, making it look more like a residential than an office building, is the same on all sides. The same metaphor underpins the interior design in the atrium. The further people move into the building towards the work areas, however, the more hybrid and home-like the office feels.
Designed to provide space for up to 400 employees, visitors enter the building via an atrium characterized by wood, a light shade of which clads practically every surface, including the large, squared-off reception desk surmounted by a spectacular hanging lamp next to a plant-enhanced living area. Wood is also used for balustrades on the balconies overlooking the full-height central space, flooded with natural light from the roof-mounted skylight.
The stairways are another hallmark feature: inspired by the ones in residential buildings where people bump into one another on a daily basis, here the flights lead to landings equipped with refreshment areas.
Reminiscent of a residential building, the many-windowed wall on the atrium's western side is visible from the main meeting rooms, which are outfitted like rooms in a home, with paintings on the walls, floor lamps and other typical furnishings.
The building is crowned by a rooftop garden accessible to visitors and employees, offering views out over the city in every direction, including the nearby rail tracks.
Location: Copenhagen, Denmark
Client: KAB
Completion: 2021
Gross Floor Area: 7,400 m2
Architect and Interior Designer: Henning Larsen
Main Contractor: 5E Byg
Photography courtesy Henning Larsen
You might also like:
Contract 004
THE PLAN Contract 4 will be released in April 2022 as a supplement in THE PLAN 137. This fourth special issue of THE PLAN devoted to commercial interior design and architecture takes readers on a journey through the latest and most important Italian ... Read More
Paper Version
15.00 €
Digital version
4.49 €