Between nautical world-inspired classical references and lines reduced to bare essentials, without sacrificing design and comfort, architect Aldo Parisotto has turned a personal passion into a source of inspiration and much more. Indeed, the co-founder of
Parisotto + Formenton Architetti defines himself as a man of the seas, repeatedly reiterating one of his most adamantine convictions: "A nautical designer has to sail. Especially when it comes to yachts and sailing them, direct experience from sailing is of vital importance".
Mr. Parisotto, you have always loved the sea and sailing. How much of your passion and direct experience in the nautical world emerges in your projects?
I have been passionate about the sea ever since I was a kid. Without ever fading, this love has equated to an attraction toward everything that floats. Over time, my passion has led me to both motor boats and sail boats, until I recently became the owner of a beautiful Mylius 65, a technologically-advanced sailboat with which we have competed in many regattas, often at international level. It would be fair to say that I have managed to convert a personal interest into everyday life, into my work life. In fact, it is nigh on impossible not to see this as the true driving force behind it all, from frequenting boatyards to trying my hand over the years at a variety of interior design projects. The work we do focuses on boat interiors, working with the designers who deal with waterlines, that is to say, nautical engineers and architects. Every type of vessel may be defined as an architecture in motion, and every type of vessel has its own peculiar characteristics that must be known in order to shape the interior. This approach equally applies to architecture, but it is even more important for boats, which are an amazing exercise in working in space: working on minimal architectures requires expertise in optimizing environments. Attention to detail is our forma mentis, one that we take to extremes inside a boat: the details make the difference for an ergonomic interior, without sharp edges, following a pathway that tends toward the essential.
You have established a strong bond with Mylius Yacht. How did this partnership come about?
I first came across Mylius back in 2009, during those early regatta years. I immediately appreciated their characteristics: high-performance, carbon-hulled fast boats. The other key moment was getting to know designer Alberto Simeone, which led to my purchase of that first Mylius, in 2012, a 65 that completely fulfilled my idea of what a boat should be, both in terms of materials and solutions. Working with the architect on designing interiors evolved out of that relationship, and that has led to other boats and other projects.
The new Mylius 72 cruiser racer is a ground-breaking concept in terms of its interior spaces, conceived to combine a sporty exterior with on-board comfort and style. How did you strike a balance between these two aspects, and more in general, how do you reflect a brand's hallmark features in a boat's interior design?
Integrating the two is the real challenge for the brand today. Looking at the competition, some make very classic boats that are not that fast, others manufacture pure racing boats with simple interiors, almost exclusively for going places rather for cruising. That is where the Mylius stands out: without sacrificing elegance and comfort, the new M72, currently under construction, has a very fluid, symmetrical, innovative and sporty layout. Attention to detail and the choice of materials is vital for us: the big issue today is being able to imbue boats with their own personality. At Mylius, we are talking about boats, above all sailboats, that are not only high-tech and fast, qualifying as cruiser racers, but are also very comfortable when cruising. It is about creating boats that can be used across categories, a product that straddles the line between racers and cruisers, boats you can play with, decide where you want to shift the needle depending on how you wish to experience the sea.
The Mylius 66 catamaran comes with an option to install solar panels on the fly bridge. How do you apply the concept of sustainability to an industry like boating, which has such a long, consolidated tradition?
Designed by Ceccarelli Yacht Design, Mylius 66 belongs to the most in-demand category of boats right now: catamarans. They offer the greatest living space options and, therefore, options for experience. The two hulls can be used as cabin living space, while the whole central portion can be purposed as living space, indoor and outdoor. The boat's lines are innovative and sporty, it can reach speeds of up to 29 knots, and it boasts low energy consumption, a new departure for Mylius, a consolidated brand specialized in sailboats, all thanks to new designs and new designers. Sustainability is a highly topical issue, one which the boating industry must inevitably address, even if the numbers are not comparable with the automotive industry in terms of the economic heft supporting R&D. First and foremost, large ships need to work on their sustainability standards: they need solutions to reduce pollution, but pleasure craft cannot avoid doing this either. Fewer and fewer boats have very powerful engines. We are moving toward a greater number of displacement boats, i.e., with less polluting engines and propellers or with hybrid engines. Shipyards are now more attuned to launching increasingly sustainable boats, but they also have to address the issue of generational boat replacement, develop programs to dispose of fiberglass and carbon and reuse materials.
Parisotto + Formenton Architetti also has experience in lighting industry product design. What role does light play in nautical interior design, and how would you say it has evolved recently?
Light is considered an integral part of conceiving architecture, and that is doubly true in the nautical sector. Boats are not just bathed in direct light, they are in reflections of that direct light too. This peculiarity requires constant protection from sunlight by day, but natural lighting alone is not sufficient: yacht interiors always require supplementation. On the contrary, at night, you need very low light, which is why we sometimes resort to red lighting, which is not irritating when navigating. New LED technology lighting solutions allow us to control the light's color temperature, either warmer at night or a little cooler by day. Home automation is great for this.
These past two years have seen digital become massively pervasive. Do you think the experience of being in contact with the sea can help people rediscover a deep connection with nature? And what new developments do you envisage in the future for boating design?
Like safe islands to spend time on, boats can bring us closer to and help us rediscover nature. However, there is a degree of friction between bigger and bigger ships and perceiving that direct contact with nature. This contrast has become a challenge to counteract: paradoxically, the larger boats become, the more distanced we feel from the sea. Sailboats have a privileged role, their more minimalist forms accentuating proximity to the deep blue. However, it is important not to forget how new applied technologies are helping to preserve this relationship and open boats up. Some cabins even have opening systems along their sides that make it possible to live at the water's edge: a terrace on the sea, a sort of pile-dwelling that makes it possible to experience that essential contact even on large boats, or vast open sterns that offer that experience while sailing. When it comes to the interiors, over the last ten years there has been a very strong debate on yacht design that has led to major transformations, contaminated by architects and land designers. These are without doubt positive developments: the boating business has been refreshed with leading-edge projects and divergent approaches. Some people want to bring their home onto the boat; others, like me, want to put comfort and contemporaneity inside boats, without betraying the distinctive features of boating, which do need to be preserved.
You might also like: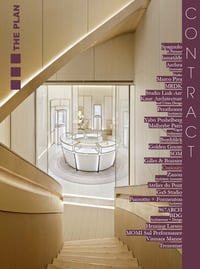 Contract 004
THE PLAN Contract 4 will be released in April 2022 as a supplement in THE PLAN 137. This fourth special issue of THE PLAN devoted to commercial interior design and architecture takes readers on a journey through the latest and most important Italian ... Read More
Paper Version
15.00 €
Digital version
5.49 €