Writer Mario Soldati describes Sardinia as filled with immense, deserted spaces, with rocky plateaus rising high above the sea. Some 50 km from Cagliari, at a complex managed by Italian Hospitality Collection located in the southern part of the island, Studio Marco Piva's design to redevelop the Chia Laguna Resort was inspired by the appeal of this wild land, sandwiched between the mountains and the Mediterranean Sea.
Spanning three hotels (Conrad Chia Laguna Sardinia, Baia di Chia Resort Sardinia and Hotel Village), the restyle was conceived to increase functionality and offer guests new, enhanced experiences and services. Nestled in a landscape of vegetation-covered sand dunes and small lagoons that are home to pink flamingos, Chia Laguna Resort is a place where, in true Sardinian tradition, guests can experience nature at its wildest.
With its sea breeze-exposed location, the 5-star luxury Conrad Chia Laguna Sardinia was redesigned to reflect a concept inspired by wind and lightness. Creating an elegant and sophisticated atmosphere, Biancone di Orosei marble – a local limestone rock studded with shells and corals in a variety of shades from white to pink to beige – is the true star of the design. Common areas include a reception with lobby-lounge, Bar Bollicine and the La Terrazza restaurant, three ground floor spaces linked as a fluid space. Here, the old terracotta floor dialogues with finishes and furnishings characterized by light materials and colors, notably soft seating with textured fabrics, floral decorations, lanterns and local handcrafts. Studio Marco Piva also designed the outdoor areas, where rope woven into the backs of the sofas recalls the nautical world, as well as the 106 bedrooms, which combine an international feel with local touches, and spaces set aside for wellness like the spa, gym and roof solarium, with its small private lounges. Special attention was paid to the landscaping to emphasize arrival at the hotel: guests are ushered toward the facility's entrance by terraces rich in Mediterranean plants, created from local rock and enhanced by lighting integrated into the greenery.
Conrad Chia Laguna Sardinia's exclusivity gives way to a more emotion-led atmosphere at Baia di Chia Resort Sardinia, where the theme of the wild and authentic underpins the interior design, centered on a palette of warm colors such as earth, sand and clay, alongside natural materials like wood, fiber and rope for the 77 bedrooms and common areas. In particular, the reception and the Il Ginepro restaurant were revisited with coverings redolent of hand-knotted tassels from traditional Sardinian fabrics; the Canneto Bar underwent a more in-depth intervention, increasing available seating, strengthening its menu and creating paths to and from the pool.
The complex's third structure, designed for families, is Hotel Village. Studio Marco Piva not only restyled its 240 rooms, the architects transformed the common areas into flexible, multifunctional environments.
Location: Domus de Maria, Cagliari, Italy
Client: Oaktree, Westmont Hospitality Group
Completion: 2021
Gross Floor Area: 50,000 m2 (Baia di Chia Resort Sardinia), 35,000 m2 (Conrad Chia Laguna Sardinia), 7,944 m2 (Hotel Village)
Architect, Interior and Landscape Designer: Studio Marco Piva
Project Manager: Arcadis
Construction Management: Franco Piga (Baia di Chia Resort Sardinia), Angelo Pittaluga (Conrad Chia Laguna Sardinia, Hotel Village)
Main Contractor: Korus International
Consultants
MEP: Angelo Pittaluga, Maurizio Caddeo (Conrad Chia Laguna Sardinia)
Safety: Franco Piga (Baia di Chia Resort Sardinia), Maurizio Caddeo (Conrad Chia Laguna Sardinia, Hotel Village)
Landscape: èrocco
Photography by Andrea Martiradonna, courtesy of Studio Marco Piva
You might also like: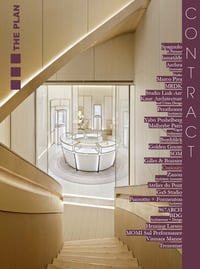 Contract 004
THE PLAN Contract 4 will be released in April 2022 as a supplement in THE PLAN 137. This fourth special issue of THE PLAN devoted to commercial interior design and architecture takes readers on a journey through the latest and most important Italian ... Read More
Paper Version
15.00 €
Digital version
5.49 €