La Samaritaine department store in the heart of Paris has finally reopened its doors after architects and designers from all over the world renovated it from top to bottom, recovering and enhancing a shopping destination where modernity meets history, offering a symbol of the French art de vivre that spans fashion, jewelry, accessories, fragrances and more.
Luxury retail takes centerstage at this iconic space on the Right Bank of the Seine, a mere stone's throw from the Louvre Museum. The complex combines two buildings initially erected in the early 20th century: the first is a Liberty-style building designed by Frantz Jourdain on the corner of Rue de la Monnaie and Quai du Louvre. Acquired by the LVMH Group in the early 2000s, the site shut down in 2005 for security-related reasons. The DFS Group managed and supervised the redevelopment.
Newly-reopened this year and operating under the name Samaritaine Paris Pont-Neuf, it offers 70,000 sq. m of space over seven floors: not just retail space, but 12 bars and restaurants, a spa, an art gallery, offices, social housing and even a nursery school.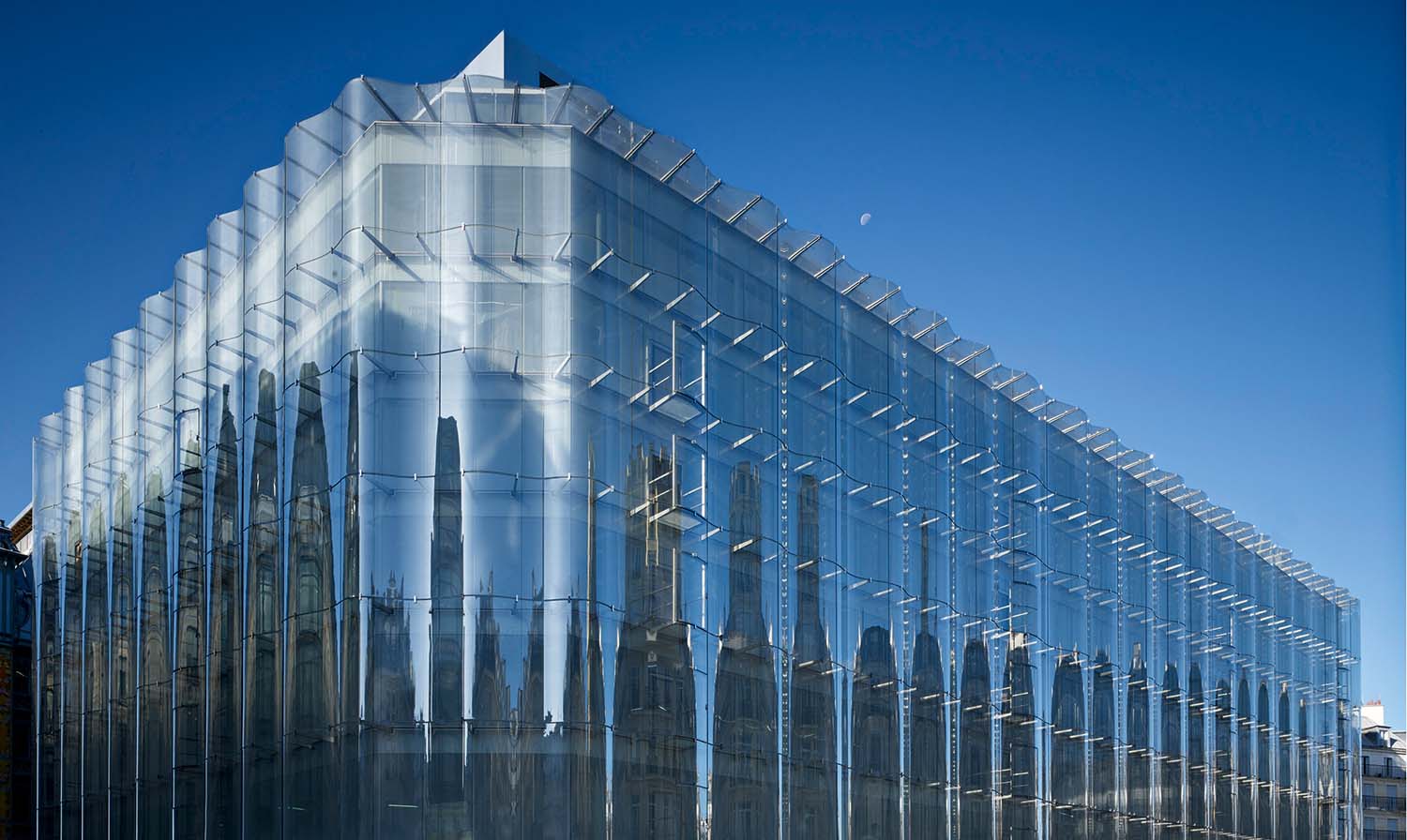 The project combines bold, contemporary architectural solutions designed by Japanese firm SANAA, such as an undulating glass façade for the new Rue de Rivoli building and restoration work on historical elements – for example the Liberty façade with its wrought iron, mosaic signage and enameled lava stone panels. Inside, a massive glass roof over the central atrium initially built by Eiffel, the spectacular Peacock fresco running immediately below it, and an imposing staircase with oak steps, ceramics, gold leaf and wrought iron balustrades, have all been restored to their original splendor.
Canadian studio Yabu Pushelberg did the interior design for the Pont-Neuf building, choosing noble materials such as terrazzo, reminiscent of Parisian pebbles, and, inspired by the original decor, mellow colors like gray-blue.
Designed by French designer Hubert de Malherbe, the 3,200 sq. m basement houses Europe's largest Beauty & Fragrance area. The concept for this floor, which connects the two buildings and extends all the way to Rue de Rivoli, is based on a combination of parquet and mosaic floors, and bronze, white and light-colored, wood-finished furniture.
Studio Ciguë conceived an avant-garde design for the interiors of the building on the Rue Rivoli-side, deploying a deconstructivist approach that takes in both raw and recycled materials.
Last but not least, designers Chloé Nègre, Karine Chahin and Virginie de Graveron from the Atelieramo collective studio designed the spaces for the Apartment, where visitors enjoy a personalized shopping experience, alongside two private salons dedicated to jewelry, all inspired by the heterogeneous style of Parisian apartments, with their blend of classic and contemporary furnishings.
Location: Paris, France
Clients: Grands Magasins de La Samaritaine Maison Ernest Cognacq (Groupe LVMH), DFS
Completion: 2021
Gross Floor Area: 20,000 m2
Architecture Project and Renovation: Sanaa
Heritage: Lagneau Architectes
Local Architect: SRA Architectes
Interior Design: Yabu Pushelberg, Malherbe Paris, Ciguë, Atelieramo
Construction Management: Egis
Main Contractor: Vinci Construction France
Interior Contractor Area Beauté: Paolo Castelli Spa
Photography courtesy La Samaritane
You might also like:
Contract 004
THE PLAN Contract 4 will be released in April 2022 as a supplement in THE PLAN 137. This fourth special issue of THE PLAN devoted to commercial interior design and architecture takes readers on a journey through the latest and most important Italian ... Read More
Paper Version
15.00 €
Digital version
5.49 €