Perathoner Architects' renovation of the Linder Cycling Hotel in Selva di Val Gardena, in the province of Bolzano, is an updated version of traditional Alpine architectural style, with large windows offering views over the peaks of Sassolungo and the Sella Group. The hotel is located in the heart of a village that has long been one of the most popular travel destinations in the Dolomites, both for hiking enthusiasts in summer and avid skiers in winter.
The original Hotel Linder was built in the 1960s by Elisabeth Linder and her son Luis. Since then, multiple generations of the family have run the hotel and carried out renovations over the years. A few years ago, the family hatched a plan to acquire the adjacent property and expand and modernize the facility. Günther Linder and his wife Nicole commissioned Perathoner Architects, a South Tyrolean firm headed by Rudolf Perathoner, to design the resulting property, preserving most of the existing building and extending the complex onto the newly acquired site, unified behind a new wooden façade.
Today, the Linder Cycling Hotel is accessed via the new extension, whose ground floor features a reception area, events hall and several lounge areas, leading on to dedicated catering spaces located in the previous building, which was wholly redesigned for the Luis Eatery restaurant, named after the hotel's founder, with a bar and a large dining room/outdoor terrace, a typical stube Tyrolean restaurant, and a dedicated wine-tasting area.
Forty-two suites and bedrooms span the upper floors. The new building's top floor is given over to a wellness center for guests to enjoy, choosing between a panoramic sauna, a Turkish bath, a relaxation room and a flush swimming pool where it is possible to swim and regenerate while looking out at impressive Dolomite views.
The most technically challenging part of the whole reorganization was the parking: to provide 35 spaces required excavating four underground levels, which was by no means easy given the surrounding urbanization.
Perathoner Architects also designed the interior, which continuously references a palette of local materials and colors redolent of the Alpine environment, featuring custom-designed furniture and lighting studied down to the smallest detail. Wood is used throughout the common areas for parquet, paneling and table tops, combining with brass-finished metal elements and seating covered in velvety, soft color fabrics. Four room types are available in different sizes and features, all furnished mountain-style, and all designed to ensure guests' utmost comfort as they enjoy their stay in close contact with the uniqueness of a Unesco World Heritage Site natural landscape.
Location: Selva di Val Gardena, Bolzano, Italy
Client: Hotel Linder – Completion: 2021
Gross Floor Area: 3,830 m2
Architect and Interior Designer: Perathoner Architects
Main Contractor: Schweigkofler
Consultants
Structures: Holzner & Bertagnolli Engineering
Services Engineering: Studio Tecnico Delazer
Geotechnics: Stefano Paternoster
Electrical: Elektro Bergmeister
Photography by Tiberio Sorvillo, courtesy of Perathoner Architects
You might also like: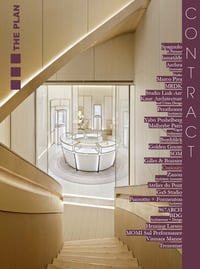 Contract 004
THE PLAN Contract 4 will be released in April 2022 as a supplement in THE PLAN 137. This fourth special issue of THE PLAN devoted to commercial interior design and architecture takes readers on a journey through the latest and most important Italian ... Read More
Paper Version
15.00 €
Digital version
5.49 €