An ode to sustainability, Triodos Bank's new headquarters in Driebergen-Rijsenburg, The Netherlands, is a single wooden building surrounded by greenery, one that applies the principles of the circular economy to architecture, fitting naturally into the surrounding woodland, along the flight path of bats.
The concept for this wooden cathedral is Dutch through and through: the architectural design is by RAU Architects, a studio directed by Thomas Rau, while the interior was designed by Ex Interiors, the practice Odette Ex founded in 1994.
A leader in the field of ethical finance, Triodos Bank was keen to build its offices on the De Reehorst estate in Zeist, which is in a nature conservation area. This inspired the architects and designers: the building's curved forms offer unique views from every point, while the glazed façades immediately instill a relationship between the interiors and the landscape.
The complex consists of three towers of differing heights, all of which rise from a common base. The public-accessible ground floor houses a large entrance hall with a reception, a restaurant and a conference center. An impressive, centrally-placed spiral staircase leads to the second floor and its numerous workspaces for internal meetings of bank employees along the outermost part of the building, closely connected to the surrounding context. The remaining staff offices are spread among the three towers.
With the exception of the concrete basement, the building is made entirely of wood. In a continuous reference to woodland, the interior design adopts organic shapes and natural colors. The central core pillars and ceiling resemble a mushroom. Timber from the estate was used for the flooring, and to design a unique range of tables and chairs. Five original tree trunks were also incorporated. Waxed concrete was used to finish the service counters and various refreshment areas in a color that, close to clay tones, creates a strong link with the backdrop.
The landscape, building and interiors all come together in a holistic vision that is expressed through integrated design. Triodos Bank's new corporate headquarters was awarded a BREEAM Outstanding certificate. It was also designed to be disassembled and rebuilt: all of the materials and products used are traceable and catalogued. The building is completely sustainable, and has a minimal CO2 footprint. Dialogue between architecture and nature continues on its green roofs, which are fitted with solar panels. The roof also features a rainwater collection system for recycling.
In addition to energy efficiency and recycled materials, the design is highly attentive to environmental comfort: glass façades ensure maximum penetration of natural light, while the use of raw canvas interior finishes provides effective soundproofing. Last but not least, the air conditioning system regulates internal temperatures, conforming as closely as possible to the environment and the seasonal climate outdoors.
Location: Driebergen-Rijsenburg, The Netherlands
Client: Triodos Bank
Developer: EDGE Technologies
Completion: 2019
Gross Floor Area: 12,500 m2
Architect: RAU Architects
Interior Design: Ex Interiors
Main Contractor: J.P. van Eesteren
Consultants
Lighting: Arpalight, Studio Rublek
Landscape: Arcadis, Copijn
Furniture: Gispen, Harryvan Interieurbouw
Cost Estimator: BBN Adviseurs
Building Physics and Fire Protection: DGMR
Photography by:
Alexander van Berge, Bert Rietberg and Gispen, courtesy Ex Interiors
Chris van Koeverden courtesy Thonet
You might also like: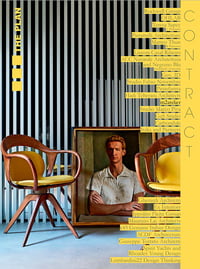 Contract 002
Our second special issue dedicated to the contracting world presents a broad selection of projects across a variety of sectors, from hotel to luxury residential, commercial and tertiary. Italian and international architects and designers share their ... Read More
Paper Version
15.00 €