The offices of Roman Klis Design in Herrenberg, southwest Germany, were renovated and transformed into a green oasis of creativity, an island of rich vegetation animated by tropical colors.
Completed in 2019, the conversion was undertaken by the Ippolito Fleitz Group, a multidisciplinary Stuttgart-based firm founded by Peter Ippolito and Gunter Fleitz in the early 2000s. The philosophy espoused by the studio and its hundred-strong team of professionals is encapsulated in the concept of identity, understood as a fluid process that takes in architecture, design and communication. This principle inspired the design concept for the headquarters of Roman Klis Design, a global creative agency that, by its very nature, requires a workspace that is both stimulating and relaxing.
The idea that an office environment and people's habits play a key role in employee productivity has been implemented through the concept of "nudging". Borrowed from behavioral psychology, this concept is about giving a gentle push in the desired direction, offering non-explicit encouragement toward a particular option, in this case to improve people's wellbeing by guiding their decisions while maintaining their freedom of choice. Nudge theory expert Dr. Freibichler of Porsche Consulting was brought in to work with Ippolito Fleitz Group on this interior design project.
The headquarters occupy over 2,000 sq. m spread over multiple levels. One of the main project goals was to create a multitude of places to gather within the offices, to encourage communication and for employees to relax together, either with colleagues or clients. Spaces designed for this purpose include the "Sunset Café", where a large kitchen table is perfect for meetings, turning it into a space well-suited to hosting indoor and outdoor events.
As well as enhancing environmental comfort, the thousands of plants in the building create a "tropical island" atmosphere. This metaphor continues throughout the interior design, starting with a beach- and seaside-inspired color palette.
One of the challenges of the project was to completely transform the offices without altering the building's structure. To achieve this, the previous gray metal ceilings were enlivened through the addition of stripes in shades of blue, a color that promotes calm and creativity, gradually progressing towards white to help enhance brightness within rooms. Neutral colors were preferred in workspaces to facilitate concentration, while pink was chosen to mark through-routes. Tropical-patterned wallpaper juxtaposes with soft-shaped upholstered furniture and circular tables. Glazed meeting rooms retain the vibrant character of open space, while specially-designed alcoves welcome small work groups.
A great deal of consideration went into room lighting, both technically and decoratively. Workstations benefit from even lighting to reduce glare, hanging lamps double as hanging vases, while the staff restaurant features custom-made lanterns in colorful fabrics.
Location: Herrenberg, Germany
Client: Roman Klis Design
Completion: 2019
Gross Floor Area: 2,000 m2
Architect and Interior Designer: Ippolito Fleitz Group
Interiors Contractor: Conduk
Consultants
Lighting: pfarré lighting design
Acoustics: DS-Plan
Green Design: G.K.R Germany
Photography by Philip Kottlorz, courtesy of Ippolito Fleitz Group
You might also like: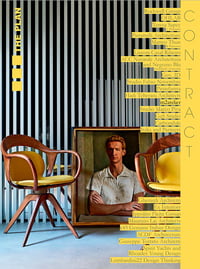 Contract 002
Our second special issue dedicated to the contracting world presents a broad selection of projects across a variety of sectors, from hotel to luxury residential, commercial and tertiary. Italian and international architects and designers share their ... Read More
Paper Version
15.00 €