"We design buildings that follow the sun" is one of architect Giuseppe Tortato's favorite sayings. The phrase aptly describes the multifaceted design of Swedish high-tech engineering group Sandvik's new Milanese headquarters: compact and elegant architecture with angular forms, enhanced by stringcourses and sunshades. Built recently in the northwest of the city, the new building was designed by Giuseppe Tortato Architetti inside and out. Dubbed "Arcadia", the building's 3,900 sq. m floor area is distributed over four stories, fitting harmoniously into the context of the Forgiatura redevelopment of a disused industrial area that brought Tortato to international attention.
Founded in 2012, the Milan-based studio's multidisciplinary team of professionals develops architecture and interior design projects through an approach based on research into sensory experience and sustainability.
For the multinational Sandvik, the firm designed an office building with a particularly complex plan, varying on each floor to ensure an amplification of the façades and perspective views. A large central patio and a landscaped terrace carved out from the previously-existing complex allow for optimal capture of natural light, channeling it into the workspaces and providing areas suited to greenery. The building stands on pilotis which leave the ground floor partially free, while offering space for a reception area, classrooms, and a multifunctional room. The ground floor also hosts the Coromant Center, a sort of showroom where some of the company's machinery can be demonstrated in operation.
Every floor above ground-level hosts an individual business division, each with different characteristics, settings, colors and space organization. As a result, the building is a continuous discovery for users and visitors. Informal outdoor spaces, terraces and greenery around the workspaces provide a common thread. The first floor, which is the largest, houses Coromant's offices. Here, minimalist gray patterned carpet combines with white furnishings and glass walls with black trim and hardware. Since the floor abuts the wall of the Forgiatura "Mechanics" building, natural light enters from this side through a large circular skylight that has been sunk into a large terrace; this also serves as a visual focus for the floors above.
The second level houses Dormer Pramet's offices, furnished as per company guidelines in white, black, light gray and orange. The third and top floor, which is the brightest and has the most glazing, is dedicated to the offices of parent company Sandvik, and offers views out over the entire Forgiatura campus.
Workspace design focused on user wellbeing: human-centric lighting principles ensure the most appropriate lighting at all times of day, while specialist consulting was brought in to mitigate the acoustic and vibrational impact of the company's machinery on the offices above the ground floor.
Location: Milan, Italy
Client: Realstep
Completion: 2020
Gross Floor Area: 3,900 m2
Architect and Interior Designer: Giuseppe Tortato Architetti
Main Contractor: Mangiavacchi Pedercini
Consultants
Structural: Biesse Consulting
Façade and Cladding: Amitti
Landscape: Valerio Cozzi
Photography by Carola Merello, courtesy of Giuseppe Tortato Architetti
You might also like: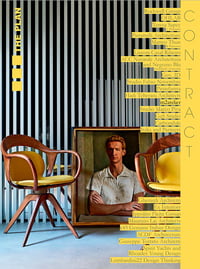 Contract 002
Our second special issue dedicated to the contracting world presents a broad selection of projects across a variety of sectors, from hotel to luxury residential, commercial and tertiary. Italian and international architects and designers share their ... Read More
Paper Version
15.00 €