"The Princype residential complex is a new departure for sustainable urban architecture in a strategic area of the city of Milan", says architect Marco Piva in the presentation for his studio's winning design to an international design competition in 2015. The complex owned by Fondo Leone - which is managed by DeA Capital Real Estate SGR - is currently under construction and fills a large urban void after years of neglect within the Via Principe Eugenio redevelopment project. Milan-based Studio Marco Piva operates globally in various sectors and on a variety of different design scales, from urban planning and architecture to interior and industrial design.
Located not far from Parco Sempione, the new construction hosts a residential complex of circa 200 apartments over 11 floors over a built surface of 20,500 sq. m, offering a wide variety of sizes and housing solutions to cater to different needs. The designers have conceived three different collections of furniture and finishes: Elegance, Contemporary and Limited Edition.
The entire concept is inspired by the excellence of Italian and international hotels, drawing on Studio Marco Piva's experience in this field to create an innovative, contemporary, residential style of living. The design features wide green terraces on the building's top floors, which together with the inner courtyard and roof garden provide continuity with a tree-lined avenue. The elevations are characterized by a rhythm of full and empty spaces that correspond to different compositional sections and ensure a dynamic, modular exterior design. In an interplay of transparency and external permeability, a large portal in the center of the main façade frames the entrance hall. In addition to numerous green areas, the complex will have ancillary spaces such as cellars and parking spaces, common areas designed for coworking, meeting rooms, and a host of services that range from a concierge to a children's play area, gym and spa.
The building was designed to ensure low consumption and high levels of energy efficiency. The main façade features a ventilated stoneware-clad wall, an approach that, compared to other building systems, can significantly reduce energy requirements. Wherever possible, renewable-powered solutions have been adopted for the building's systems, for example groundwater condensed heat pumps and photovoltaic panels on the roof. Energy-saving light sources in common and outdoor areas are to be managed by automatic dimming systems that limit the use of artificial light to strict requirements, while the garage will be equipped with a charging station for electric cars. On the technology front, future residents will be able to choose innovative home automation options, including alarm systems with window sensors and auto-dimming lights.
Studio Marco Piva has curated the architecture and interior design, paying meticulous attention to detail and selecting sustainable materials and high-quality finishes. The Princype residential complex showcases the studio's hallmark design approach of ongoing formal and functional research, with a focus on residents' psychophysical wellbeing through an essential balance between technical excellence and human-dimensioned spaces.
Location: Milan, Italy
Client: Fondo Leone, managed by DeA Capital Real Estate SGR
Gross Floor Area: 20,500 m2
Architect and Interior Designer: Studio Marco Piva
Main Contractor: Costruzioni Generali Gilardi
Consultants
Advisor: Redbrick Investment Group
Furniture: Milano Contract District
Design Project Management: Mpartner
Service Engineering: Ariatta Ingegneria dei sistemi
Structural: Ceas
Virtual Photographies courtesy of Tecma Solutions
You might also like: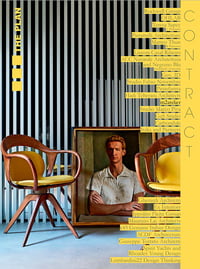 Contract 002
Our second special issue dedicated to the contracting world presents a broad selection of projects across a variety of sectors, from hotel to luxury residential, commercial and tertiary. Italian and international architects and designers share their ... Read More
Paper Version
15.00 €