Since 1800, the Rothschilds have been known as one of the most influential families in the world. Rothschild & Co is an investment bank founded over 200 years ago. During this time, it has traversed several phases of power, success and an ability to renew itself, adapting to the changes of time and history without ever losing its identity. The decision to locate Rothschild & Co's new Italy offices in a late 19th Century building in Via Orefici in Milan recently redeveloped to a Barreca & La Varra design is a perfect fit with the image of a company that is modern yet at the same time prestigious and of great historical and cultural worth.
Integrated design company GBPA Architects of Antonio Gioli and Federica De Leva looked after the interior design and office furniture choices. Founded in Milan in 2006, the practice has consolidated experience in the tertiary and hospitality sector, interior and workspaces design for luxury and high fashion brands. Architects Elena Niccolini and Valeria Ordoño de Rosales, who were directly involved by GBPA in implementing the work, skillfully chose innovative architectural elements to highlight historical features without renouncing a forward-facing outlook. The work involved the last three floors of the building, the terrace and the financial group's dedicated office entrance.
The architectural complex has a courtyard configuration in which some 2,000 sq. m of past and present merge to form a single compositional solution. The fourth floor is characterized by its double height that made it possible to build a prestigious customer's area preceded by a wide reception that welcomes guests at a privileged position in the structure. This area, composed of different-sized meeting rooms, is enhanced by elements that recall 20th century architecture; great attention was paid to the product's materials and craftsmanship, while deploying highly-contemporary finishes, furnishings and lighting in the most operational areas to comply with modern-day regulatory standards. The color palette adopted to harmonize all of the design choices ranges from blue and grey to light brown; the most commonly used materials were steel, wood (Hungarian herringbone parquet) and marble. This renovation of a historic Milanese building was a refined and elegant architectural restyling, catering to the client's modern interests while restoring a piece of the city's cultural identity.
Location: Milan, Italy
Client: Rothschild & Co Italia
Completion Date: 2019
Gross Floor Area: 2,500 m2
Architect and Construction Project Manager: GBPA Architects
Project Management: JLL
Main Contractor: Nessi & Maiocchi
Plant Equipment Consultant: RISE Energy Focus Engineers
Roman Blinds and Curtains: Omnitex
Bathroom and Break Area Tiles: Mirage
Photography by Giacomo Albo, courtesy of GBPA Architects
You might also like: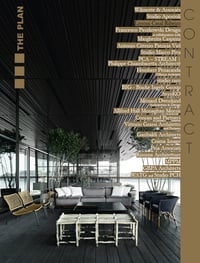 Contract - vol. 1
In this special issue we cover a variety of projects, ranging from the hospitality industry to the services sector, with an interesting detour into the nautical world. Architects and designers around the globe have succeeded in shaping classic and co... Read More
Paper Version
15.00 €