As well as being a design studio, Studio Marco Piva is a veritable creative hub that comes up with new solutions at all scales of design, from architectural to interior, industrial design and design for fashion brands. A 360° outlook allows the practice to assess each job in meticulous detail. This level of detail made it possible to define the La Suite project, a 5-star hotel in the heart of Matera, a stone's throw from I Sassi. Known since the '70s as the "Giardino Porcari" noble palace gardens, the project transformed the site into an essential and elegant complex by reinterpreting and adapting the picturesque peculiarities of this wonderful Basilicata town. The exterior's expression of functional and minimalist architecture is inspired by the 20th-Century Italian current of rationalism. Through an absence of decoration and retention of the color of the local rock, a high-level dialogue is triggered between this complex and the evocative surrounding urban fabric, in a stylistic and material approach that originates from a strongly contemporary view of architecture that nevertheless does not eschew its continuity with tradition.
The hotel was made out of local materials. The entrance is characterized by a monumental 17th-Century rusticated round-arch portal, restored and enhanced by a contrast with transparent side windows.
Due to its location, construction of this complex restored a large, previously-abandoned space to the city without contaminating the historic area. La Suite offers a new place to get together in the urban context. Its frontage, on the famous Via Lucana, is characterized not only by a traditional entrance but also large windows that run the length of the ground floor; the opposite front is behind a winter garden, a covered and glazed extension that acts as a filter between the square behind and the main structure, offering a space for aperitifs, relaxation, and a bar that overlooks the courtyard.
Special attention was paid to the elevations. A rhythmic cadence was achieved for the façade by juxtaposing fragments of Mazzaro slab, a type of tuff rock that boasts high levels of mechanical performance and is commonly used in local construction. The material composition of the fronts is enhanced by vertical lighting fixtures in which warm and gentle tones soften the night-time color of the interior surfaces.
Leveraging the teamwork of architects, engineers and interior designers, Studio Marco Piva created prototypes and simulations to examine all aspects of the design, ensuring a consistent approach from every stylistic and functional point of view both on the architectural and interior design scale. The hotel consists of a basement and six above-ground floors, each of which has its own perspective interplay, iconic elements and scenographic use of light with a view to fostering relaxation for visitors accustomed to cold city lighting. These features ensure that the complex has a cozy and hospitable atmosphere, making the La Suite Hotel one of the city's pre-eminent destinations for quality tourism.
Location: Matera, Italy
Client and Main Contractor: Tam.co
Completion Date: 2019
Site Area: 5,000 m2
Architect: Studio Marco Piva
Construction Project Manager: Giuseppe Favoino
Bioclimatic Pergolas: Pratic
Plasterboard: Knauf
Kitchen Tiling and Terrace Flooring: Marazzi
Automatic Doors: DormaKaba
Sauna and Steam Bath: Effegibi
Bathroom Hatch Lamp: Linea Light
Photography by Andrea Martiradonna, courtesy of Studio Marco Piva
You might also like: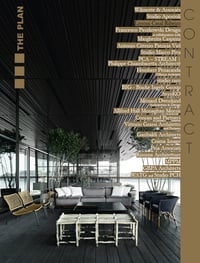 Contract - vol. 1
In this special issue we cover a variety of projects, ranging from the hospitality industry to the services sector, with an interesting detour into the nautical world. Architects and designers around the globe have succeeded in shaping classic and co... Read More
Paper Version
15.00 €