Coima Image, a company that has been offering architectural design, interior design and space planning services since 1980, won IBM's invitation-only competition for construction of the IBM Studios at the former UniCredit Pavilion in Milan, realized by Michele De Lucchi in 2015. The US company, a world leader in the marketing of IT services, was keen to return to the center of attention in the Milanese community through a new innovation hub of the group in the heart of Porta Nuova - right in Milan's high-tech core: a new, harmonious, flexible, integrated, open and sustainable space.
The first move was to enhance the relationship between inside and outside by integrating the building into the square and park. Altering the paradigm between architecture and urban space, the structure was conceived as a "bridge" that is capable of connecting different realities within the city. The entrances were revised, with the newest one standing out with a clear and iconic design.
IBM-promoted technological innovation has great prominence through the internal exhibition layout that runs along the entire perimeter of the pavilion. IBM's innovation may also be appreciated from the square and the park, thanks to this permeable structure which promotes the link between public and private.
The exhibition "route" starts at the entrance: clients/visitors walk through a number of rooms on the ground floor, following a circular path along which interactive totems and video walls guide a narrative about the company's business solutions. Fostering spatial and conceptual continuity between the two floors, the first one also houses spaces dedicated to the exhibition, including the core of the project: the immersive rooms.
While the ground floor offers a more flexible architectural layout for a broad, heterogeneous usership, in addition to the continuation of the exhibition, the floor above offers an organized area, the IBM Cloud Garage, for promoting networking opportunities among clients, system integrators, developers, start-ups and Centennials. The third floor is set aside for IBM Studios, featuring a maker room, usability room, meeting rooms of sundry types, a digital review space, IBM offices and a coffee area accessible from the entire floor. The fulcrum on which the entire design revolves is without doubt the technological ribbon element suspended on the first floor, which is also visible from both the lower floor and outside the building. This ribbon outlines a new covered square on the ground floor with informal seating and public places, in an area carved out of the auditorium that belonged to the building as it was before. Thanks to this renovation, it is now a central hub for exhibition storytelling, and a privileged place for public events staged by the facility.
Location: Milan, Italy
Client: IBM
Completion Date: 2019
Building Area: 3,000 m2
Architect: Coima Image
Main Contractor: Contec
Consultants
Structural: MSC Associati
Fire Protection: GPM Ingegneria
Acoustics: Studio Brugola
Urban Planning: Tekne
Plants: Tekser
Porcelain Stoneware Tiling: Marazzi
Rasomuro55s Doors and Sliding Doors with LCD62 Jamb: Lualdi
IF-DL Series LED Screens: Samsung
Vinyl Flooring and Carpet: EcoContract
Lighting: Artemide
Photography by Francesca Iovene, courtesy of Coima Image
You might also like: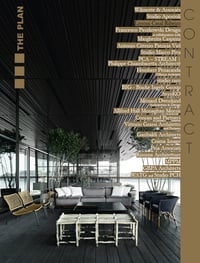 Contract - vol. 1
In this special issue we cover a variety of projects, ranging from the hospitality industry to the services sector, with an interesting detour into the nautical world. Architects and designers around the globe have succeeded in shaping classic and co... Read More
Paper Version
15.00 €