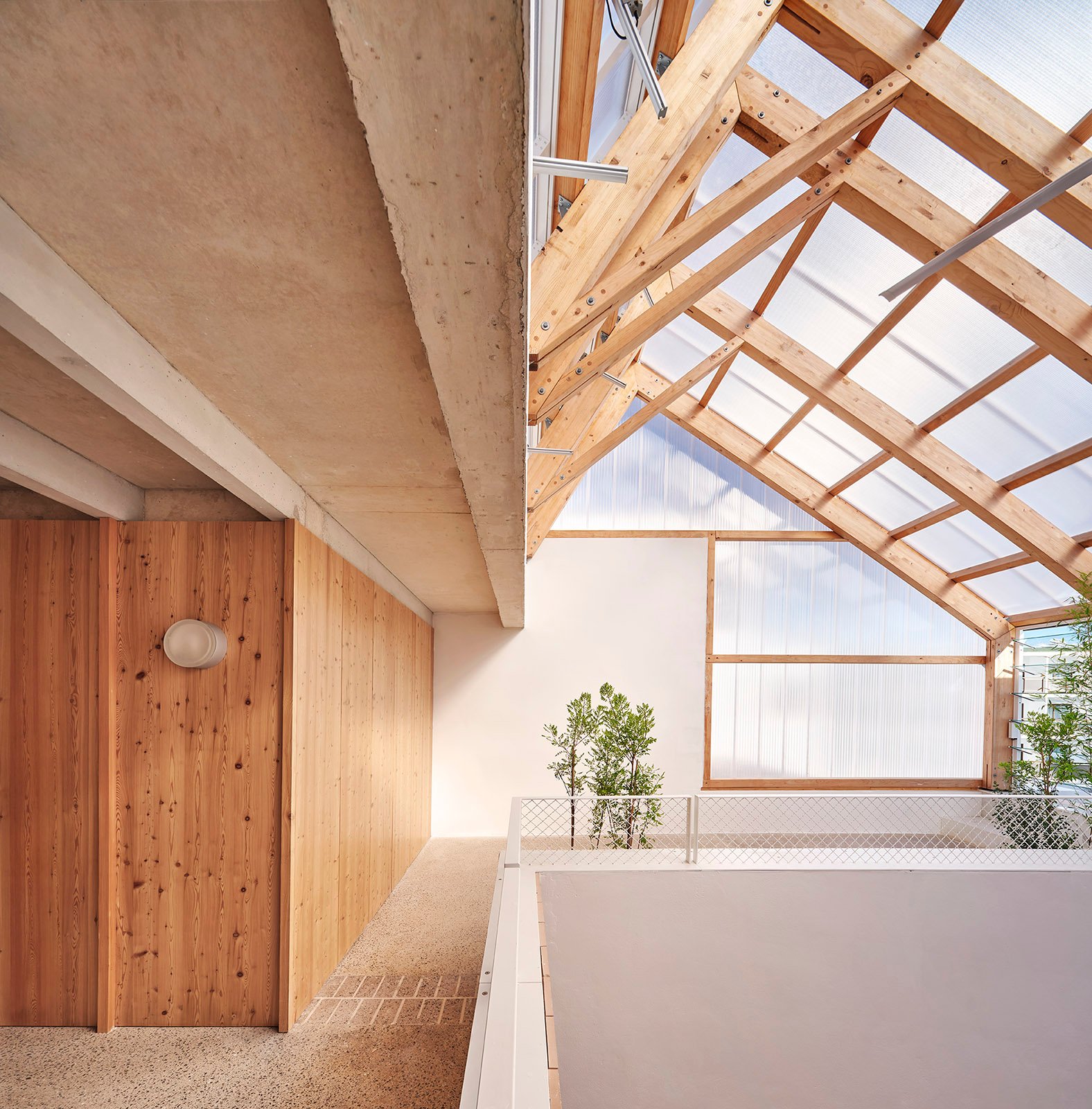 The 43-unit social housing proposal adapts to climate and addresses energy poverty, ensuring comfort without active heating/cooling systems. Using compacted earth block wall structures, it minimizes embodied footprint and regulates humidity. With interconnected 12 m2 rooms and a central kitchen-dining area, it promotes gender equity. The homes connect to the outdoors via thermal buffering modules or winter gardens. Courtyards create communal spaces, extending into green roofs via architectural features acting as winter atriums and summer solar chimneys. The project integrates social and environmental strategies, guaranteeing comfort and sustainability amidst energy poverty.
In a heterogeneous environment without a clearly defined urban fabric, our social housing proposal seeks to adapt to the local climate, characterized by mild winters and warm, humid summers. To address the issue of energy poverty, the houses have been designed without active heating and cooling systems, which has influenced factors such as the orientation of the building and its construction system.
Raw Rooms' proposal uses compacted earth blocks helping regulate humidity due to its hygrothermal properties and maintain temperature due to its inertia. Originally, wooden slabs were proposed, but environmental simulations during the design phase revealed the need for increased thermal inertia, leading to concrete's choice. The building's insulation aims to use natural, low-carbon-footprint materials. To preserve thermal inertia, an exterior thermal insulation system composed of natural cork and a lime mortar finish is employed. For the roofs, a natural insulation system called Posidonia, a type of seagrass from Ibiza's beaches, was chosen.
As previously mentioned, the architecture focuses on combating energy poverty, adapting to the local climate and avoiding active heating and cooling systems. Through construction systems that increase thermal inertia, solar capture, and natural ventilation, the emissions from the building's construction process were 420 kg CO2/m2, representing a 60% reduction compared to a conventional building. On the other hand, the annual emissions that the building may produce are almost nil, reaching 0.72 kgCO2/m2, thus receiving category "A", the highest sustainability ranking in Spanish regulations. The dwellings are made with a single 4m x 3m module, making them flexible and adaptable to possible future uses. By locating the kitchen-dining room in the center of the house as a distribution module, corridors are eliminated and domestic work is made visible, avoiding gender roles. To achieve flexibility and adaptability, surfaces are redistributed, so that the living room yields space to the rest of the rooms, eliminating the predominance of the living area, optimizing the floor plan and obtaining its maximum performance. In this way, the building integrates both social and environmental strategies into a proposal that guarantees comfort, both inside the houses and in the intermediate spaces, providing a solution in line with the comprehensive sustainability demanded by our times.
When measuring the impacts deriving from the production of housing, as well attending to three basic aspects we have mentioned that guarantee the social, environmental and economic sustainability of the model, we are also guided by 2030 Agenda. 43 Social Housing in Ibiza RAW ROOMS accomplishes all these aspects making it a great example of social housing, using sustainable materials and not using active cooling / heating systems.
Credits
Ibiza
Spain
IBAVI
Social Housing
11/2022
3863 mq
5,200,744.00 €
Marta Peris, Jose Toral
Guillem Pascual, Izaskun González, Ana Espinosa, Maria Megias, Cristina Porta, Miguel Bernat
UTE 43 Viviendas Ibiza, (LOS SERRANO AZNAR CYDEMIR)
Jose Luis Velilla Lon, Jaume Pastor (L3J Tècnics Associats SLP), Manel Fernandez and Meri Blanco (Bernuz Fernandez), Sergi Soler and Grisella Iglesias (Àurea Acústica), Luca Volpi and Albert Sagrera (Sustainability)
FETDETERRA (CEB Compacted Earth Blocks), TARGATERRA (CEB Compacted Earth Blocks), AMORIM (Thermal Isolation), SECIL (Plastering), ECOCLAY (Clay Plastering), Persianas BCN (Window blinds), LUMON (Glass curtain), HormiCEMEX (Concrete), MACAFERRY (Electrowelded mesh), EGOIN (GLT Larch Tree Wood), AISLUX (Polycarboante), SERGE FERRARI (Tarapaulins)
Jose Hevia
Curriculum
PERIS+TORAL ARQUITECTES, from their office in Barcelona, focuses on researching new ways of living and building to address the challenges posed by the climate and housing emergency. Both combine their professional practice with teaching as project professors at the Escuela Técnica Superior de Arquitectura where they were trained. In the academic field, Marta Peris presented her doctoral thesis "The Japanese house through the cinema of Yasujiro Ozu" in 2016, which was published under the title "Ozu's house" in 2019. International recognitions of their work include the 2022 Honor Award WOOD DESIGN & BUILDING Award, Best Multi-family Housing Future House Awards, Premio Europeo d'Architettura MATILDE BAFFA UGO RIVOLTA, Gold Label Best Architects 22 award, ARCHITECTURE MASTERPRIZE AMP residential category, THE PLAN AWARD Social Housing category, BLT Built Design Awards Social Housing category, LIVE CHALLENGE AWARD by BAUMIT and they have been finalists for the MIES VAN DER ROHE Award 2022.