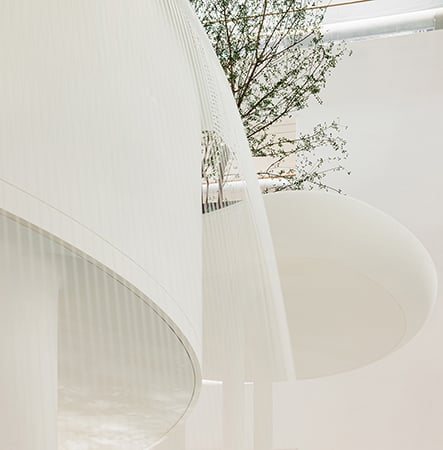 A firm renowned for creating beautiful and considered spaces for global brands, is proud to unveil its visionary, multi-level design for one of the largest department store in South Korea. The retail landmark is part of a multi-use complex combining business, shopping, and leisure in a single destination. This department store introduces a new concept in shopping environments while forging a history by redefining the future of retail. Design elements, includes abundant greenery, expansive floorplates, and a Waterfall Garden, all contributing to a memorable customer experience set against a backdrop of avant-garde fashion and visually stimulating contemporary design elements. The designers were given a substantial piece of architecture with many atriums. The client's vision was to allocate 50 percent of this floor plate to create public spaces where people can socialize in a much more experiential environment than the typical mall experience has to offer. At the end the designer's solution was inspired by Seoul's surrounding nature. They chose to bring the outside in and create something unexpected that plays with scale and as the green concept began to extend to the whole environment the building became softer and more conducive to those memorable experiences. The soothing elements of the atrium are visible from all levels of the department store, nourished by abundant natural light drawn in through a skylight extending through the core of the building. Leveraging the building's unique architecture with multiple voids throughout, the design team conceptualized a green belt that would wrap around the spaces and provide continuity to an overall theme of tranquility and well-being. Taking cues from the grand piazza, the green belt becomes a runway for everyday life activities from social interactions to art displays, pop-up stages and inspiring encounters. One begins their journey with an auditory sensation of a cascading waterfall. A gravity defying 12-meter-tall sculptural waterfall stands prominently in the main atrium, surrounded by organically shaped floating islands. The calming Waterfall Garden cascades through dancing water features with seating extending from its fluid forms. The concept of nature is carried forward with reflective borders that mimic tranquil water patterns along the inner edges of the ceiling planes, creating the visual effect of glancing up at a reflecting pond. In conceptualizing the totality of each retail floor, the studio drew upon its experience and expertise to perfect the details of each individual element to create a branded environment that is strengthened by the sum of its parts. From floors, to walls, ceilings, furnishings, fixtures, and materiality, each floor presents its own dialect of experiences and visual display elements, all tailored to the style of merchandise and the lifestyle trends of those most apt to shop there. On the second floor, the interpretation of the future home for women's high-end fashion is at the heart of elegance and timeless luxury. Anchored by iconic forms, with an emphasis on textures and sculptural tonality, the floor offers a gallery-like space for one to meander and explore. Use of gentle, indirect lighting accentuates fluid forms on the ceiling to radiate an ethereal quality. Custom hanging fixtures with refined detail elevates the feeling of lightness while providing a cohesive language for curated brands to shine. A combination of a subdued color palette with layers of reflectivity and translucency further boosts the sophisticated atmosphere. In Contrast, on the third floor, the designers swiftly change up the mood and invites one to another world. Expanding on the concept of nature and the sculptural garden, this level takes on the abstract form of a blooming. While maintaining a degree of commonality with the second floor in terms of sculptural elements, this floor expresses them in bolder form, amidst a creative backdrop of shocking deep blue hanging systems, aggressive materiality with an emphasis on the contrast of natural and man-made materials, unfinished ceiling, custom built, vacuum-formed sculptural walls and a simple color palette that speaks more directly to the featured brands. In this modern retail emporium, the worlds of art, design and fashion collide to create a cultural experience. Veering away from global retail trends, this project was designed to be approachable, while providing visionary design elements that are inspirational and aspirational, and offers a unique perspective on how common experiences like shopping can be greatly enhanced.
Credits
Seoul
South Korea
The Hyundai Department Store Group
02/2021
9552 mq
Richard Rogers / Rogers Stirk Harbour + Partners
Diego Burdi-Co-founder and Creative Director, Tom Yip – Project Manager, John Seo – Senior Concept Designer & Korean Translator, Michael Del Priore – Senior Concept Designer, Anna Nomerovsky, Anna Jurkiewicz and Yoonah Lee – CAD
Contractor 2FL Dongeuy, and Contractor 3FL_Daewon SD
Marcel Dion light Consultant (Canada) and Be:Che (South Korea), Electrical: KEUNWOO, Mechanical : MKG
Custom pieces fabricated by Dongeuy and Daewon SD
Yongjoon Choi
Curriculum
BURDIFILEK is a leading commercial interior design firm based in Toronto, Canada. Our firm is the creative strength behind many retail flagships, hospitality designs, residential and real estate developments around the world. The BURDIFILEK design philosophy embraces sophistication and creative intelligence. Inspired by travel and exploration, art and artisans, the firm's identity is demonstrated through the ability to realize expressive, sophisticated, meticulously curated interiors. Creators of a distinct international style, the BURDIFILEK design team works together to transcend trends; fluidly blending distinctive design vision with a trademark elegance.
The 25- year-old firm is also responsible for the creation, development, and evolution of the design identity for many iconic brands, the team works with clients to explore the depth of each brand to orchestrate a powerful and unexpected customer experience while promoting contemplation and wonder for one to inhabit.