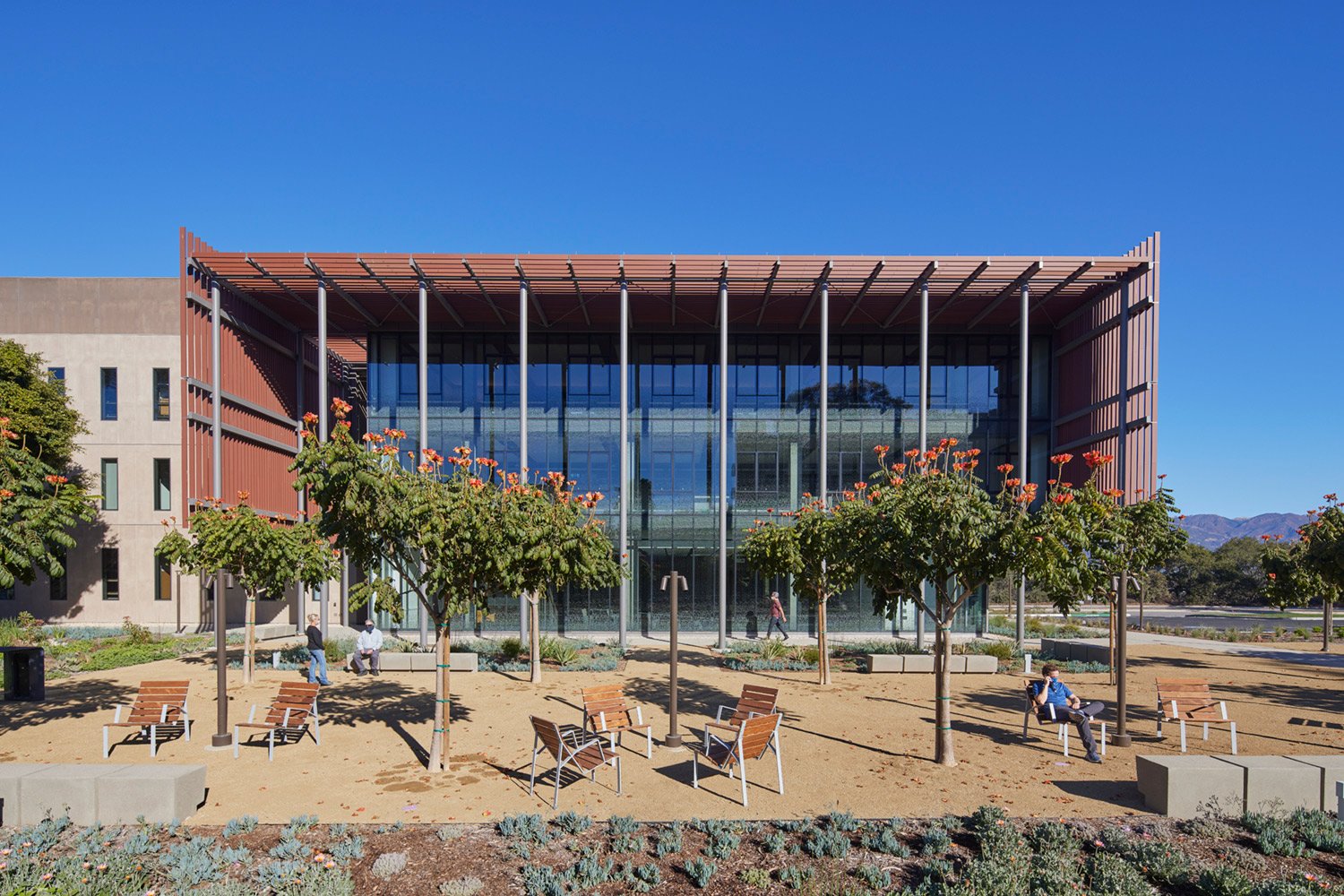 The Institute for Energy Efficiency at UC Santa Barbara was founded with a mission to develop breakthrough technologies that save energy while advancing the standard of living worldwide. As such, it required a headquarters as forward-thinking as its mission, one that could be a home for dynamic collaboration that extended beyond high-quality laboratory spaces. The new Henley Hall, a 49,900 sq. ft., LEED platinum-aspiring laboratory and education building, provides highly functional laboratories, offices, and collaborative space in a long-lived building. Henley Hall's massing is bifurcated along programmatic lines to optimize comfort and operational cost impact and minimize energy use. This innovative approach to program organization allowed the designers to create something new: a research building that breathes. The split massing gathers sensitive and tightly controlled laboratory spaces in the west wing, while orienting offices, classrooms, and gathering spaces around a three-story, open-air eastern atrium filled with natural light. The east wing features an automated natural ventilation system tied to operable windows, dissolving the boundaries between outdoors and in. Henley Hall seeks to forge a strong connection to its stunning natural surroundings. The fritted glazing is optimized and oriented to minimize heat gain and filter daylight to climate-sensitive research spaces while maximizing views to the Santa Ynez mountains, while operable windows in offices and indoor-outdoor collaboration spaces provide comfortable moments for respite. The new Henley Hall provides a physical and spiritual home for the vanguard of energy research by integrating energy-saving measures that minimize operational carbon without sacrificing comfort, quality or aesthetics. As the home for the Institute for Energy Efficiency, the design integrates energy-saving measures to minimize operational carbon without sacrificing comfort, quality or aesthetics. An optimized thermal envelope, solar shading and high-performance glazing, and daylighting design with a daylight dimming system manage the effects of the California sun. Active chilled beams in research laboratories, hot water radiators in offices, and natural ventilation systems in offices and shared workspaces keep occupants comfortable. Efficient lighting with daylight sensors, as well as electrical and gas sub-metering makes reducing, measuring and verifying energy use simple. Fronted by a terracotta umbra and a grove of flowering trees that shade outdoor and indoor workspaces, Henley Hall builds on Santa Barbara's fabric of low-rise massing and rich materials in harmony with the landscape. The design of Henley Hall integrates building users with the habitat by dematerializing the boundaries between the outdoors and in, allowing breezes to flow through the building's atrium and extending workspaces to the outdoor green space. Stormwater is absorbed on site through landscape integration, porous hard surfaces, and greywater recycling throughout, diverting excess and contaminated water from the nearby ecologically sensitive habitat area. The landscape, consisting of a variety of drought-tolerant trees, shrubs and ground cover, uses recycled water and efficient systems for irrigation.
Credits
Isla Vista
United States
University of California Santa Barbara
09/2020
4637 mq
KieranTimberlake
James Timberlake, FAIA Jason Smith, AIA Mark Davis, AIA Steven Johns, AIA Patrick Morgan Tatiana Baglioni
Sundt
Engineer - Structural: Nabih Youssef Structural Engineers Engineer - MEP: Buro Happold Consulting Engineers Laboratory Planner: Research Facilities Design Landscape Architect: The Office of James Burnett Engineer - Civil: Stantec Construction Manager: Sundt Code Consultant: Jensen Hughes Acoustics: Newson Brown Acoustics, LLC Cost Estimator: C.P. O'Halloran Associates, Inc: Fall protection: CAI Safety Systems Elevator Consultant: LerchBates Vibration Consultant: Wilson Ihrig Specifications: Wilson Consulting, Inc. Engineer - Geotechnical: Fugro FFE: Steelcase Lighting Designer: BuroHappold Soils and Irrigation: Sweeney LEED Administration: BuroHappold
Photos © Bruce Damonte
Curriculum
Founded in 1984, KieranTimberlake brings together the experience and talents of over 100 professionals of diverse backgrounds and abilities in a practice that is recognized worldwide. Projects include the programming, planning, and design of new structures as well as the conservation, renovation, and transformation of existing buildings, with special expertise in education, government, arts and culture, civic, and residential projects.

Common to all the firm's work is that each project begins with a question and continues its development within a culture of continuous asking, ensuring that design results from deep investigation. KieranTimberlake is committed not only to delivering the highest quality services to our clients, but also to pursuing ideas that push the practice of architecture forward.