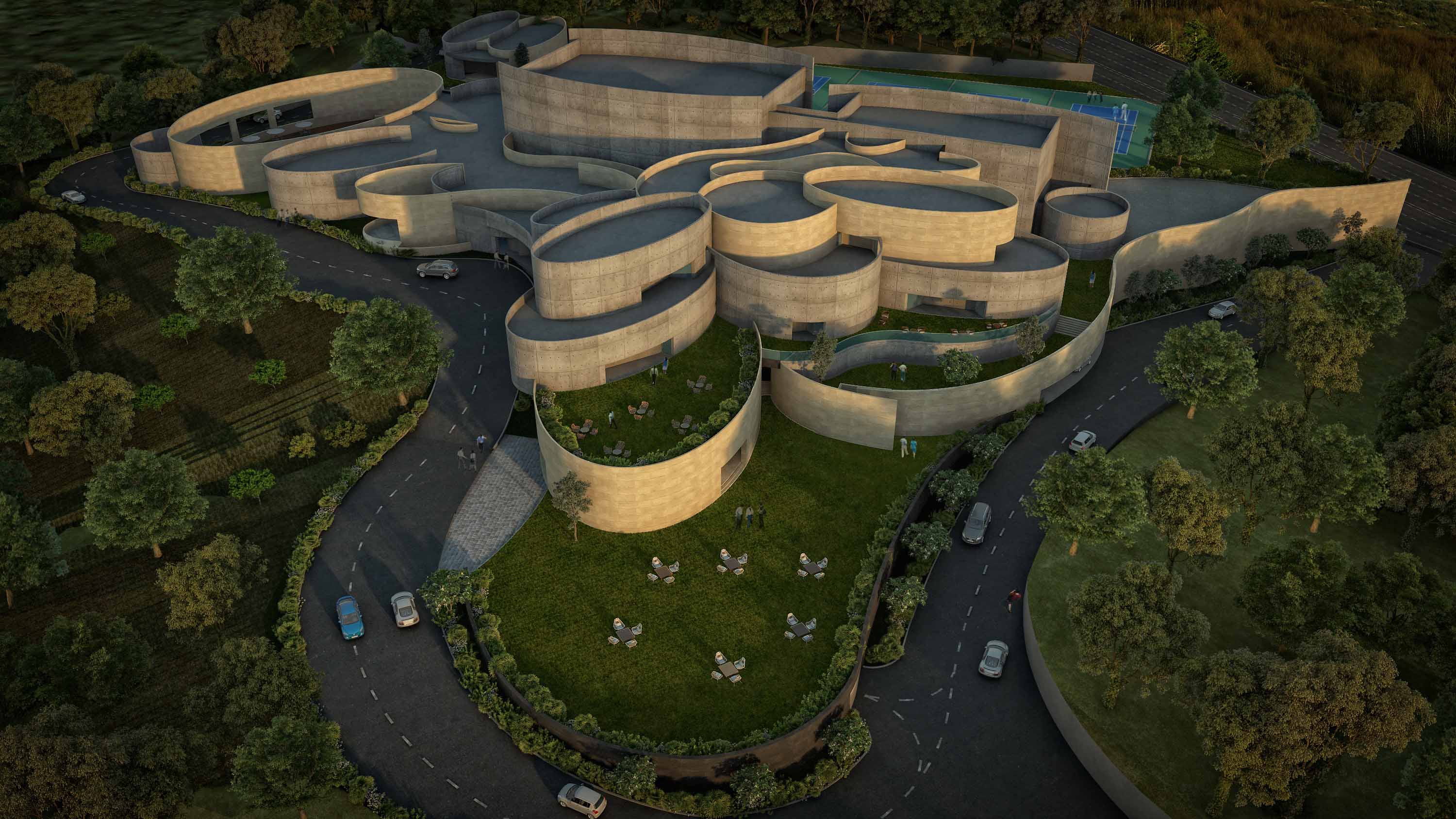 Situated on a contoured site, a series of curvilinear volumes create this sports club.
Nestled into the existing site levels that vary by 10 metres, care has been taken to avoid any cutting or filling of the land.
A each of the 3 levels the building steps back with juxtaposed volumes opening into landscaped terraces overlooking a valley beyond.
Based upon the extensive requirements, the sports club is planned in zones with indoor games along one side , outdoor games grouped in the relatively flat part of the site and entertainment areas grouped together.
The sports facilities include an Olympic sized swimming pool, tennis courts & basketball courts in the open area. Squash courts , badminton, table tennis and other indoor games are planned along with a large gymnasium & spa facility.
Restaurants , lounge areas, banqueting facilities & a bar occupy the side with the best views. The entire building will be conducted in concrete along with sandstone available in the region.
Minimal land cutting, the use of regional sandstone, water recycling & rain water harvesting , solar energy harnessing & north orientation with screened volumes create an energy efficient building.
Credits
JABALPUR, MADHYA PRADESH
Mr Vishvamohan
11/2023
20485.45
0
SANJAY PURI ARCHITECTS
SANJAY PURI, POOJA SAMPAT
-
-
-
SANJAY PURI ARCHITECTS
Curriculum
Sanjay Puri Architects are listed in the top 100 architects worldwide by Archdaily. Architizer, New York includes Sanjay Puri Architects in their list of the top 136 design firms worldwide. The firm tops the list of WA Community , UK award winners across the world.

Winning the World Architecture Festival's Best Housing Project of the Year 2018 in Amsterdam and the World's best residential building in the LEAF Awards, London, the firm has won over 250 awards including 160 international awards and over 100 National awards.

The firm founded in 1992 has won architectural projects in Spain, Montenegro, Mauritius, Abu Dhabi, Dubai, Montreal, Oman and Dallas in addition to projects in 40 Indian cities.

With a firm strength of 72, evolving design solutions that are contextual and creating spaces that revolutionize the way they are experienced form the essence of the firm's design philosophy.