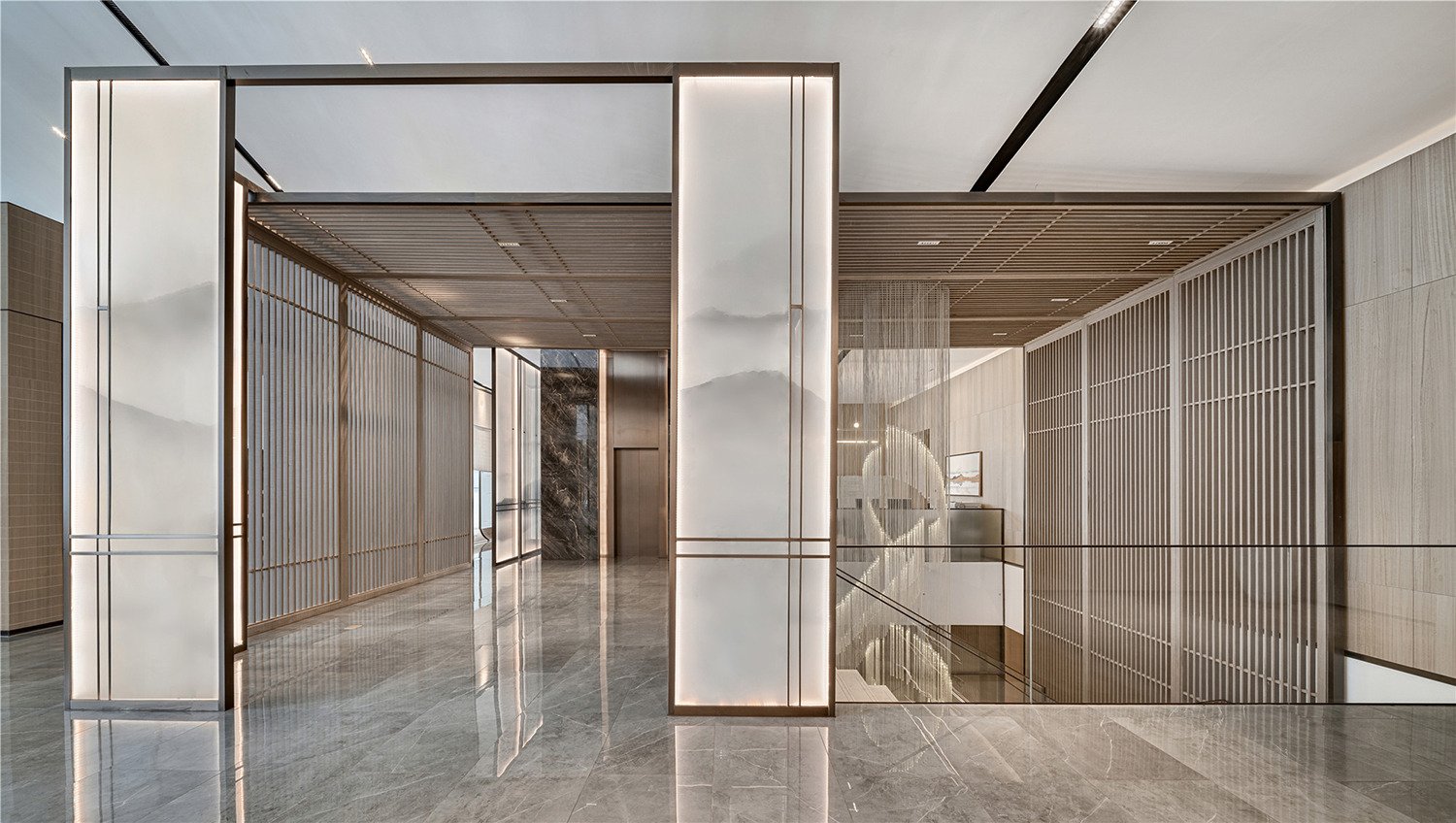 This project is located in Changsha, near Yuehu Park, adjacent to the Window of the World, backed by a large mountain park and rich in natural resources. The design is based on the Changsha's geographical characteristics of piedmont, with scenes of forest running through. It shows the aesthetics of life with natural scenes. The design fully respects the original landscape and humanities foundation. To explain, it is inspired by the local mountain environment and the building itself, integrating the indoor space and retaining the undulating shape of the original building ceiling, which implies mountains in the nature.

As a community club, this project is divided into two floors. The first floor is for the lobby reception, the fitness centre with a swimming pool and other recreational zones; the second floor is a leisure area underpinned by the concept of a comprehensive book bar as well as the function of sales

Stepping into the front hall, you can see that the reception counter bar and the space chandelier are vertically and horizontally shaped, just like a geometric abstract art painting of Monterian.

The swimming pool continues the theme of forest leaves. While the indoor walls are veneered with beige marble, and the pool walls are decorated with elegant water green mosaics and leaf patterns. The texture of the paintings on the wall is like willow branches swaying freely in the wind. The metallic elements shine like waves on the surface of lake under the sunshine.

The fitness area is located on the first floor, separated by a wooden grille from the lobby. This semi-private feeling created by the wooden grille softens the outdoor light at the same time, away from the noise of city to enjoy a healthy living condition.

The staircase connects the vertical space, and the artistic chandeliers seem to have fallen into the pool like a rainbow, causing ripples in the pool and splashing water in an instant. Recording this gorgeous moment with a concrete device, it is not only an material existence, but a spiritual bond, connecting and respecting the nature, even if it is just a drop of water.

The book bar on the second floor is screened by laminated glass with Chinese ink and wash to create a sense of landscape. When walking through the fluctuating "mountains", guests would feel the interweaving of sunlight and twilight, and the lightly dyed and smoky view of distant mountains and close scenes among the filmy green.
Credits
Changsha
DOWELL Group
01/2020
2400
1800000
Kris Lin
Anda Yang
Curriculum
Kris Lin profile
CNAM obtained a master's degree in architectural management from France. In 2001, (KLID) Kris Lin International Design office was founded in Shanghai, dedicated to the field of architectural interior space design. In 2006, he published a collection of his personal works, "KLID vision".

Engaged in professional design for 20 years, has been committed to architectural design, interior design and landscape design of continuous research and innovation. Always adhere to the original, KLID all projects are personally design by Kris Lin. In the international major professional design competition has repeatedly achieved good results. By December 2020, KLID has won 1010global awards.

In the list of A'design award winning designers, I won the third place in the world and the first place in China among more than 4255 domestic and overseas designers and design agencies with A score of 259