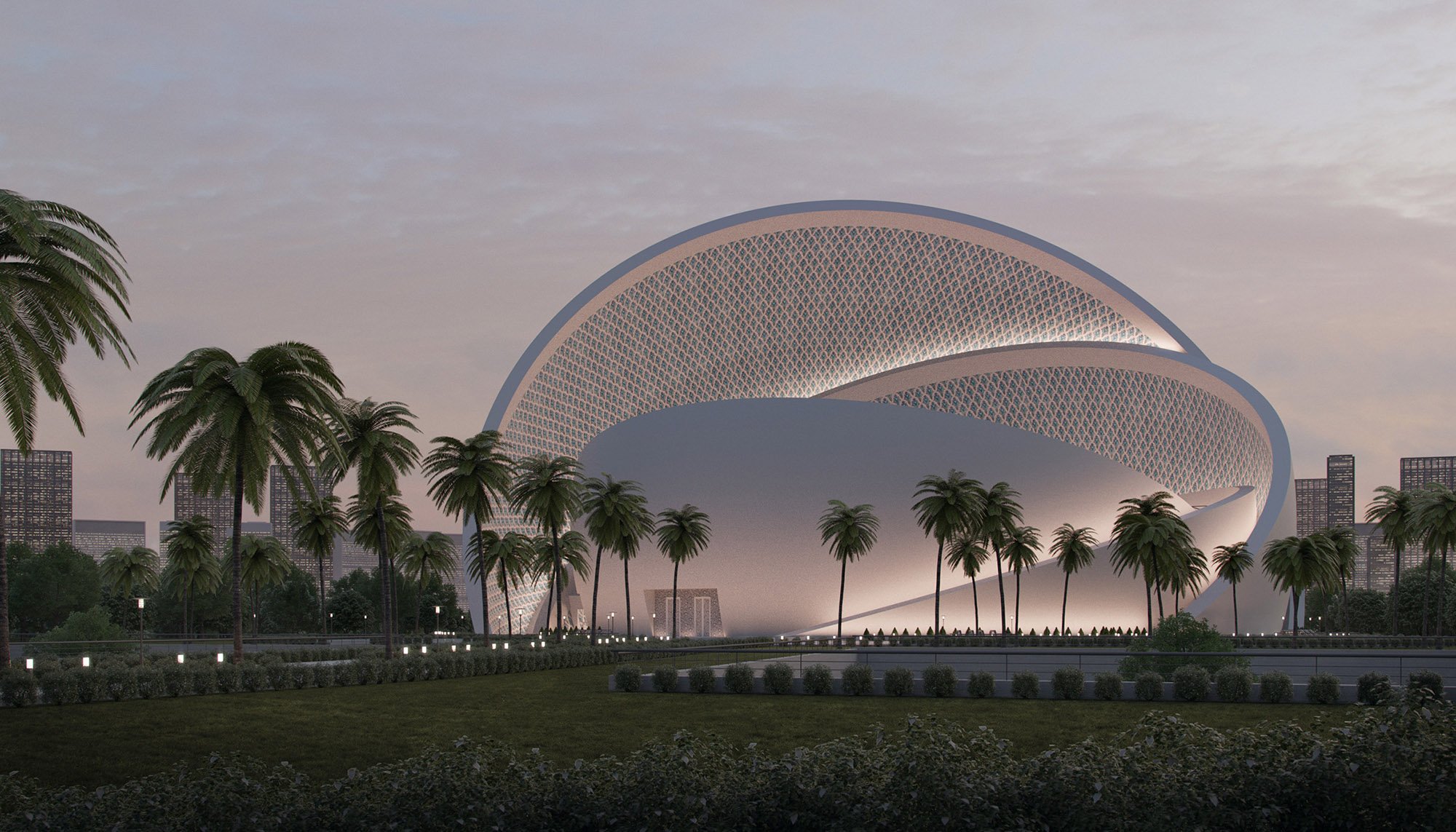 Design Brief:
The mosque is to be designed as a large Iconic Mosque that will have the capacity to hold regular daily prayers as well as Friday and Eid prayers.

Capacity Requirements;
• Worshiper capacity: 7,500pax
• The roof of the Mosque should be utilized as an open prayer area that can accommodate 2000 worshipers.
• Plot area: 18,504 sqm
• Max GFA: 9,750 sqm
• Max. Permissible levels: G+1

Functionality;
The mosque should as a minimum contain the key programmatic components required by Dubai Municipality for an Eid mosque including but not limited to:
• Segregated male and female prayer halls - 85% Male & 15% Female.
• Ablution areas - 180 sqm.
• Toilets - 180 sqm.
• Library & Quran teaching rooms - 200 sqm.
• Imam and Muathen quarters - 3 BHK (roughly 130 sqm).
• Ancillary functions such as Imam's office, Admin, Storage - 300 sqm.
• Outdoor spaces- Gardens/ contemplation areas.

The quintessential mosque comprises a minaret and a dome as the main architectural features that lend the mosque its recognizable image. However, in a setting dominated by tall slender buildings that Dubai is known for and not to mention the project's main feature which will be the tallest spire in the city, the minaret as a functional landmark standing out to give a mosque its presence becomes an obsolete gesture unable to stand out especially taking into account the close proximity of the mosque site to the feature tower. As such, the aim becomes to arrive at a form that compliments the project's main feature tower instead of competing with it, thus the minaret was omitted and all is left is a grand dome as a contrast to the vertical forms it's surrounded by which helps it stand out.

With the starting form being a dome, the form began to morph as it became influenced by the contextual and cultural identity of the site, the city, and the country, which culminated in the influence of the mihrab in the traditional Islamic architecture where its the ornamented semicircular niche in the mosque's wall indicating the Qibla's direction, the seashells as the influence of the site's location on the waterfront, and finally the country's historic pearling industry and Dubai's designation as "the pearl of the gulf". The resulting form is a reaction to all these inspirations standing as a tribute and an icon.

Given the harsh weather conditions in Dubai, the form is oriented so that the monolithic backside of the shell faces the Southern west exposure aiming to reduce heat gain, whilst the shells are layered to allow for insulation with air seeping upwards between every two shells through stack ventilation.
Credits
Dubai
UAE
Confidential
9750 mq
Hazem Bassal
Hazem Bassal
Curriculum
An architect with an 8-year experience ranging from design to various roles in construction working on projects ranging from humble residential projects to some of the largest projects in the Middle East.