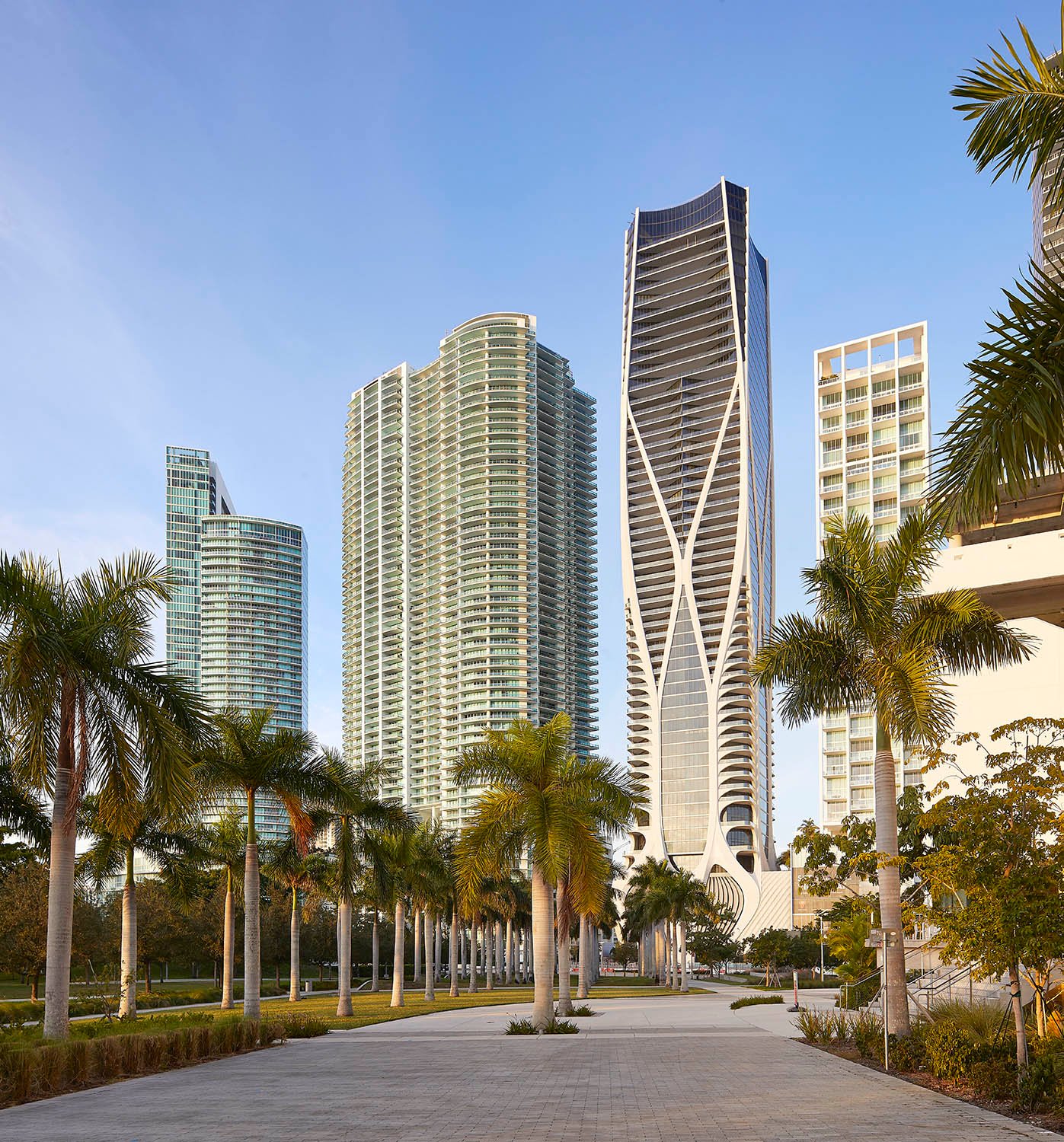 One Thousand Museum (OTM) is a 62-storey residential tower adjacent to Museum Park in Miami. With views across Biscayne Bay, this popular 30-acre park was redeveloped in 2013 as one of downtown Miami's primary public spaces and includes the city's new art and science museums.
OTM's concrete exoskeleton structures its perimeter in a web of flowing lines that integrates lateral bracing with structural support.
Reading from top to bottom as one continuous frame, columns at its base fan out as the tower rises to meet at the corners, forming a rigid tube highly resistant to Miami's demanding wind loads; its curved supports creating hurricane resistant diagonal bracketing.
OTM incorporates glass fibre reinforced concrete form-work which remains in place as construction progresses up the tower. This permanent concrete form-work also provides the architectural finish that requires minimal maintenance. Behind the exoskeleton, the faceted, crystal-like façade contrasts with the solidity of the structure.
With its frame at the perimeter, the tower's interior floor plates are almost column free; the exoskeleton's curvature creating slightly different plans on each floor. On the lower floors, terraces cantilever from the corners, while on the upper floors, the terraces are incorporated behind the structure.
Zaha Hadid Architects (ZHA) has driven many innovations with materials including concrete construction methods. In Wolfsburg, the in-situ concrete structure of the Phaeno Science Center (2005) employed novel formwork principles for geometrically complex areas, precision precast elements were carefully refined for use in Pierresvives Archive in Montpellier and advancements in GFRC technology were used in the Heydar Aliyev Centre (2012) in Baku. This progression of innovative building techniques has culminated in the development of a world first GFRC permanent formwork solution for OTM.

ZHA has long explored fluid, expressive structures, where the formal properties are driven by structural principles, especially for tower design. Advancements in digital technology, together with novel construction methods have made possible this vision for OTM. Constructing the 709-foot concrete exoskeleton to precision, at height, and to a demanding construction program was a challenge that required collaboration, testing and an innovative technical solution. Here, in built form, architecture, structure, exterior facade, and interior finish are all truly synthesised through an innovation in construction.

The "permanent formwork" solution of OTM benefits from the advantages while eliminating many of the disadvantages of the more traditional in-situ and cladding construction. Factory finished panels, made to exacting material and geometric specifications, are the formwork.

In-situ concrete relies heavily on the quality of the formwork and concrete. As the architectural finish, the concrete requires a perfect pour every time, with no margin for error. Furthermore, conventional forming methods could not achieve the required level of detail and articulation. Cladding solutions were also considered, however the formwork of the underlying superstructure would still be complex, with carefully coordinated and calibrated brackets then required for cladding installation.

Panels are positioned, clamped together, filled with structural concrete and then remain in place to become the exterior and interior finish. The need for one-off, highly complex formwork, the risk of ensuring a perfect pour every time, expensive, stainless steel cladding brackets, and difficult super structure and sub-structure / cladding coordination are all eliminated. These advantages achieved unparalleled architectural results while reducing construction time by 6 months. Additionally, this method required far less material and formwork wastage compared to in-situ concrete systems, thus, contributing to the building's Platinum status with the Florida Green Building Coalition.

CNC cut moulds were built in using information generated directly from the architect's digital model. GFRC panels were formed in the moulds, with a specified architectural finish to the face mix.

In addition to the novel construction methods employed to achieve the exoskeleton design, the structure itself was an innovative deviation away from the typical, moment frame structure used for nearly every residential tower. Miami experiences seasonal hurricanes, so the building was designed to withstand winds of up to 180mph. A traditional approach to withstand wind pressure on the 709-foot tower would have demanded more abundant and much thicker shear walls, especially around the elevator and stair cores, substantially reducing sellable area while restricting floor plan flexibility.

The structural engineer DeSimone worked with the architect to optimize the exoskeleton. The architectural, curving "x-braces" were employed as a bracing system and joined at "nodes." In this configuration, the braces work in unison with the shear walls so that they are thinner and more efficient. Balconies appear to scallop from the exoskeleton at each corner through the lower levels of the tower. Though, a visually effective signature feature, these scallop shapes are essential structural brackets supporting balcony slabs that cantilever over 35 feet. A traditional design approach would have resulted in a 20-inch-thick post-tensioned slab. Instead, this is reduced to 11 inches using these features sculpted out of the exoskeleton.
Credits
Miami
United States of America
1000 Biscayne Tower, LLC
07/2020
84637 mq
Zaha Hadid Architects
Zaha Hadid, Patrik Schumacher
Courtesy of Hufton+Crow
Curriculum
Working with clients that have global reputations for excellence, Zaha Hadid Architects (ZHA) has redefined architecture for the 21st century with a repertoire of projects that have captured imaginations across the globe.
Form and space are woven within the structure of buildings that evolve from their surroundings and tie disparate programmes together. Enticingly contextual, each project combines an unwavering optimism for the future with concepts of connectivity and integration.
Receiving the highest honours from civic, professional and academic institutions worldwide, ZHA is one of the world's most consistently inventive architectural studios—and has been for four decades.
Collaborating with visionary clients, communities and industry experts on more than 60 on-going projects, ZHA's hugely talented and dedicated teams of over 400 experienced professionals work with passion and commitment to honour Zaha Hadid's legacy and create transformational projects on six continents.