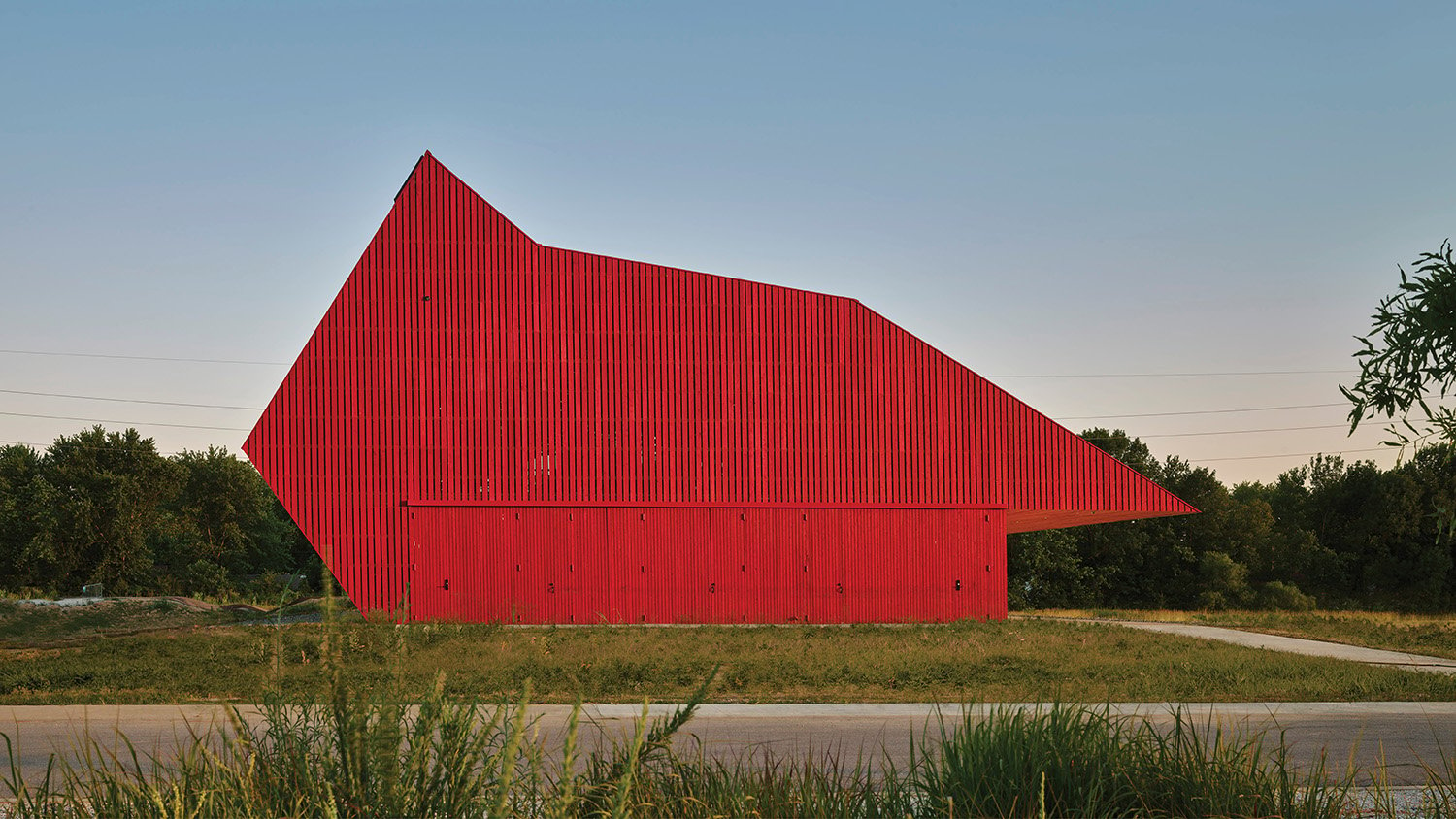 The Thaden School is a new independent middle and high school in Bentonville, Arkansas; endowed and structured to allow students from all socio-economic backgrounds to attend. The unique curriculum combines academic excellence with learning by doing in three signature programs: Wheels, Meals, and Reels. Through its partnerships with community organizations in the visual and culinary arts, and organizations promoting health, physical activity, cycling, and community service, the school provides students with opportunities to learn both on and off Campus. The school's "whole student / whole body" pedagogy features indoor and outdoor learning opportunities.

Tapping into an expanding cycling culture in the region, the Bike Barn is integrated into a network of pedestrian pathways that connect the Thaden School to a larger system of trails that extend throughout Northwest Arkansas. Sited on a berm on the eastern edge of campus next to the soccer field, cyclocross, and pump track, the Bike Barn transfigures the vernacular of the region into an athletic facility. Starting with the profile of a gambrel barn, (made prolific in the region for its expansive storage capacity) the Bike Barn reconfigures that profile to create maximum flexibility for a variety of sports including volleyball, basketball, and cycling, while also providing bike storage and support facilities.

As with any good barn, the interior space is the direct result of structural clarity and economy. Consequently, the spring point of the gable is set to provide the greatest height below the trusses. Working with a local manufacturer who normally fabricates trusses for suburban homes, the main truss was developed collaboratively using local materials and experience. Structural steel, mostly in the form of flitch plates, was used sparingly to reinforce the predominantly wood structure. A literal 'barn raising,' the twelve (12) primary trusses were hoisted into place above built-up wood columns, revealing a modified gambrel profile that results in a spacious, light-filled interior.

Naturally, the entire exterior is clad in wood, locally-sourced cypress backed continuous copper insect screen and finished in a combination of traditional red barn paint. A clear finish is also used where the wood is protected, mainly on the west side where the volume of the barn is carved away to form a wide porch facing the soccer field, providing shelter and shade for spectators. Except for storage and locker rooms, the entire space is naturally ventilated through the combination of open joints in the cypress board siding, vented skylights, and a series of roller doors that open to the surrounding landscape.

As the largest producer of timber in the South, Arkansas has historically harvested timber that is sent elsewhere. In contrast to this history of extraction, the Bike Barn explores the specific material culture of timber and wood in Arkansas, building on the longstanding legacy of light-framed, wooden Ozark barns. Through a process of thoughtful abstraction and adaptation, a strangely familiar figure emerges, updating a beloved vernacular building type upon which the region was built, to find a new future, one of education, physical activity, and wellness.
Credits
Bentonville
Thaden School
05/2020
720
2653107
Marlon Blackwell Architects
Marlon Blackwell, Meryati Johari Blackwell, Josh Matthews, Spencer Curtis, Bradford Payne
Crossland Construction Company
Engineering Consultants Inc., CMTA Consulting Engineers, Taylor & Miller, Code Solutions Group, LLC.
Capital Structures, Schefers Roofing Company, Velux, American Fiber Cement
Timothy Hursley
Curriculum
Marlon Blackwell Architects is an agile, full-service design firm located in Fayetteville, Arkansas. Our belief that architecture can happen anywhere, at any scale, at any budget - for anyone - drives us to challenge the conventions and models that often obscure other possibilities. We use an economy of means to deliver a maximum of meaning in places where architecture is often not expected to be found.

Established in 1992, Marlon Blackwell Architects is committed to the value of design. Led by Marlon Blackwell, selected recipient of the 2020 AIA Gold Medal, we have a successful history of generating and implementing visions for multi-scale projects throughout the country. In every instance, we strive to express the richness of the places we work and the ideals of the people and institutions we serve.