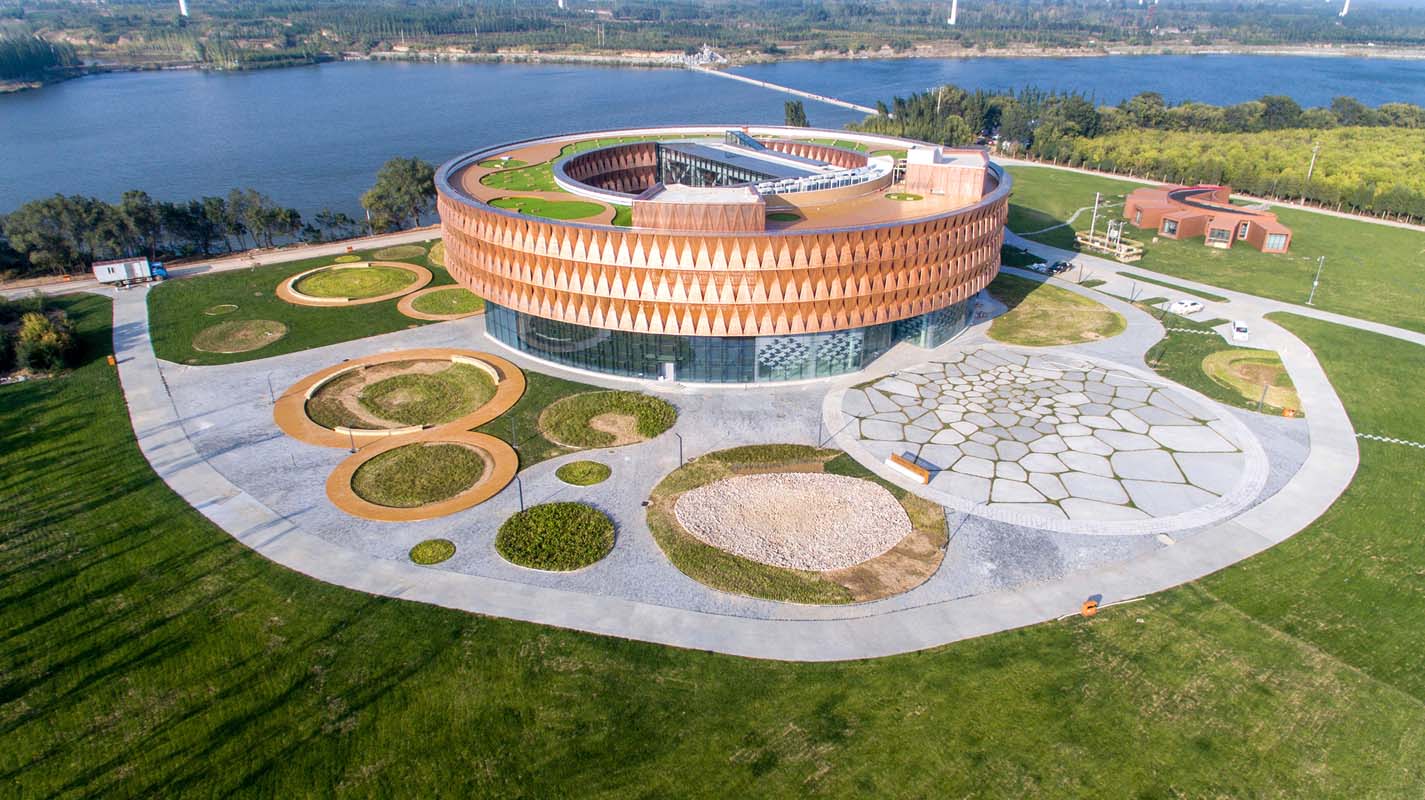 This wetland museum is located in the largest wetland near Beijing, which is the home for 40 species of resident birds and a pathway of 151 species of migratory birds.The museum disseminates wetland knowledge to tourists, especially teenagers, and educates and trains popular science enthusiasts with the help of forestry administrations.
The overall goal of the project is to achieve a building that minimizes disturbance to the wetland and integrated into the nature, and includes three main goals respectively micro impact, zero emission and full cycling. The way to achieve the goal is to firstly use the annular floating strategy that elevates the building over the wetland, and then utilize low-energy building design, self-cycling equipment and assembled construction.

1. Process – A full cycling museum of wetland education.
The vulnerability of the environment in wetlands requires minimization of the output of buildings to nature. Starting from design, the museum realizes full cycling of materials, energy and water system. The building uses the prefabricated steel structure, and realizes material cycling in whole life cycle, from factory manufacturing to on-site installation and removal. It utilizes solar energy and air energy to realize energy cycling.

2. Planet -- Achieving friendliness to birds in natural wetland by micro impact and zero emission.
The building uses an elevated structure over the site to reduce the occupation of wetland as much as possible, and restores natural wetland within the site. At the same time, the wetland landscape is compensated on the roof of the building, so that the net loss of wetland is zero.

3. Place – A building integrated into and adapted to the wetland environment.
Considering the landscape environment of the wetland park, the building is arranged on the site in the form of a floating ring. The space and form take into account the common attention to people and creatures. The courtyard connected with the nature and the elevated space allow birds, small animals and people to enter the semi-enclosed site in 24 hours, achieving symbiosis of the building and the environment.
The public space of the building forms a dramatic building space with the help of natural lighting, colored photovoltaic corridor and special-shaped main stairs. The exhibition hall has vision contact with the natural landscape, making the vast landscape of the wetland park the most spectacular exhibit of the museum.
Credits
Hebei
Huailai Forestry Bureau
10/2019
8446
6850000
REN JUN
JIANG NAN, FU YINGJUN
REN JUN
Curriculum
TENIO architectural Design Company Limited. is one of the private design enterprises with the fastest development speed, the most ser vice ability and growth potential in ChinaIt has perfect qualifications, such as Class A qualification of architecture, Class B qualification of planning, Class B qualification of landscape architecture and Class B qualification of construction drawing examinationNational high-tech enterprises, senior technical team, strong technical heritageDomestic top 30 real estate developers, investors strategic partnersLocal governments and various enterprises and institutions trust partners.