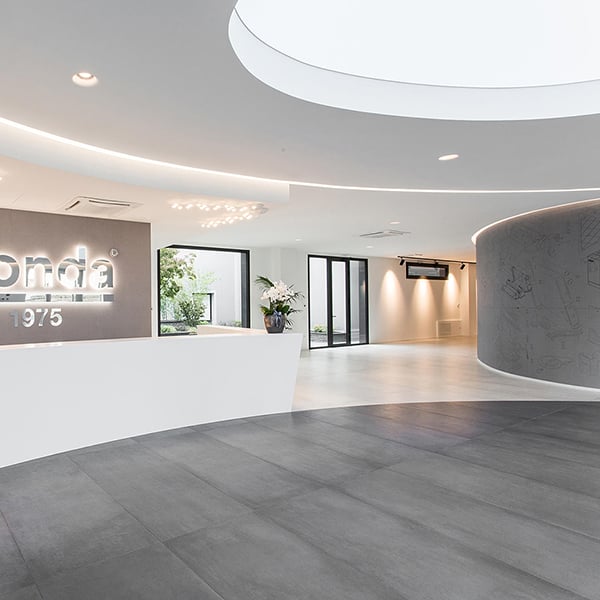 Realizzazione ampliamento di un edificio a destinazione direzionale e produttiva denominato "EURONDA".
Sito in via Chizzalunga n.1 a SANDRIGO - VICENZA
Committente: EURONDA S.P.A.
con sede a SANDRIGO - VICENZA.

Descrizione intervento:
L'edificio in oggetto è la nuova sede direzionale e produttiva di un'azienda rinomata nel settore sanitario, eccellenza nella protezione in ambito dentale, nei dispositivi medici monouso e nei sistemi per la sterilizzazione.
Il progetto di sistemazione interna ed esterna ha visto il completamento e la finitura della struttura prefabbricata, con una distribuzione degli ambienti interni studiata per ospitare gli uffici aziendali e per dare una nuova immagine contemporanea al brand.
L'idea alla base del progetto è una grande ellisse che, con la sua forma sinuosa e curvilinea, si sviluppa al piano terra e contiene le Sale Congressi e le Sale Riunioni, sfociando all'esterno nella facciata anch'essa curvilinea, con una forma ad onda che culmina nel giardino in testa all'edificio.
Sulla parete esterna curvilinea, realizzata in rivestimento metallico Alucobond in pannelli di colore grigio antracite, ritmata da aperture alte e strette, si può chiaramente individuare la porta d'accesso, che conduce alla Hall di ingresso, fulcro distributivo dei percorsi e delle funzioni, nella quale è stato disegnato un bancone curvilineo la cui forma viene ripresa anche nel disegno della pavimentazione. Particolare attenzione è stata posta ai controsoffitti ed all'illuminazione, a partire dal grande "occhio" luminoso al centro della Hall, sino alle gole luminose realizzate in cartongesso con l'inserimento di strisce LED che "lavano" con la luce le pareti degli spazi di distribuzione.
Al piano primo si accede mediante una grande scala in acciaio, vetro e pietra, che affaccia su una grande vetrata, i cui spazi limitrofi ospitano, come in tutta la sede amministrativa, la collezione d'arte della proprietà. Al primo livello vi sono gli uffici della società, al cui centro si trova un ampio patio scoperto che porta luce ed aria all'interno dell'edificio, e che riveste anche una funzione sociale e ricreativa. I lucernari, posti sul pavimento dello stesso, sono stati mimetizzati creando un disegno organico con il verde, con le fioriere e con delle sedute: lo spazio diviene così polifunzionale e porta il verde ed il giardino all'interno degli uffici.

Dati stereometrici:
- Superficie fondiaria lotto 5.300 mq
- Superficie coperta in progetto 2.080 mq
Credits
Sandrigo - Vicenza
Italia
Euronda S.p.a.
01/2020
2080 mq
Arch. Danilo Turato
Arch. Arianna Gobbo, Arch. Diego Zanaica, Geom. Roberto Loreggian
Rossi S.r.l.
RCS Impianti S.r.l.
Facciate e serramenti: Nicolli S.r.l.; Impianto elettrico: Elettrica 2000 S.n.c.; Impianto meccanico: Minuzzi Impianti S.r.l.
Tecnostudio s.r.l.
Curriculum
Tecnostudio s.r.l. is an engineering and architecture office; since 1978 it operates in Mestrino (Pd) following the Europeans' standards. It is direct by Arch. Diego Zanaica and Arch. Arianna Gobbo, and composed by a rich technical staff.

The activities cover a wide range of fields, and are constantly evolving:

- Commercial / Directional / Housing: Countless buildings, including a shopping mall of 90.000 mq. and a 16 floors resort hotel of 200 rooms;
- Residential: High-energy standards building, built with eco-friendly materials and green building;
- Production: innovative buildings for the advanced solutions of construction solutions and finishing;
- Public Works: several dozen works between school and university buildings, civic centres, multi-purpose rooms, outpatient clinics;
- Infrastructure / Planning / Environment: urban improvement action, implementing masterplan, environmental impact study, redevelopment projects and mitigation of green infrastructure.
https://www.tecnostudiopadova....