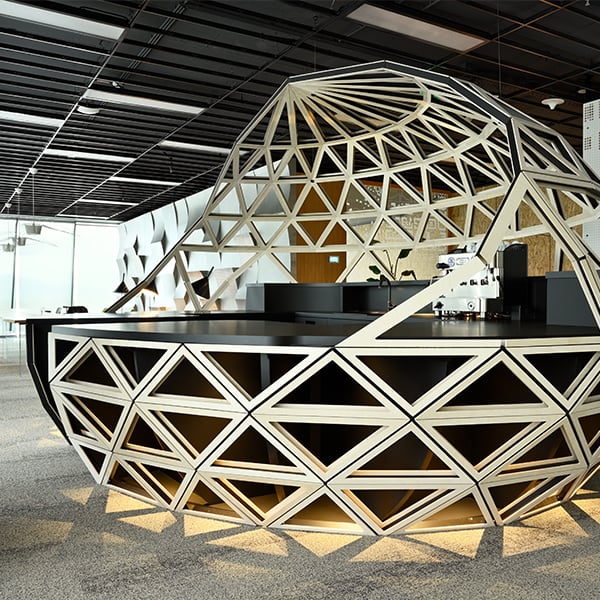 BASIS
The Microsoft company needs a functional space that will reinforce the brand and represent the company and workspace as modern, engaging, thoughtful and »cool«. The aim is to incorporate the identity of the company into the design concept. Space must be more than just decoration and trendy looking space. It should be a venue where it can be bold, provocative, iconic and inspiring.

FLOOR PLAN DESIGN
All the rooms are turned towards the facade, ensuring that they are illuminated and have a panoramic view of the city Ljubljana. The common semi-public space is designed in the shape of a funnel. The funnel allows natural light to penetrate deep into space and that the common area is oriented towards the panoramic view on city Ljubljana. The funnel divides the floor plan into two parts. On the left and the right side are business premises. The funnel becomes the semi-public HUB space.

IDENTITY DESIGN
The basis for designing Microsoft's business premises is the Microsoft Fluent Design System. It represents the identity of the Windows and other platforms environment.
But how can we implement the Fluent Design concept in Microsoft's premises? The walls that limit the space extend over the boundaries of the room and thus become 2D elements of (Windows) space. We will also add two 3D elements to the common area, with one element being the reception desk and the other a kitchen. In this way, the Windows environment is transformed into Microsoft's business premises. Superform created a space that represents the identity of the Microsoft company. Thus, we have enabled the space to become unique, timeless, engaging, thoughtful, smart and cool. Only the excellence of design and performance reinforce the Microsoft brand and its reputation.

ARCHITECTURE DESIGN
The extended walls are detached from the floor and from the ceiling and they are floating in the space. These walls are made by 4 different materials with unique patterns, structures and textures. Glazing walls which limit the premises are covered with the maps of the 5 biggest cities of Slovenia. Two 3D oval elements are main attraction in the space. One is reception desk which was made by wood. Second one is kitchen. 3D oval surface is made by wooden sticks. 3D oval surface is simmilar to traditional knitted basket in Slovenia. In the HUB area is huge wooden table whch is floating above the ground. When choosing the equipment we tried to choose as many Slovenian pieces of furniture as possible (design or execution). Our goal was for the new space to express a both local and Microsoft identity through design and masterful execution.
Credits
Ljubljana
Microsoft
05/2019
506
500000
Superform
Superform (Marjan Poboljšaj, Anton Žižek, Špela Gliha, Jure Uranič), Klimal d.o.o., Winky d.o.o., Goran Djokič, Svetlarna
RPS, Emix, Steklarstvo Rojs
Miran Kambič
Curriculum
SUPERFORM is an architecture company from Slovenia, founded by Marjan Poboljšaj and Anton Žižek in 2001. It is successfully active in the field of architecture, interior, design and urban planning.
Marjan Poboljšaj: Graduated 1997 - Faculty of Architecture in Ljubljana
Anton Žižek: Graduated in 1997 Faculty of Architecture in Ljubljana
Superform introduces a new approach: architecture is an experience, which we sense on the three levels of perception: a. The mental level, b. The sensual level, c. The physical level.
AWARDS:
BigSee – Winner; Interier design, »Fluent design«, 2019
The Plan Award – Winner; Showroom and Car Park – Future, 2019
The Plan Award – Winner; Production facility Tajfun - Future, 2018
Archdaily – Nomination; Building of the year '18, Office building
The Interior of the year award - Winner; Month of design Ljubljana, Attic apartment, 2017
Architizer - Finalist; Industrial building, 2016