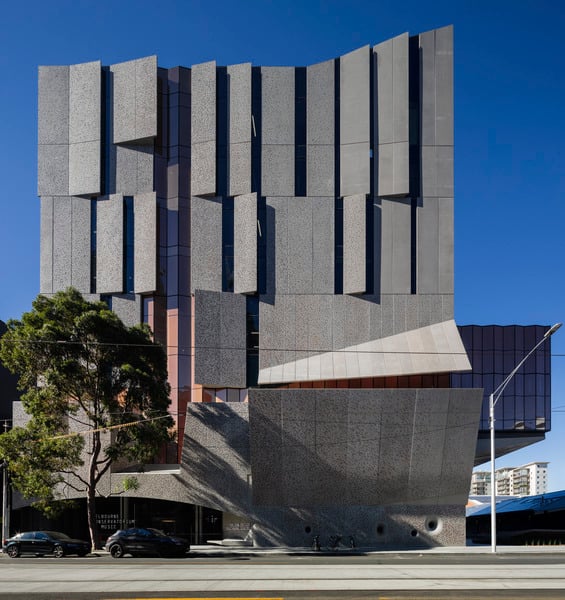 Imagined as the 'green room' of Melbourne's arts precinct, The Ian Potter Southbank Centre (IPSC) is designed to encourage curiosity between the musicians and their community. The building's Sturt Street façade is punctuated by a medley of portholes that frame the activity within. Studded with hand-made ceramic tiles, fixed to a pattern evocative of musical notation, the façade beckons to be touched. The "Oculus" window, which dramatically signals the beginning of each performance, opens the ground floor orchestral rehearsal space onto Linear Park and provides insight into the inner realm of music education.
Arched openings recall the history of this architectural element as both a civic and intimate gesture. From the street, a deep arch creates a front porch to Sturt Street and frames a generous place of arrival. Within the foyer, another arched opening leads into the airlocks of the Kenneth Myer Auditorium, not unlike the inglenook hearth of an arts and crafts English house. The arches also reference the arch into the National Gallery of Victoria, paying homage to the iconic entrance to the arts institution, and continuing the motif as a key feature for Melbourne's Arts Precinct.
Connecting street and campus, a ground level path winds through the building, acting as a foyer for the 200-seat studio that anchors the southern corner of the site. Designed to provide views through the building to other levels, the atrium comprises open, active, lively spaces to accommodate spilling and mingling in pre/post function modes. Elsewhere, internal 'streets', stairs, wide corridors, informal workspaces, pin-able notice boards and prominent lockers promote serendipitous social encounters.
The venue aims to encourage an acoustic environment that is alive with energy and that allows the sounds of learning and practice to permeate through into the common spaces. Interior spaces connect to natural light and views and internal ambiance is designed so that the activity of the building is audible but not intrusive, and to create a warm, ambient environment.
The massing articulation of the lower levels takes its cues from the surrounding streetscape. The Sturt street frontage refers to the changing mass from Southbank Boulevard to Grant Street and the existing form and materiality of campus buildings. The vertical configuration necessitated technically complex 'box-in-box' construction to accommodate stringent acoustic requirements, yet the design allows for flexibility in the life of the building with modular acoustic treatments allowing change as functions evolve.
Between the buildings, Linear Park forms a new passageway from IPSC to the main Victorian College of the Arts campus, promoting a walkable precinct and activating the public realm through a new façade strategy. Providing a platform to showcase the creative and performance aspects of the campus to increase street level activity day and night, it improves the perception of visual and physical safety within a previously internalised precinct of Southbank.
The Ian Potter Southbank Centre activates a key site along Melbourne's arts spine, transforming what was previously a campus carpark into a state-of-the-art facility that will support and nurture our future generations of musicians. Acting as a drawcard for high calibre staff and students both locally and internationally, the project acknowledges the importance of arts education and the critical role the arts place in both Melbourne and Australian identity and culture.
Credits
Melbourne
Australia
The University of Melbourne
02/2019
9700 mq
Kah-Fai Lee, Stephen Georgalas, Megan Marks, Minnie Cade, Alan Ting, James Loder, Jeff Arnold, Barry Hayes, Tom Denham, Alexandra Morrison, Clare Porter, Ariani Anwar, Daniel Sykes, Sharon Crabb, Kristina Levenko, Adrian Bonaventura, Tatiana Malysheva, Bi
John Wardle, Stefan Mee, Meaghan Dwyer, Andy Wong
Lendlease
Accessibility Consultant: Before Compliance; Acoustic Consultant: Marshall Day Acoustics; Building Services Engineer: Aurecon; Building Surveyor: PLP Building Surveyors & Consultants; Civil Engineer: Irwin Consult; Façade Engineer: Arup; Heritage Architects: RBA Architects & Conservation Consultants; Landscape Architect: Aspect Studios; Planning Consultant: Urbis; Signage and Wayfinding: Diadem; Structural Engineer: Irwin Consult; Specialist Lighting: Electrolight; Sustainability (ESD) consultancy: Aurecon; Theatre Consultant: Brian Hall & Marshall Day Entertech; Traffic: GTA Consultants
External materials: Precast Concrete – Bianco Precast; Custom oval glazed ceramic tiles – Inax/Artedomus; Internal materials: Ceiling & Wall Linings – Barestone/Cemintel; Timber Flooring – Victorian Ash/George Fethers; Resilient Flooring & Wall Linings – Forbo; Acoustic Wall Linings – Instyle/Ecoustic; Custom Wall Linings, ceilings and built in joinery upholstery – Kvadrat Maharam; Carpet – Urban Retreat/Interface. FF&E – Audience Seating – Neos/Poltrona Frau; Retractable Seating – Figueras International Seating; Desks – Sit-Stand Desk/Kinnarps; Lounge Seating – Haworth; Specialist Lighting – Artemide, iGuzzini
Trevor Mein
Curriculum
John Wardle Architects (JWA) has a reputation for producing exquisitely detailed work across all architectural scales, from small domestic dwellings to university buildings and large commercial offices.
The design process of JWA emphasises ideas that often traverse across the diverging scales and project types undertaken by the practice. Narrative is employed by JWA as a device for navigating through the development of a design using the personal and collective histories of the practice's clients as generators of a cohesive narrative. Some of these strands are real, others imagined.
The work of JWA has been celebrated in the publication of two monographs: Volume – John Wardle Architects, published by Thames & Hudson in 2008 and This Building Likes Me, published by Thames & Hudson in 2016. In 2018 JWA was invited to participate in the16th International Architecture Exhibition in Venice, a companion book was published to compliment the installation by Uro Media.
https://www.johnwardlearchitec...