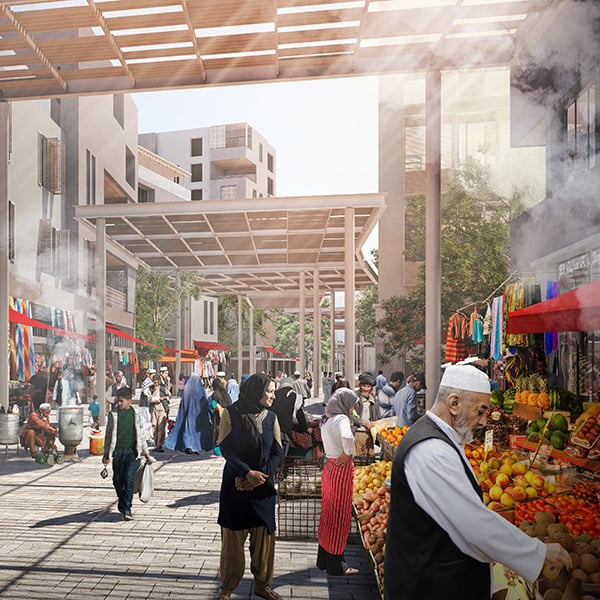 Kabul is unique. It is a city at the crossroads of cultures, ecological systems, and political currents, each of which has contributed to the identity of the city today. 20 years into building a new civil society, the opportunity for Kabul in this moment is immense. The Kabul Urban Design Framework establishes a vision and a roadmap for transforming the city into a model of sustainable, equitable, and resilient development. The overall effort consists of three elements: a Citywide Framework for urban development and growth, and corridor designs for two iconic roads: Dar ul-Aman Boulevard and Massoud Boulevard. The Urban Design Framework covers a range of issues that are shaping Kabul's form today: infrastructure, housing, mobility, and sustainability. It also reaches beyond traditional themes of physical design to cover topics particularly relevant to the physical and social fabric of the city today: women in Kabul and the complex gender dynamics of daily life, higher education, social equity and cultural conservation.

The Citywide Framework establishes a design-driven agenda for Kabul's evolution at the metropolitan scale. The challenges are significant: over 70% of the city consists of informal development, and its population has grown by over 2 million people in just the last 10 years. The Framework establishes a vision that addresses each of these issues while also positioning the city for the 21st Century. An ambitious growth strategy simultaneously moves development away from environmentally sensitive aquifers, restores an agricultural belt, and establishes new locations for investment in education institutions and economic development zones. A set of development typologies provide flexible, context-sensitive design guidelines throughout the city, providing a much needed mechanism for shaping city form. This blend of site-specific design and citywide guidance is applied to other topics as well, including the integration of informal settlements into the city.

The foundation of our work was built upon a rigorous understanding of the city's landscape. Kabul was established in a valley drained by three river systems fed by snowcapped mountains. These natural resources have sustained a thriving agricultural and urban economy within a largely arid region. In the face of rapid urbanization, we believe the continued integrity and vitality of these assets is critical to the city's sustainability and identity. The Framework responds to these challenges by developing landscape planning strategies that can guide and shape growth in a way that protects the city's critical natural systems.

A basic premise of our work in Kabul is to guide compact urban growth in coordination with the delivery of infrastructure. We have emphasized the role of existing urban corridors as catalysts for the regeneration of the city, integrating a robust Bus Rapid Transit (BRT) network that will redefine movement and development in Kabul. Dar ul-Aman and Massoud Roads are the first of such corridors to demonstrate this vision in action. Through our design vision, they will be transformed into 21st century boulevards with a single unified commitment to the public realm, transit, and larger goals of economic development and equity. Corridors also function as infrastructure trunk lines that support the incremental implementation of potable and wastewater networks.

Dar ul-Aman is the country's most important and symbolic road, connecting the historic city to Dar ul-Aman Palace, a symbol of national identity. Currently functioning as a highway, the Framework repositions this 6km corridor as an urban boulevard with a generous public realm, key sites for catalyzing development, and connections to neighborhoods for urban regeneration. The second corridor, Massoud Boulevard, connects the central city to Kabul's airport. As the gateway to Afghanistan, this corridor is a demonstration to the world of what is possible in Kabul. Emerging economies are supported by a medical district and university, and neighborhood regeneration is reflected in the Bibi Mahru neighborhood, a historic hillside district that is revitalized with an ecologically minded public realm, infrastructure, and development that transitions from modest housing to larger corridor development. In both corridors, we strategically leverage publicly owned land immediately adjacent to BRT stations to catalyze development and help fund public investments in community amenities and infrastructure.

A "City for All" approach is essential for Kabul's success, ensuring that residents will have the economic opportunity, education, and quality of life necessary for a thriving city. Women are at the center of this approach. The design team conducted a focused and extensive research effort on opportunities to empower women in Kabul. This involved commissioning photojournalists to document women's daily lives in the city and conducting interviews with local activists and ordinary citizens who are pioneering a new place for women in Afghan society. As a result, a toolkit of design strategies was developed and directly informed site-specific design interventions. Creating a citywide network of urban amenities "managed by women for women" is a key component of the Framework, providing services, such as clinics, daycares, and opportunities for arts, culture, and education. The first one of such "Women Centers" is proposed in the Massoud Boulevard district and will serve as a prototype for the future expansion of the network.

Results have already begun to change the city for the better. HE President Ghani praised the project as the culmination of a dream he had for the city for many years, and he recently announced elements from the Urban Design Framework are being implemented. A robust set of implementation activities have been budgeted for the next fiscal year, with a mix of quick wins that will show immediate results and longer term investments.
Credits
Kabul
Ministry of Urban Development and Housing
07/2018
900'000
5'000'000'000
Sasaki
Dennis Pieprz, Mary Anne Ocampo, James Miner, Victor Eskinazi, Brad Barnett, Lachlan Hunter Hicks, Chris Freda , Andrew Leung , Einat Rosenkrantz , Zhicheng Daniel Xu, Chris Horne, Mikela De Tchaves, Alykhan Mohamed, Qiyi Li, Tianjiao Zhang , Wajiha Ibrahim, Praveen Raj, Sourav Biswas, Justin Kollar, Jie Bao, Anthony Fettes, Kira Sargent, Andrew Sell,, Thomas Nideroest, Stephen Kun, Matthew Macchietto, Neda Movaghar, Chenglong Zhao, Rong Cong
Level Infrastructure
Sasaki
Curriculum
Sasaki comprises architecture, planning, urban design, landscape architecture, graphic design, interior design, and civil engineering, as well as strategic planning and software development. Among these disciplines, we collaborate in equilibrium, and each is recognized nationally and internationally for design excellence. On our teams, practitioners from diverse backgrounds come together to create unique, contextual, enduring solutions. Our integrated approach yields rich ideas, surprising insights, unique partnerships, and a broad range of resources for our clients. This approach enables us to work seamlessly and successfully from planning to implementation. While our disciplines offer depth of expertise, our studio structure engenders breadth, innovation, and interdisciplinary collaboration. From our headquarters in metro Boston, USA, and with an office in Shanghai, we work in a variety of settings—locally, nationally, and globally.