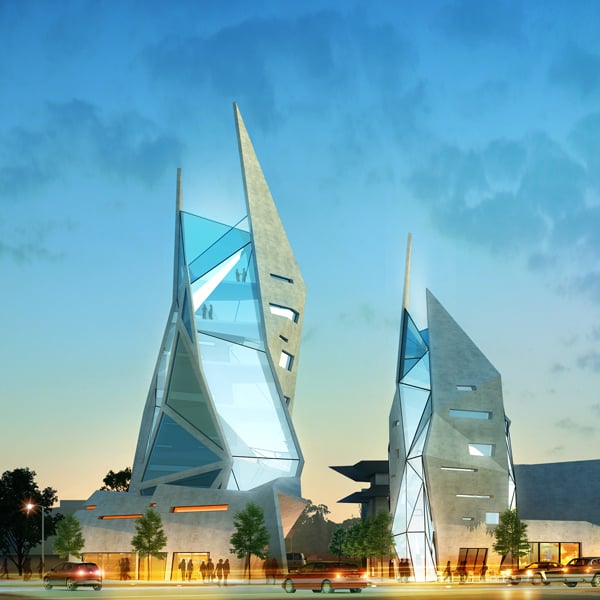 Melbourne Australia- tattoo Academy

Analyzing the objectives, taking into consideration that we need to create an iconic modern and accessible structure to accommodate the Melbourne Tattoo Academy, we have decided that in order for us to be able to accurately project the essence of the structure, which its' core function is the art of tattoo, we need to extract certain key elements from the actual process of tattooing and use them as an infrastructure for our design concept.

We have taken a sample of human skin, examined it, zoomed into a small area, and noticed that the skin lines on the skin outer shell resemble a triangulated surface.
We have translated the skin's pattern onto a non-organic surface, and bisected it into triangles. We then picked key points on the surface and moved them up and down on the Z axis, and in essence applied 3-D manipulation on it, imitating the skin's natural behavior.
Next, we have picked 3 triangulated surfaces, situated them on the lot, (which almost naturally consist of two triangles), in a semi triangular shape interlocking space in between them and generating tension.

We then started to test and experiment with further manipulation of the surfaces, the physical boundaries, the surrounding skyline, the scale of the lot and the desired structure, and much like the human skin, begun generating a semi organic shape encompassing the internal programmatic circulation.

In addition, we wanted to preserve the translucency of the structure, to allow the outer shell of the building to protect, but at the same time display the internal program to the public. A situation similar to the one we find in a tattooing process , where we use the needle to inject the ink into the lower layers of the skin, that protects the ink and the art it forms, and at the same time widely display it.

Ultimately we have erected an organic pre-fab concrete and glass building, over a simple steel structure, providing flexible interior program plan, and unique exterior outer shell that symbolizes all aspects of modern tectonic architecture, and functions as a communicator of the art of tattooing and as an attraction for locals and tourists, sort of a light house of the area.

Our vision is that students from all over the continent will get to experience the complex program of the building and enjoy the unique properties and architecture language.
The two buildings together form a unified echo system where students can travel from living quarters to class rooms to work shops without needing to exit the compound.
Credits
Melbourne
Australia
Confidential
01/2024
5000 mq
Ariel Isaac Franco Architecture Studio
Ariel Isaac Franco, Reut Ino
Not Disclosed
Curriculum
Ariel Isaac Franco Architecture Studio is a boutique architecture and design firm led and owned by Ariel Isaac Franco, and is a part of A. Franco ltd Group which is offering services such as Project design, Project management, Construction, and a full Design-Build solution.
Ariel has got his degree in Architecture at SCI-Arc (Southern California Institute of Architecture) in Los Angeles, CA.
The firm currently designs projects and operates both in Israel and in the US, and specializes in high-end private residential houses and small-scale boutique high rises.
We believe in "Form Follow Function" and each and every project is unique, so are the location, the surroundings, and the core natural elements that react to it. Designing based on that methodology, we are doing a lot of experimental work, testing new materials and applications, while pushing the limits of conventional design