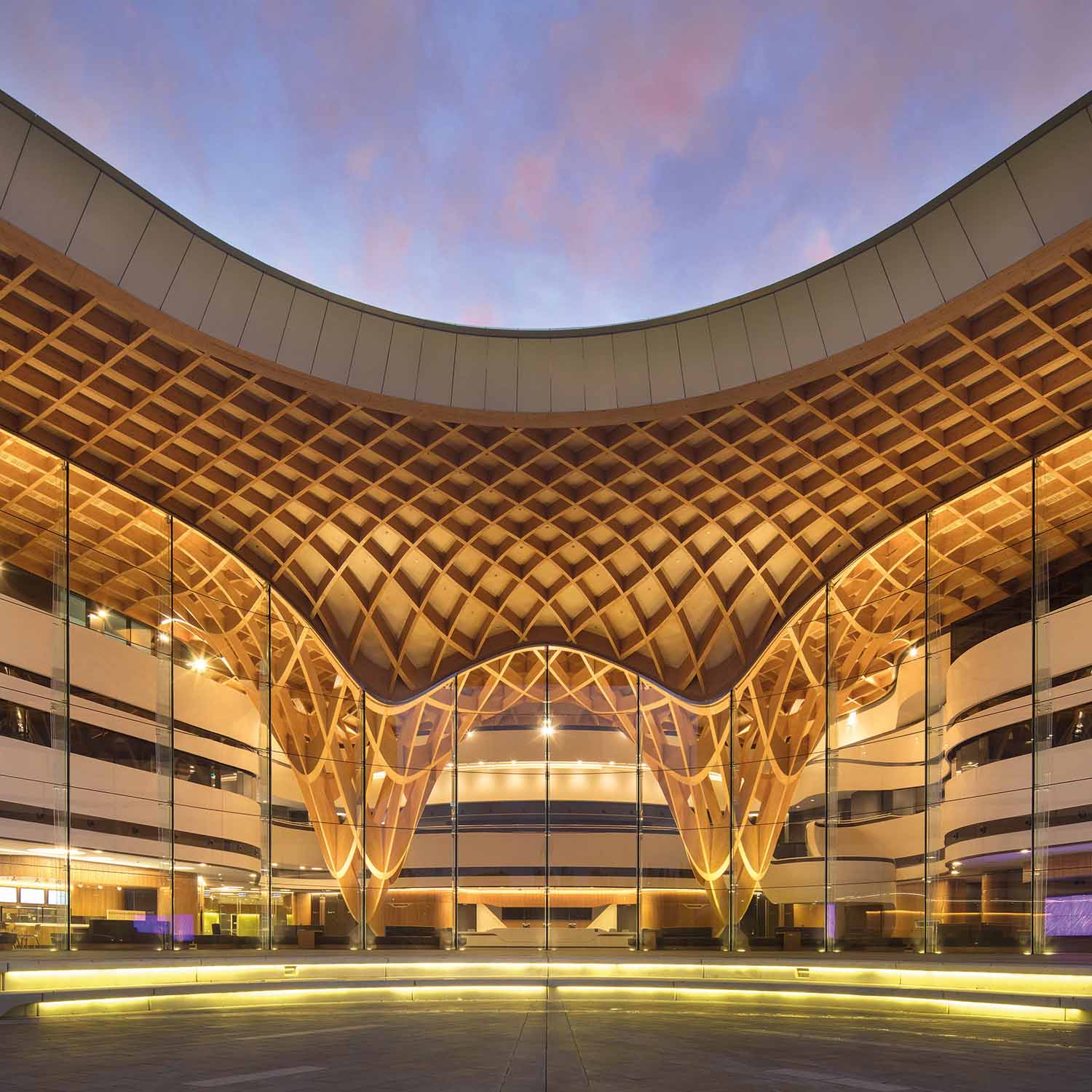 Bunjil Place is an example of a new form of community and civic building. It is not a single use, or single facility that tends to divide and separate a community by interest, education or culture, but an inclusive hybrid form of public building, reflecting and embracing our diversity.

It is a library, a performance theatre, a public gathering space, a place of exhibition, gallery and display, a flexible and experimental space for events, lectures, debate and celebration; it is a help point, a service centre and a place of work and collaboration. Above all perhaps, it is a place where all of this overlaps and interconnects and at the centre is the interconnecting fluid form of the foyer gathering space, a non-hierarchical space that unifies the complex.
The largest local government investment of its kind, the success of the project is the result of an aspirational brief and long term collaboration with the client, consultants and integrated disciplines within our firm. The response from the community is extraordinary. Where once the community travelled long distances to access high culture, live entertainment and quality learning environments, a compelling local alternative avoids significant emissions and congestion generated in travelling to the city.

The project's concept arose from this inclusive sense of identity, and from the land, its history and nature. Two central themes arose from the culture of Wurundjeri, Bunurong and Boon Wurrung people, the traditional owners and inhabitants of this land. The first, a "The Meeting of Many Paths". The second, "Bunjil" the Eagle.

The architecture began to form around the idea of an organic meeting of many paths. Gathering takes place under the protective and sheltering roof. Like Bunjil's wings, this sinuous element symbolises not only the traditions of the past, but provides a contemporary vision of the future, movement, technology and innovation, sheltering the central civic space and protecting occupants from the noise and pollution of the highway to create a welcoming celebration and back-drop for community life.

Between the ground and roof planes the various spaces and volumes are shaped and defined through a series of white and timber ribbons accentuating the flow and interconnected nature of the ensemble. Supporting the dynamic roof forms and connecting them at two central points is a woven structure of laminated natural timber. A warm and innovative structure that emphasises the lightness of the roof through a fluid, organic geometry and reinforces the openness and
welcoming nature of the complex in the way it reaches out to the public open space, lifting up to create a powerful sense of invitation. The interior gathering and workplaces spaces have abundant fresh air, daylight, outlook and amenity supporting long term occupation and visitation.
The realisation of the gridshell was a technological and construction challenge utilising advanced computer generated design production and assembly techniques in addition to long term collaboration with manufacturers. This is an architecture drawing together advanced systems with the most traditional and essential systems.



Sustainability
The building is full of fresh air, natural light, amenity and view, bringing the community and local government together in one shared space. It reinforces the City's commitment to environmental sustainability, promoting well-being and health to the wider community.

Energy, indoor environment quality, water and materials aim to achieve the 4 Star Green Star Public Building benchmark.

Sustainable initiatives adopted for the project include:
- High performance facade;
- Low temperature VAV System with economy cycle;
- Efficient thermal plant performance, configuration and control strategy;
- Enhanced building automation system and Energy Management reporting;
- Digital lighting control and high performance lighting;
- High thermal comfort with increased fresh air rates and optimised zone control;
- Effective daylight penetration to the functional spaces;
- Rainwater harvesting for irrigation and toilet flushing;
- Water efficient fixtures and fittings;
- Recycling of fire system test water;
Environmentally friendly building materials; and
Ozone Depletion Potential (ODP) free refrigerants and thermal insulants.

Timber Grillage

Bunjil Place is an outstanding example of a complex timber structures, incorporating a
number of challenging architectural and structural issues. The building provides a multipurpose
integrated facility with each function owning particular design requirements that
needed to be addressed by the engineering team. The outcome is a range of innovative
bespoke solutions that address the constraints and deliver an exciting new facility that is
a benchmark for future developments.

The roof shape in particular created challenging issues in the analysis, design and
construction stages, with detailed modelling in RHINO to create the shape, wind tunnel
testing to optimise the wind loads, and many of the connections for the steelwork having
to be specifically modelled using finite element programs to assess potential
plasticity within the joints. Each separate area of the roof required detailed consideration
of wind, thermal and earthquake effects.

The Glulam Timber gridshell dominates and defines the central atrium of Bunjil Place, together with the 12m high glass façade. The architectural vision was for the 40m open plan foyer roof to be entirely supported by the grillage with the structure appearing weightless as it touched the ground at two points. The upper edge of the timber gridshell would then merge seamlessly with the timber ceiling grid and extend effortlessly through the 12m glass façade and on to outer the wings of the roof.

(5743 keystrokes)
Credits
Narre Warren, Victoria
Australia
City of Casey
10/2017
24500 mq
fjmt
Richard Francis-Jones, Jeff Morehen, Geoff Croker, William Pritchard, David Moody, Annie Hensley, Andrew Chung, Lance White , Iain Blampied, Amanda Beh, Natalie McEvoy, Nicholas Patman, Fleur Downey , Peter Ewald-Rice, Laura Vallentine, Estelle Roman, Natarsha Tezcan, Jessica Kaires, Marko Coetzee 
Multiplex Australia
Structural Engineer: Taylor Thomson Whitting, Civil Engineer: Taylor Thomson Whitting, Building Services Engineer: Murchie Consulting, Access Consultant: Before Compliance Building Surveyor: Certis, Theatre Planner: Schuler Shook, Acoustic Design: Acoustic Studio, Wayfinding: Buro North, Waste Consultant: Closed Loop, Specialist Lighting: Steensen Varming, Kitchen Consultant: Foodservice Consultants Australia
Prodema, Stoventec, Permarock, Lylex, Kingspan, Stramit, Reckli, Hess Engineering, Signature Stone, Terrain group, Kompan, Specialty Trees, HGTurf, Anova, Signcraft, Shaw, Interface, Expoconti, Higgins, BorCor & LL, Gosa, Signorino, Perfect Match, Heritage Glass, Woodform, Ellis Air, Anova, Profurn, Jands, Lightmoves, Alustain, Schindler Lifts
Andrew Chung, John Gollings, Trevor Mein, Nicole England, Glenn Hester
Curriculum
fjmt is a multi-award-winning Australian architectural practice dedicated to design excellence and the enhancement of the public domain.
Place and community are inseparable. Developed between these terms, each of our projects is a transformation and interpretation of the site to make visible the aspirations of the client and wider community for which we build. We seek to create form and public space that accommodates and reflects human appearance, values and ideas, and importantly extends to the public realm.
fjmt has won numerous architectural and design awards including the WAF 'World Building of the Year', and the Lloyd Rees Award for Urban Design, the NZIA Architecture Medal, and the RIBA International Award.
Through studios in Sydney, Melbourne (Australia) and Oxford (UK), fjmt undertake public, institutional, commercial and residential commissions throughout Australasia and recently in Europe. These commissions are frequently the result of international design competitions.
https://fjmtstudio.com/project...